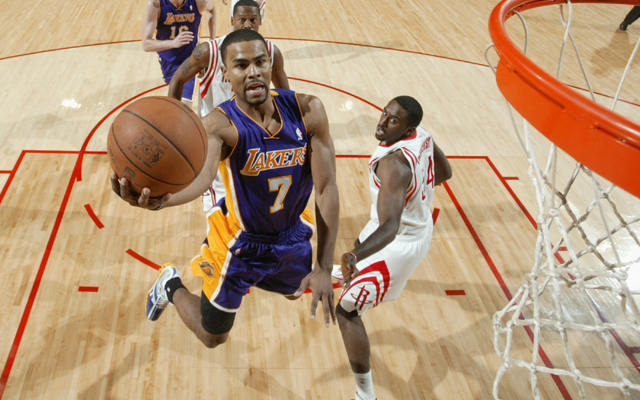 Ramon Sessions is taking the Lakers' offense to the next level.
(Getty Images)
When the Lakers acquired
Ramon Sessions
at the trade deadline from the Cleveland Cavaliers in exchange for the "rotting corpse" contracts of Luke Walton and Jason Kapono along with a first-round pick in 2012 and the right to swap picks in 2013, Lakers fans got excited. Here was a real-life point guard, not just a game-managing, "give the ball to Kobe and go sit in the corner patiently" fill-in. Derek Fisher is many good things for a basketball team. Dynamic is not one of them. Sessions, on the other hand, is exceedingly dynamic. 
The Lakers' offense under Mike Brown is nothing like it was under Phil Jackson. There were some natural fits at the start of the season. Pushing the ball through the post more to
Pau Gasol
and
Andrew Bynum
, was, in a big way, a good idea. It took some time, though, because of the fact that
Kobe Bryant
was the primary backcourt initiator.
Now we enter the
Kobe Bryant Problem
.
Criticize Bryant and you ignore his elite scoring ability, his place in
NBA
history, and yes, his five championship rings. Ignore those faults, and you're feigning obliviousness to the simple reality that often times Bryant's own supreme confidence in his abilities, the very thing that makes him such a phenomenal offensive force, can override his decision-making with regards to the right play. Put simply... dude doesn't like to pass. He will, he'll do it, he does, quite often. But if he has his druthers, he's putting up a FGA. That's just who he is. How he responds to less control with Sessions running the offense is something to keep an eye on.
But the issues with Bryant's offense aren't as simple as "stop shooting, Kobe." Kobe Bryant is one of the elite scorers in the history of this league. You want him shooting. It's not how much, it's when and how those shots are taken. Lakers blog Silver Screen and Roll expounded on this earlier in the week with a discussion of "Good Kobe" vs. "Detrimental Kobe." 
Instead, to truly discern the difference between bad and detrimental, you have to look at Kobe's behavior as compared to a normal contest, and determine whether what he was doing was actively harmful to the Lakers, or whether his performance was simply of poor quality. Doing so requires some baseline assumptions as to what determines good vs. detrimental behavior. Those assumptions are:

Good Kobe distributes the ball when necessary; Detrimental Kobe forces shots against double teams Evidenced, poorly I might add, by assists, and also by usage rate.
Good Kobe attacks the basket; Detrimental Kobe settles for long jump shots Evidenced by shot locations and free-throw attempts.
via On Kobe Bryant, And The Difference Between Bad And Detrimental - Silver Screen and Roll.
The playoffs are likely to be decided based on which Kobe shows up. 
Nonetheless, there's reason to be enthused from the limited and early results of the Sessions era in L.A..  Late in the game versus the Rockets, Sessions showcased exactly the kind of thing that has been missing from the Lakers' offense this season.  
And that's off a pretty terrible pick from
Troy Murphy
. 
Now, let's note two things here. One, that's Luis Scola, who has lost several steps this year,  trying to make the help rotation to challenge him at the rim. It's not exactly Serge Ibaka. Two, that's some God-awful pick-and-roll defense as the Rockets did nothing to impede his angle in attacking the rim straight on. In short, this is a pretty easy play for Sessions to make. 
But notice how fast Sessions gets to the rim. That's something that neither Derek Fisher nor
Steve Blake
bring to the table. Forcing the defense to react to speed means that these opportunities are going to open for the Lakers' supremely talented stars. That could have been Andrew Bynum (ejected earlier in the game for arguing with the officials), or Kobe Bryant. Or it could have been a role player. It's a player's natural abilities opening up a high percentage shot for someone else, instead of a player trying to hit a low-percentage shot they are able to convert because of their abilities. It's movement. And it's creation. And it's getting a seven-foot forward/center with supreme touch an uncontested shot a foot away from the basket. It's good basketball.
It's also pretty much the last time the Lakers got good basketball through the end of this game, as Houston closed the game out, using a 12-0 run to take the lead after being down double-digits in the fourth. Their defense quit rotating and challenging, and when things got tight, their offense went to what it always goes to late. 
Kobe, Kobe, Kobe all the time. 
And there are times when Bryant simply makes the worst moves possible. Like here, note how he not only elects to go 1-on-3, but doesn't even consider whipping to open teammates. His teammates have struggled from the field (Metta World Peace there on the wing being a sub-30 percent shooter from 3-point range this season for example), but most logic would tell you that an uncontested, wide-open three is still a higher percentage look than a contested jumper trying to angle away from three defenders. But the Kobe System of course would tell you differently.
But there's another layer here, that's shown up multiple times this season, and it needs to be addressed.  Take a look at what happens on this play, in the midst of the collapse against Houston. 
Two really big keys here. 
1. Look at where the clock is when they start to initiate the set. It's at 17 when the pass goes to Gasol, 14 before he's set. Bryant gets the ball with 10 seconds left. When Gasol's screen doesn't free him from Parsons, he's going to have no choice. There are still four seconds remaining and a wide open player on the wing, but when Bryant realizes how close the timing is, the safe play is to take the shot, even if maybe not from that depth. 
2. Notice how little movement there is on that play. When Bryant's in a position to have to execute for a shot, he's got one open player on the wing, one player still fighting through a screen underneath off another's pick, and a frozen player covered to his right. That lack of movement is where the chicken and the egg question for the Lakers' offense comes from. 
Does Bryant's insistence on shooting mean that his teammates are less likely to endeavor for an open look they know isn't coming? Or is Bryant's gunning the product of having to carry the entire offense on his own because his teammates don't work hard enough in the Lakers' sets to get open? This is not a problem that has recently developed or a product of Mike Brown's system. It's been that way for years. But Kobe's deteriorating efficiency and the lesser quality of perimeter shooters relative to previous years makes the paradox stand out that much more. 
The result is the same either way, and the Lakers' offense struggles when Bryant tries to take the opponent's entire defense on, on his own. So why does he still do it so much, why do the Lakers allow him to so much? 
Because he can still do that.
But these shots only reinforce the problem long-term. The individual moments where Bryant hits these shots are what pushes the narrative as this clutch monster under the bed. If you turn on the light, there's nothing there, but you're still just as scared of it. And it's becoming more and more clear to those in and out of L.A. that the Lakers need an offense outside of "hope Kobe pulls it out."
That's where Sessions comes back in.  
Remember how we talked about how the offense was getting set to late in most of these scenarios? Watch what happens in a set with Sessions and Pau Gasol.
Quick. Size up the defense, make the decision, deliver the pass, make the play. Good, crisp offense. 
That's all well and good, and to be sure, the Lakers slaughtered the Mavericks by using Gasol and Sessions in the pick-and-roll, and the Lakers scored on 10 of 15 pick-and-roll possessions according to Synergy Sports. But you have to get Kobe Bryant involved if the Lakers are going to be successful. Turns out, Sessions helps in that area as well, and in the biggest way. By providing a weapon to allow Bryant to catch and shoot. 
Now that's a contested jumper, but Bryant's moving. He's coming off a curl, he's got one-on-one over a lesser defender trying to catch, and Sessions has already prodded the defense to shift to its left to cover. The Mavericks defend systemically and the best way to hurt them is to get them flat footed slightly out of position and then strike quickly. 
But maybe best of all, Wednesday night we saw that Sessions doesn't just open up opportunities for others. He hit a plethora of jumpers off the space created by defenders collapsing on the roll man out of the P'n'R, and he didn't just plant himself in a corner. Watch here as Kobe Bryant becomes a distributor.  
That's just pretty. 
The offense for the Lakers has a number of issues this season. But its biggest is that it as been dependent on a shot producer, Bryant, to act as conduit to the bigs. With Sessions, the Lakers have a faster, more dynamic playmaker to execute the offense and force the defense to react. Any adjustment made by the defense to Sessions with the ball means more opportunities for Pau Gasol and Andrew Bynum, and it frees up Kobe Bryant to operate in space.
The issue with Kobe Bryant isn't one of him shooting. It's where, when, and how he's shooting. If the Lakers can use Sessions athleticism and ability to open up play for the rest of their Big 3, Bryant can take 28 shots, he'll just be taking them in higher percentage situations. It's about making the shots for the best shot creator in the league easier. Do that, and you're looking at a whole different beast from the stumbling monster we saw for much of the first half of the season.