With historic start, Blazers' Lillard attacks elite opponents and rookie of year race
Off to a fast start, Portland rookie Damian Lillard is rewarding the Trail Blazers for drafting him and eyeing what he hopes is a rookie-of-the-year upset.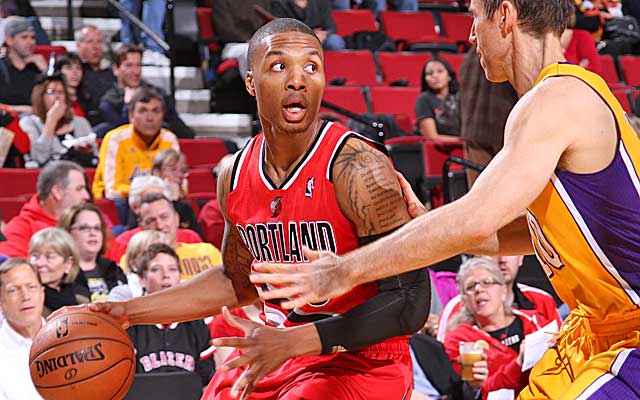 Lillard is the first player since LeBron James to have at least 21 points and nine assists in his NBA debut. (Getty Images)
Let's just say that Damian Lillard has made an impression on the NBA in his brief visit with us so far. When you're a rookie guard and you spend the first 48 minutes of your career doing things that only Isiah Thomas and Oscar Robertson have done, that gets people's attention in a hurry.
In truth, Lillard started turning heads back at Weber State and then at the NBA draft combine in Chicago -- which he prepared for obsessively -- and finally in a predraft workout with the Portland Trail Blazers. Basketball people who watched both described Lillard's workout with the Blazers as the best that the team had hosted since Kevin Durant's in 2007.
Of course, the Blazers didn't draft Kevin Durant; they picked Greg Oden No. 1 that year, instead. But that's another story for another day. In his Oct. 31 debut against the Lakers, Lillard joined Hall of Famers Thomas and Robertson as the only NBA players to have at least 20 points and 10 assists in their first game. He became the first since LeBron James in 2003 -- where has the time gone? -- to have at least 21 points and nine assists in his debut.
Then, Lillard did it again. And again. After three games, he joined Robertson as the only NBA players to register at least 20 points and seven assists in their first three games.
Next came the inevitable wake-up call, the welcome-to-the-NBA moment that arrives for every player, no matter what college they came from, where they were drafted or how hard they've worked. In a 114-91 loss Monday night in Dallas, Lillard scored only 13 points on 2-for-13 shooting -- including 1-for-8 from beyond the 3-point arc. In four games as a pro, the Blazers' point guard has faced Steve Nash, Russell Westbrook, Jeremy Lin and the speedy, underrated Darren Collison. On Thursday night, the national TV cameras will be focused on Lillard's matchup with Chris Paul and the Clippers.
"That's what I expected," Lillard said in a phone interview with CBSSports.com. "I know my position is the toughest in the league and there's going to be rough nights. I understand that. But my mindset is to come in and attack the games and try to be aggressive and try to make it tough for them -- not lay down to them."
Lillard's journey from Weber State to the NBA began in earnest this past March, when the Nets pulled off a surprising trade with Portland to acquire Gerald Wallace and his expiring contract. But this wasn't your garden-variety, cost-cutting, expiring-contract kind of trade. The Nets felt they needed Wallace on board long term as part of the enticement for Deron Williams to re-sign with Brooklyn as a free agent. Unimpressed with the 2012 draft beyond the first three picks, the Brooklyn-bound franchise sent a top-three-protected pick to Portland for Wallace. They later re-signed Wallace to a four-year, $40 million deal and kept Williams, too.
When the Nets wound up with the sixth pick in the lottery, it was transferred to Portland -- and with it, the chance to atone for what turned out to be a franchise-shaping mistake in drafting Oden over Durant five years earlier.
You don't get many do-overs in the NBA. So when you do, you don't dare thank the basketball gods prematurely.
"I've heard people say that we're not a playoff team and we're rebuilding and we're young," Lillard said. "But right now, we're competing and trying to win games. We can challenge people. We believe in ourselves. We haven't set out any goals -- like, we're going to make the playoffs or we're going to do this and that –- but we can challenge people."
And it all starts with Lillard, the point guard, the way it does with any team hoping to go anywhere in today's NBA -- the way it does with the Clippers. Portland's opponent on Thursday night doesn't just represent the latest personal challenge for Lillard; it's a team that current Blazers GM Neil Olshey built around perhaps the best point guard in the league before leaving for the Pacific Northwest.
"It's just another challenge for me," Lillard said. "He always plays on TV; I don't always play on TV. He's been in this league; I'm just in my first year, just four games. I'm going to do the same thing I've been doing, just come out and be aggressive and attack the game."
Before attacking NBA games as a rookie starter, Lillard was attacking a devastating workout regimen as he prepared for the draft. His trainer since his high school days in Oakland, Calif., Anthony Eggleton, made sure Lillard's training environment was always tougher than the playing environment would be.
In a series of predraft videos titled "License to Lillard," you can watch Lillard perform agility workouts in the sand, box jumps, explosive kettlebell movements, bench-press with extra rubber-band resistance, and on and on. No wonder his first 10 days in the NBA have been a relative breeze.
Well, except when it comes to travel logistics. While in Houston, the rookie forgot which hotel room that he was in and had to ask a team official so he'd know where to put his head down that night.
"You're just going from city to city, getting up to go to shootaround and to games and then the flights right after the game," Lillard said. "It's more mental than anything else."
Before the draft, Lillard spoke about which NBA point guards whom he admired most, and the names won't surprise anyone who has watched him play: Derrick Rose and Russell Westbrook. Both are scoring point guards, as is Lillard. It's worth noting that in Westbrook's case, his aggressiveness sometimes gets the best of him.
"Russell Westbrook, with his mentality, how aggressive he his and how confident he is, I think I'm kind of the same way," Lillard said. "You don't see it as much on the outside. But on the inside, I know how he feels."
Kind of makes you wonder, as Lillard feels out his strengths and weaknesses and settles into what will be a prominent niche in the exclusive neighborhood of NBA point guards: Is the league big enough for two Westbrooks?
"I score the ball," Lillard said, "but I make the right plays."
So far, he has rewarded the Blazers for making the right play at the trade deadline -- and for making the right pick on draft night. Now, he's focused on lifting the Blazers back to respectability and hoping something else will come along with it -- the rookie-of-the-year award that everyone has already mailed to Hornets No. 1 pick Anthony Davis.
"It's something that I would like because I want to have that type of rookie year to help my team," Lillard said. "But the way I see it is, as long as I'm helping my team win games, that means I'm playing well. And I think a lot of individual stuff will come from my success. So hopefully we win some games, and I have something to do with it."
That's the idea.
A look at the context of the schedule and who plays who when, and how far they travel during...

Durant took on rapper Lil Dicky and actually might have lost

A report that James would once again be leaving Cleveland made the rounds on Wednesday
Known for his 'take that for data' rant, the Grizzlies coach touched on a number of important...

Wade's days with the Chicago Bulls appear to be numbered

Misty Suri will reportedly keep his job with the New Orleans Pelicans