2013 NFL season preview: Washington Redskins
The Redskins' chances for success hinge on the health of Robert Griffin III, but Alfred Morris could carry some of the burden. Here's a preview of the Redskins' season.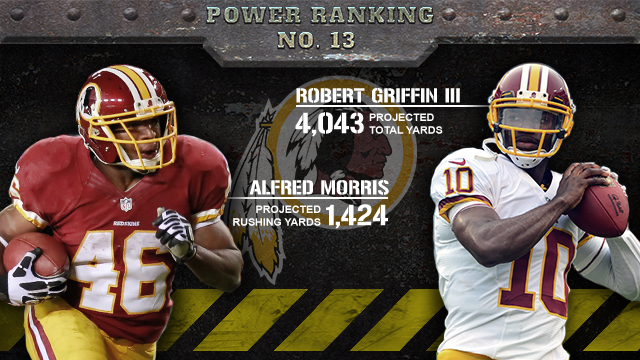 The most popular topic in Washington over the past seven months hasn't been politics, it's been the right knee of Robert Griffin III and when exactly it would heal. Griffin underwent surgery on his torn ACL on Jan. 8 and since then has insisted he would be ready for the Redskins' 2013 opener.
That's good news for Washington because if the Redskins are going to make a return trip to the playoffs, it's going to be with Griffin as starting quarterback.
The Redskins team you see in 2013 will look a lot like the team you saw in 2012. Thanks to the two-year, $36 million salary cap penalty the Redskins were handed before the 2012 season, Washington wasn't able to go out on a Dolphin-like spending spree during free agency.
However, Washington was able to re-sign almost all of its key players, including guard Kory Lichtensteiger , punter Sav Rocca , defensive end Kedric Golston , linebacker Bryan Kehl , right tackle Tyler Polumbus and tight end Fred Davis .
Offense:
In case it wasn't clear above, the success of the Redskins' offense in 2013 is going to hinge on RG3's health -- and maybe hinge a little on his relationship with coach Mike Shanahan . Shanahan and RG3 haven't really been on the same page this offseason -- or maybe they're on the same page, but they're in different books and the books are written in different languages.
Redskins' Rivals: NFC East


2013 Preview • Schedule
Cowboys @ Redskins: 12/22 (1 p.m. ET)
Redskins @ Cowboys: 10/13 (8:30 p.m. ET)


2013 Preview • Schedule
Giants @ Redskins: 12/1 (8:30 p.m. ET)
Redskins @ Giants: 12/29 (1 p.m. ET)


2013 Preview • Schedule
Eagles @ Redskins: 9/9 (7:10 p.m. ET)
Redskins @ Eagles: 11/17 (1 p.m. ET)
It will be interesting to see if Shanahan and his son Kyle -- Washington's 33-year-old offensive coordinator -- dial down on the read-option calls this season. The read-option leaves Griffin open to taking hits, and hits lead to injuries, and well, no one wants to see Griffin injured again, especially Mike and Kyle Shanahan.
The Redskins have the perfect player to take some heat off of Griffin in the form of running back Alfred Morris . Morris is durable -- he carried the ball 335 times last season -- and he's productive. The 24-year-old ran for 1,613 yards last season, second in the league, behind only Minnesota's Adrian Peterson .
The best news for the Redskins comes on the offensive line where all five starters return. Right guard Chris Chester , right tackle Polumbus, left tackle Trent Williams , left guard Lichtensteiger and center Will Montgomery led a unit that helped Washington rank first overall in rushing and fifth overall in total offense.
The Redskins receiving corps wasn't exactly a strength last season, but that could change in 2013. If Pierre Garcon can make it through an entire year unscathed, that would give Griffin another weapon. The return of tight end Fred Davis should be a boon for the offense too. Thanks to a ruptured Achilles, Davis only played in seven games last season.
Defense:
The Redskins defense ranked 28th overall in 2012 and it might not be much better in 2013, at least in the first few weeks. Washington will be without starting defensive end Jarvis Jenkins and backup linebacker Rob Jackson for the first four games. Both players have been suspended for PED use.
Defensive lineman Adam Carriker hasn't played since tearing his quadriceps in September and he won't be back anytime soon. Carriker, who started 16 games for the Redskins in 2011, was placed on the PUP list after undergoing leg surgery in July.
If Brian Orakpo is healthy, the linebacker unit will be the Redskins' defensive strength. Inside linebacker London Fletcher , 37, seems determined to play until he's 60 and he's producing like a 25-year-old, so it might actually happen.
The Redskins spent three of their 2013 draft picks on the secondary and two of those draft picks will see significant playing time. David Amerson and Bacarri Rambo should help shore up a pass defense that ranked 30th in the league last year. Rookie defensive back Phillip Thomas most likely would have contributed too, but he's out four to five months with a foot injury.
Final Thoughts:
The Giants, Cowboys and Redskins seem to be evenly matched in the NFC East, so the difference could come down to the schedule. Thanks to their first-place finish last season, the Redskins have to play the 49ers and Falcons in 2013, two teams the Cowboys and Giants miss and two teams that will be tough to beat.
If the Redskins need another late-season run to make the playoffs -- they won their final seven games in 2012 -- it could be a little tougher in 2013. Washington closes with four of its final six games against the only three teams in the NFC that have reached the NFC Championship Game since 2011.
More 2013 NFL season previews: Select a team
AFC North
AFC South
AFC East
AFC West
NFC North
NFC South
NFC East
NFC West
One of the league's best players is still looking for a new long-term contract

'It's completely different,' Wentz says about entering his second season with the Eagles

Tavon Austin, Matt Kalil and Joe Flacco headline our list of the NFL's most player-friendly...
Richardson has played for four NFL teams, and hasn't appeared in an NFL game since 2014

The Texans traded up in the first round for Watson but have no plans to rush him onto the...

Browns tight end Seth DeValve was affected by the violence in Charlottesville