More Draft: NFL Mock Drafts | Prospect Rankings | NFL combine workout results
INDIANAPOLIS -- Maybe my favorite media session of the entire day Friday was Alabama quarterback AJ McCarron. Almost an afterthought in the group of quarterbacks at the 2014 NFL Combine, McCarron's working out this weekend with a major chip on his shoulder.
Dude finished his college career with a ridiculous 36-3 record, but says he feels "disrespected" because his team won too much? 
"I feel like I've been disrespected my whole college career because I won. That's usually the knock on me: the deep ball and that I won," McCarron said. "And I won behind NFL talent. Which is crazy. It's not like we didn't play anybody. We played in the SEC. To me it's the best conference in college football. I played against 40-something guys that have been drafted that are still playing in the NFL.
"I definitely have a chip on my shoulder. I'm ready to get out there and prove people wrong."
McCarron appeared genuinely miffed when talking with reporters while pointing to his ability as a "winner" when it matters as his best quality.
"I would think being a winner," McCarron said of his best trait. "Everybody says I play behind NFL talent at Alabama. Well usually at the NFL is NFL talent. So I don't know how that's a knock really. I'm a leader. I put us in a good position to win the game."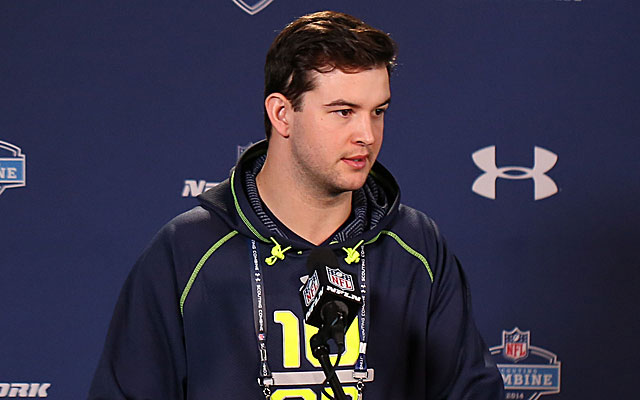 There aren't many people who are particularly high on McCarron becoming an impact NFL quarterback. And part of that reminds the former Bama quarterback about a pretty famous NFL guy who was overlooked heading into his career. It's this Tom Brady fella you might've heard about.
When McCarron was asked for a pro comp to his game, that's who he threw out. 
"The last time I made a comment like that I got criticized. I don't think you can compare anybody to anybody," McCarron said. "When it comes to similarities I think from body build to how we were talked about coming out of college, I think Tom Brady. I think we play the game the same way."
Someone's going to take a chance on McCarron. Maybe it'll even be Brady's team -- McCarron said he'd love to get drafted by the Patriots and sit behind Brady to open his career.
"If I had a chance to go there and learn behind Brady for however long and learn from one of the best to ever play the game," McCarron said. "That would be an awesome experience."
McCarron then went on to say that "New England is almost like the Alabama of pro football" which is just the most #RollTide thing of all time.