Bengals training camp: Is this the year Andy Dalton gets it done in playoffs?
Can Hue Jackson turn Andy Dalton into a playoff winner? Can Paul Guenther replicate Mike Zimmer's success? The urgency in Cincy is palpable.
• 11 min read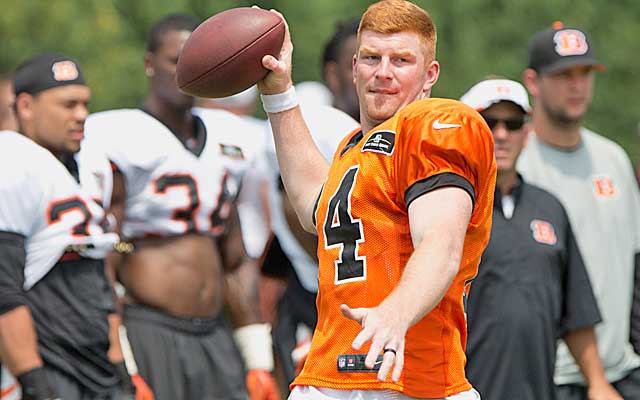 More NFL: Photos |  Videos & GIFs |  Stories | Training Camps | Johnny Manziel watch
CINCINNATI -- Bengals head coach Marvin Lewis lost both of his coordinators shortly after his team's unprecedented third straight trip to the playoffs, and he's lived to smile about it.
As much as the Bengals would have loved to have the brainpower of Mike Zimmer and Jay Gruden still on staff -- and I'm not buying the narrative some espouse that this team in some ways gets better because of these departures -- what could have been a crushing blow was lessened by the strength and depth Lewis has assembled throughout his coaching ranks.
He had planned for this day, and could benefit from the fact he already had the next man up ready in the coaching office, where, trust me, it can be every bit if not more important at times than having the next man up on the roster as an injury replacement. Lewis felt very comfortable that assistant Hue Jackson, a former head coach in Oakland and established play caller, could assume the top spot on offense, and longtime Zimmer assistant Paul Guenther was ready to take over the defense.
Both assistants were coveted for some coordinator spots elsewhere as well (Gruden in Washington and Zimmer in Minnesota, in particular, wanted to hire one or the other), but in the end, the Bengals kept the understudies.
"We were fortunate to have that plan in place and we were able to go ahead and execute it," Lewis said Wednesday, a look of both joy and relief on his face as he recounted the coordinator shuffle. "The timing of when Jay and Mike were offered head coaching positions and they accepted, it couldn't have played any better for me and made it a much easier transition without much angst, which was good. And it was good for our players as well knowing they could continue on with people who knew them. ... We are able to come in and pick up where we left off."
Of course, all of this was transpiring with Lewis himself still trying to come to grips with the Bengals suffering another staggering playoff defeat despite a third straight playoff appearance and an AFC North division title. Consider that Lewis, in charge here since 2003 -- a long run by NFL standards -- has yet to win a playoff game, at a time when expectations are higher than ever in Cincinnati. And with his contract currently set to expire after the 2015 season, there will be no shortage of pressure on the man himself this season. Having to compete with other teams to interview and lure a new set of coordinators to Cincy was a chore he could do without, and having such capable apprentices in the fold should allow for continuity in verbiage and concepts and overall scheme. All of that is great.
But it remains to be seen if the Bengals are a better team in the end, or if they can finally break their playoff jinx.
You'll read and hear plenty about how much quarterback Andy Dalton will blossom because of Gruden's departure, and how he will truly thrive now. Personally, I want to see it. Maybe Gruden was culling all that could be expected out of a somewhat limited passer. Maybe a change of voice was needed to trigger greater growth. Maybe, somehow, he was holding him back.
No one really knows until they see it, and with Dalton in a contract year (more on that below), and facing some unique individual pressure himself, this entire city will be watching to see how he handles it, especially in light of his struggles when the season was on the line in the postseason.
Jackson had a definite hand in helping Joe Flacco along when he was in Baltimore and has had his share of success with quarterbacks for sure. Whether this all translates into a breakout playoff performance, well, it's a little early in camp to proclaim. Dalton might be a guy who has some fine stats -- buttressed by some of the best skill players in the game -- but he makes his share of critical mistakes as well and doesn't get it done when it matters most.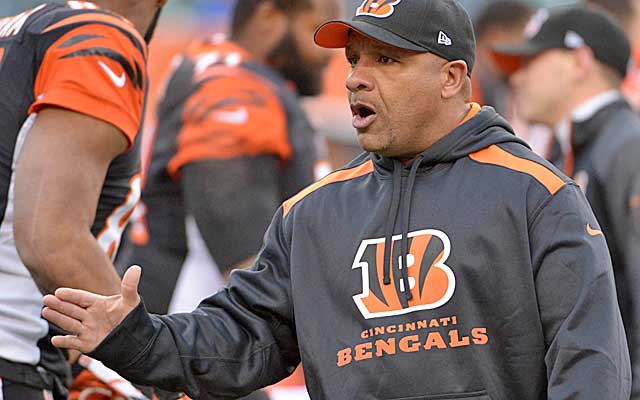 Maybe that's who he is (all of these questions have something to do with why contract talks have gone nowhere). Jackson will be keeping many of the same principles in place, though obviously tweaking some things and calling the game himself now, which may be the most significant difference of all.
"I hope it plays different, but I don't think it's that different of an offense," Jackson said. "It's a lot of the same characters, and a lot of the same calls. Hopefully, it has a different spin to it. Jay did a great job here, and for the offense to finish 10th from where it started, how he built it and worked at it and have as great of an approach for what he did. And hopefully I don't have it go backwards. I'm trying to push it forward and the guys have to turn it up another notch to get where we're trying to go. How different it will be? I'll let you guys decide that."
More than anything else, Jackson is trying to speed Dalton up. The fourth-year quarterback can look methodical at times. However, with so many playmakers to get the ball to, Jackson wants to see more urgency in everything the quarterback does. Meanwhile, Lewis is monitoring the growing confidence, decision-making and leadership skills of the young man, an exemplary human being for whom everyone in this organization is rooting.
"It's just urgency," Jackson said. "Urgency in all that we do. I don't think you can play the game of football slow. I think everything we do on the football field, it's chaos, and you have to have lots of poise and have a quarterback playing faster, our offense playing faster, the way we run routes at a different pace. I think we do a lot of things at a different pace, which is good. I'm not saying last year's pace wasn't right, it's just how I see it and through my eyes this is what I want to accomplish." 
On the defensive side, there is a considerable dropoff in coaching experience. Zimmer was widely regarded among the top handful of defensive play-callers on the planet. Everything was old hat for him. Some figured he might be a coordinator for life. Guenther has everything you look for in an up-and-comer. He could not be held in higher regard around here as a coach and a person, and his years as Zimmer's linebackers coach will serve him well. But he's never called an NFL game, something Lewis chuckled about several times as he recalled his first regular-season game as a coordinator and some of his early struggles.
"It's only preseason, but I am excited," Guenther said. "I'm excited to do it. Usually it's pretty generic play-calling in the preseason, but I'm excited just to get into the special situations, the down-and-distance, the substitutions, those type of things, that's why they have preseason games for players and coaches, right."
"This will be Paul's first experience actually being the play-caller," Lewis noted, chuckling all the while, "and it's one thing to suggest, and it's another to actually have to be in charge of it."
Guenther is both well-liked and respected by this veteran defense, which is vital, and while he has much of Zimmer's disciplinarian bent, his delivery is often a little less forceful and colorful. "Paul is one of the smartest guys I've been around," corner Adam Jones said, "and as far as being a coordinator I think he'll do good.
"He coaches everybody the same and wants you to play hard. Zimmer is more short-tempered than Paulie, I would say, but Paulie still lets you know when the job needs to be done and he don't take no bullshit."
Change could end up doing some good in Cincinnati, and certainly, had Lewis had to scramble to assemble a new staff much more would be made about the loss of Gruden and Zimmer. But, as with everything else Bengals, I'll reserve judgment until January, because that's when this organization is measured now. Welcome to the new jungle.
Dalton, Bengals aren't close on deal
I do not anticipate the Bengals and Dalton getting a deal done before the season starts, and barring some dramatic swing in production one way or the other, if it doesn't get done in the summer then it's likely tabled until January.
There has been no progress and no movement, according to sources, and while owner Mike Brown has made mention of the desire to get something done, using Colin Kaepernick's deal as a barometer of sorts, the reality is the sides aren't close. The disconnect between regular-season and playoff stats is an issue, the lack of a real second tier of comparable quarterback contracts complicates things, and I continue to get the distinct impression that doing a short-term band-aid deal (a la Alex Smith), or a long-term deal that doesn't include much front-end coin are things Dalton's camp isn't really interested in doing.
It wouldn't surprise me at all if AJ Green, who had his fifth-year option for 2015 picked up, ends up getting his deal before Dalton, and the Bengals are trying to sign linebacker Vontaze Burfict before the season as well. There is always the specter of the franchise tag if need be, though that's not what you want to be doing at the quarterback position. Regardless, I figure Dalton plays out his rookie deal without a new deal barring an unforeseen reversal in course in negotiations.
Atkins' return opens up defense
Although he's going to be brought along slowly, the return of stud defensive tackle Geno Atkins from the PUP list had a lot of people in this organization excited Wednesday. The Bengals managed to survive losing him for the season with an ACL tear last season, but he is a difference-maker and when healthy, he's on my short list of defensive player of the year candidates regardless of position.
There is a strong belief that Atkins will be ready for Week 1, though he was limited in practice Wednesday, and could be for a little while as he works back from such a long absence. Lewis pointed to third-year defensive tackle Brandon Thompson as someone who benefitted from expanded playing time with Atkins out so much of 2013, and having that huge pass-rushing presence back in the middle of this defense will create matchups and opportunities for everyone else up front.
"It creates one-on-ones for all of the guys," tackle Domata Peko said, visions of quarterbacks dancing through his head. "It creates space."
Defensive line coach Jay Hayes will have the ability to shade players differently to exploit size advantages with Atkins back anchoring the unit, and considers him among the very best in the game.
"By the middle of his second year he was at the level he has been for the last three years," Hayes said. "It just took time for other people to notice."
Getting Atkins anything close to his 2012 form would be a huge boost for what is already one of the premier defenses in football. Lewis also believes 2013 draft pick Margus Hunt -- a project from Estonia who had played little organized football -- is far advanced from a year ago and ready to make an impact. Plus, the fact he had to play more than he was probably ready for a year ago will bolster him now. The defensive line looks like the pillar of this team again.
Bengals camp notes
• Not that this team didn't have enough going on already on offense, but receiver Mohamed Sanu is generating a strong buzz. With Andrew Hawkins gone to Cleveland in free agency, I bet he gets a lot of looks. Dalton seems to like throwing to him.
• Count me among those who think Gio Bernard will get a heavy workload even after the drafting of Jeremy Hill. Jackson speaks of him in glowing terms. ("He's had an outstanding camp," Jackson said. "He's so explosive, he can catch the ball, he's a tough son of a gun. He protects. He blocks.") Hill is opening eyes as well, and coming from a complicated offense under Cam Cameron, a former coaching colleague of Jackson's, he has a decent understanding of the system. Jackson also believes Hill's pass protection will be solid, "but there haven't been any live bullets coming at him yet."
• There were a few scraps during practice, with some actual punches thrown -- but not really landed -- at one point, including linebacker Emmanuel Lamur taking a swing at Green (a big no-no). In general the Bengals expected there to be an issue or two at this point in camp, having been in full pads about a week. "You want to be smart out here but I've never been to a training camp without some pushing and shoving," Guenther said. "And right about now is when it starts happening. Don't want to get anybody hurt but you also don't want to lose your edge as a player."
• I expect to see a fair number of two tight-end sets and Jackson attributed some of the lack of production from that position group a year ago to some health situations. "People don't know those guys (tight ends) were a little banged up last year," Jackson said.
• Rookie corner Darqueze Dennard is earning kudos from Lewis. His ability to track and make plays on deep balls -- something some questioned him on -- has looked like a strength early on. "He's been very impressive," Lewis said. 
This is how you do a 99-yard touchdown drive

This may or may not have been pass interference

That sort of sounds like the nickname of a certain NBA MVP
Cam Newton decided not to take part in his mandatory press conference this week

You can't buy these in a store

Do refs hate your favorite team? The NFLRA says no.