Broncos WR Andre Caldwell makes the most of his chances
Before the season, Andre Caldwell was fighting for his career. Now, he's at the Super Bowl.
• 2 min read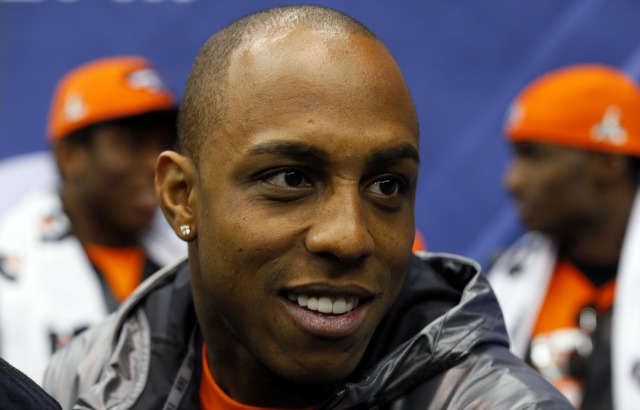 More SB coverage: XLVIII odds | Expert picks | Super Bowl weather | Latest news
JERSEY CITY, N.J. -- When Andre Caldwell signed with the Broncos before the 2012 season, he figured he could be the team's No. 3 receiver. Already, Denver had Demaryius Thomas and Eric Decker, but Caldwell, who had spent his first four seasons with the Bengals, figured he would get his opportunities on the field.
And then the team signed Brandon Stokely, and suddenly, Caldwell found himself without much of an opportunity. In fact, he found himself on the inactive list half the time, playing only eight games and making one catch for 18 yards.
For Caldwell, it was a year filled with disappointment.
"It was the worst feeling ever," Caldwell said while discussing his game-day inactivity. "I hated every minute of it. I cheered my team on, but I hated not being able to help them every Sunday."
That's why this year has been a little sweeter.
Forgive yourself if you forgot Caldwell is on the team, particularly when Thomas, Decker, receiver Wes Welker, tight end Julius Thomas and running back Knowshon Moreno have been so prolific catching passes. But Caldwell has made an impact as well, matching a career-high with three touchdowns.
"We have so much talent in the receiving corps, I'm the forgotten man," Caldwell said. "It's humbling, but it makes me work a little harder. People forget about me on Media Day and during the game, but it just makes me work hard. But I prepare like I'm a starter anyway. I know when my opportunities come, I have to make them so people don't forget about me."
His performance for the four years he spent in Cincinnati were decent enough, catching a career-high 51 passes for 432 yards and three touchdowns in 2009. But in Denver, he was missing in action last season.
Usually, after the year is over, Caldwell takes off about a month, so he can vacation with his wife and family. After last year, he took off three days. Then, he went back to work, because after the team signed Welker in free agency, Caldwell knew his career was in jeopardy.
"That definitely focused me," Caldwell said. "At one point, I was like, 'I might not have a job after training camp.' So I hit it hard. I worked out hard. I trained hard. I took every practice in training camp like it was a game. I was playing for my career. I went hard every time."
Caldwell, of course, made the team, and now, he's here. Fully employed and trying to win an NFL title for his team.
"This is something I couldn't have imagined," he said. "I was fighting for my career and now I'm in the Super Bowl. And I'm actually playing."
Follow Josh Katzowitz on Google+
From Brady's perfect pass to controversy in Detroit, we have it all covered from a crazy Week...

Teams across the league demonstrated on Sunday in response to Donald Trump's speech Friday

The Lions' hope for a win wasn't the only thing that went up in flames Sunday at Ford Fiel...
It wasn't the greatest first half for the Seahawks' All-Pro cornerback

The Giants wide receiver hauls in a pair of incredible TD catches -- and earns a dumb pena...

Golden Tate seemingly gave the Lions the lead with eight seconds left, until he didn't