Browns GM: 'Name the last big-time receiver to win a Super Bowl'
Browns' all-everything WR Josh Gordon could be facing a suspension in 2014. But new GM Ray Farmer doesn't think a big-play wideout is the missing Super Bowl ingredient.
Josh Gordon is one of the league's most dynamic wide receivers. In just his second season, Gordon caught 87 passes for 1,646 yards and 9 touchdowns, and that included a four-game stretch in Weeks 11-14 in which he amassed 774 receiving yards.
But trouble seems to find Gordon. It's why he's facing a lengthy suspension in 2014 after reportedly violating the league's substance-abuse policy.
It would be a huge loss for a young offense in desperate need of playmakers, an offense that -- likely sooner than later -- will feature rookie quarterback Johnny Manziel. Except that new Browns general manager Ray Farmer seems generally unimpressed with what a big-play wide receiver brings to an offense.
"I would say 'how important are those guys?''' Farmer told 92.3 The Fan on Wednesday (via the Cleveland Plain Dealer). "Name the last big-time receiver to win a Super Bowl. Name the last mega-guy. (Gordon) matters to me because I like the guy and I think he's a really good player, but at the end of the day, when you look at the teams that have these mega-receivers, name the last guy that won a Super Bowl?... There are none. The last guy that really helped his team get there was T.O. (Terrell Owens).''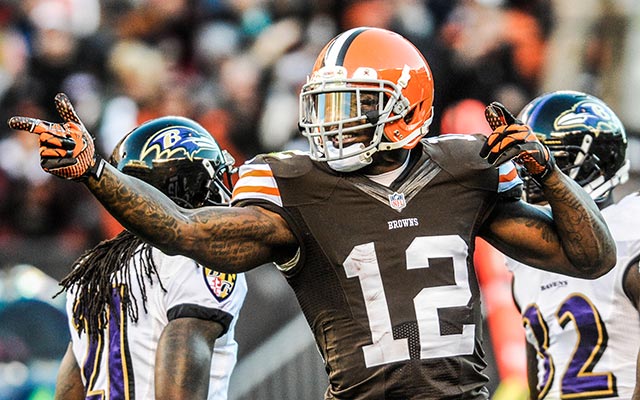 This sounds exactly like something you say when trying to diminish the importance of your likely-to-be-suspended pass-catching dynamo. (Because, really, do you think defensive coordinators would rather prepare for Gordon or Miles Austin, Earl Bennett and Nate Burleson, the three veteran wideouts the Browns signed in recent weeks? Exactly.)
So while "mega-receivers" aren't the be-all, end-all -- at least if you believe Farmer -- the GM does concedes that it will be impossible to replace Gordon's production.
"The reality is that you put guys in there that can play roles,'' he said. "If a guy is a mega-talent, you're not just going to go out on the street and find another one. If a guy is not there, you've got to parcel it. You've got to take a guy that can take the top off, you've got to take a guy that can be a possession guy. You've got to take a guy that can play a variety of roles and then you hodgepodge it. You move guys around, you put them in different situations, you use a rotation."
Which brings us back to Austin, Bennett and Burleson.
CBS All Access allows viewers to stream every NFL on CBS game in their local market

CBS All Access allows viewers to stream every NFL on CBS game in their local market

Two NFC East divisional foes face off this weekend in a big battle for both teams
Owners and CEOs from several teams released statements in response to Trump's remarks in A...

Nick Kostos won big on Monday nights last season and gives his best 3-team NFL parlay for Week...

CBS All Access allows viewers to stream every NFL on CBS game in their local market