Browns' new brain trust has Turner, and little else, to lean on for 'O'
A harsh reality in Cleveland: There isn't much skill on that Browns offense, and it will sorely test Norv Turner's play-calling talent.
• 6 min read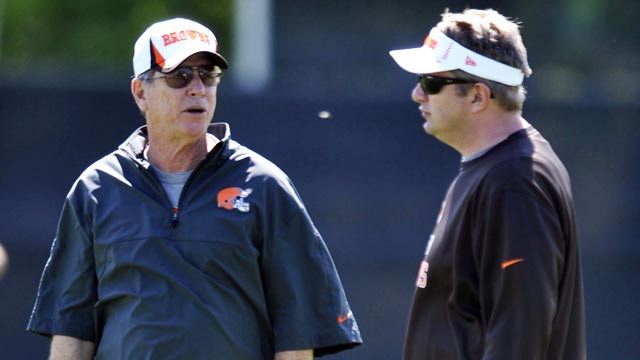 The Cleveland Browns haven't exactly been rich with offensive talent since re-entering the NFL as an expansion team. And then this offseason happened.
If we weren't already convinced that new offensive coordinator Norv Turner had a major undertaking ahead, well, one look around now closes that case. Make no mistake, none of this has anything to do with the Joe Banner/Mike Lombardi/Rob Chudzinski regime now in place, but after this spring it's increasingly clear just how little they inherited from preceding drafts. And Turner -- maybe the NFL's best offensive play-caller -- will need all of his creativity to overcome a dramatic lack in talent on that side of the ball.
To review, 2011 top pick Trent Richardson, a running back who seems highly over-drafted given modern offenses, has done little this offseason as concerns about his durability grew. (Good news on this topic to come; it's not quite as bleak as has been painted.) Incumbent starting quarterback Brandon Weeden, another 2012 first-round selection, hasn't exactly put a stranglehold on the job. Another quarterback, Brian Hoyer, was recently signed. And receiver Josh Gordon, the closest thing the Browns have to a No. 1 receiver, got himself suspended for two games next season by testing positive for codeine. And he didn't exactly put together the kind of excuse that will appease skeptics.
So, while the previous brain trust in Cleveland -- president Mike Holmgren and general manager Tom Heckert -- received praise (some in the local media took Heckert's departure particularly personally), the reality is this: Aside from center Alex Mack and left tackle Joe Thomas, the new regime didn't inherit one above-average offensive talent. No one has proven he is, as training camp looms, a standout skill player.
Yes, from a personnel standpoint, it really is that bleak. The buzzword within the front office is "evaluation," as in the team needs to spend more time figuring out its own roster -- who can play, and who can't -- above all else. They're taking self-scouting very seriously, trying not to fall prey to preconceived notions and knowing that there are precious few building blocks.
It also explains why the team still has ample reserves for 2014 when it comes to cap space and draft selections, because the chore of finally getting the Browns to be a big-boy, explosive offensive outfit will be a lengthy process. Turner can overcome some of it with his mind and preparation, and he has a history of getting the deep passing game going and developing receivers and tight ends. Banner and Lombardi are banking on more of the same, but with each passing week the knocks on the recent draft picks they inherited have grown.
The good news with Richardson is that, despite reports he would miss all of August recovering from injuries, I'm told there is every expectation that he will be taking reps when camp opens. Will he appear to be more of a plodder? Will his yards-per-carry be where it needs to be? Will the wear and tear from his use at Alabama continue to manifest itself? And will he remain susceptible to nagging injuries? Well, those are certainly valid questions to ask after his rookie season. And there is a reason the Browns have stockpiled running backs this offseason as well.
Weeden may not quite be in an "open" quarterback competition in the truest sense of the word. He enters camp as the starter, and it's his job to lose. But no one I've talked to would be stunned if his spot on the depth chart grows increasingly tenuous. He just may lose it. Hoyer's intellect and enthusiasm already has impressed the staff; he quickly absorbed Turner's playbook and concepts upon his late arrival to town after his release by the Cardinals. And Hoyer has many of the assets Banner and Lombardi look for in a quarterback. And journeyman Jason Campbell has enough quality play and big throws in this league that he also poses a real threat to Weeden.
The reality is the quarterback of the future for the Browns probably isn't on this roster and the quarterback of the present may not even be the guy drafted in the first round a year ago.
Gordon clearly has talent and showed flashes as a rookie after the Browns surprised many by taking him in the second round of the 2011 supplemental draft, but there were always serious off-field concerns, as manifested with this suspension. Blaming the positive test on medicine he took for strep throat raised some eyebrows inside and outside the organization, and Gordon will have to avoid any such missteps in the future to avoid concerns he may have a bigger problem in regards to Purple Drank.
His failed drug test came before this group took over, and the Browns are trying to give Gordon as much support as they can, monitoring him and hoping he associates with the right kind of people with NFL vacation now in full swing. But this was hardly the kind of first impression he needed to make.
On the bright side, inconsistent but talented receiver Greg Little has showed well in OTAs, but, as staffers there note, this team can't afford to make too much of anything accomplished in shorts and no contact. And the Browns clearly have some pieces on defense, but in a division where the Ravens, Steelers and Bengals can put up big offensive numbers, this roster is just not equipped to hang with them for several years.
This is a team that, in 2012, ranked 26th in yards per play, 29th in ball control (five-minute drives), 29th in overall passing, 29th in red-zone scoring, 24th in rushing yards, 30th in time of possession. The Raiders and Jaguars also come to mind when you think of AFC teams with dreadful offenses, and this staff certainly will improve the Browns. But how much? And how soon?
Browns fans hate to hear about patience and taking time, and especially with the issues new owner Jimmy Haslam is facing with his other business interests. So being told to focus on the future is certainly not what they want to hear. But that's exactly what they must do, because only so much can be accomplished in one offseason and -- in hindsight -- the trade down with Atlanta in the 2010 draft that seemed brimming with potential, could end up being a massive mistake. Having a difference-maker like Julio Jones or Robert Griffin III on this roster sure would change the complexion of this offense.
The front office would love to get an extension done with Mack as he enters the final year of his deal and will assess his market value and test those waters. They hope Mitchell Schwartz, a 2012 second-round pick, can be a decent right tackle. They're short on guards but hope 2010 pick Jason Pinkston finally gets healthy in the short term.
There's a lot of hope and crossed fingers when it comes to the Browns' offense, and expect significant change in the years to come. Just be sure to delineate what is the result of the men now calling the shots there, and how much they are paying for the misdeeds of those who came before them. Let the credit and blame fall accordingly, and give the new guys in town sufficient time to finally get this franchise turned around.
The Oklahoma quarterback isn't exactly being discreet about where he wants to begin his NFL...

No one was hurt, but Fournette's Mercedes lost a bumper

It might be time to begin worrying about the Patriots quarterback
The Patriots are still odds-on favorites, but the other teams are closing in

SportsLine tapped into its Vegas sources to see who professional bettors like Sunday

Philadelphia readies itself for a massive celebration if the Eagles advance to the Super B...