Browns will be unveiling new 'cutting-edge' uniforms in 2015
The Browns will be unveiling new uniforms sometime before the 2015 NFL Draft.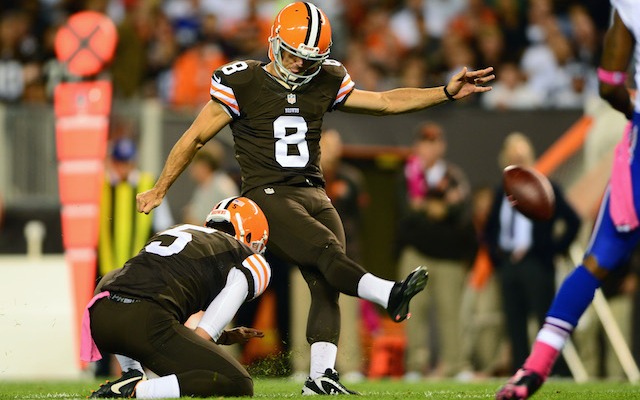 More NFL offseason: Mock Drafts | Prospect Rankings | Pro Days | Top free agents
The Cleveland Browns aren't exactly the most fashion-forward team in the NFL. For most of their history, they've worn brown uniforms with orange and white stripes on the sleeves. If you're a Browns fan who hates Cleveland's look, we have good news for you: The team is going to be unveiling new uniforms in 2015.  
Browns president Alec Scheiner said on Tuesday that the new look is coming soon. During a radio interview in Cleveland, Scheiner was asked about the Buccaneers new uniforms, but he quickly turned the topic to the Browns' new duds.
"We'll have cutting-edge uniforms that link back to our history," Scheiner told Bull & Fox on WKRK-FM. "I don't want to speak about the Bucs uniforms, but I'm really excited about our direction. We've been working with the NFL and Nike for almost a year now."
Scheiner didn't say exactly when the Browns new uniforms would be unveiled, but he did promise it would happen before the 2015 NFL Draft. He also didn't say how the team was going to make the color brown 'cutting-edge,' because lets be honest, that seems impossible.
"We have almost another year until we roll out our uniforms. I'd be very surprised if our fans don't love our new-look uniforms. I think we're headed down a really cool path," Scheiner said. "I don't know exactly when [they'll be unveiled], but it will be next year before the draft."
Owner Jimmy Haslam has promised since January 2013 that the Browns would eventually have a new look. 
The Browns tried something new with their uniforms in 2013. For the first time in franchise history, Cleveland wore brown on brown during a game. As you can see at the top of the page, the combination was an affront to anyone with eyesight.
Cleveland has also worn brown on white and brown on orange. The Browns even wore orange jerseys once. Actually, instead of telling you about it, lets just look at this picture. 

Everything you need to know about the Packers-Panthers game on Sunday afternoon

The Lions will be wearing their Color Rush uniforms for the first time on Thursday

The Lions look to maintain playoff positioning while the Bears attempt to play spoiler
The Panthers have hired an outside law firm to conduct the investigation

Here's every official injury designation for each NFL team for Week 15

Bennett was one of the few players who escaped punishment after Sunday's melee in Jacksonv...