Carson Palmer's presser infuses sense of optimism in Arizona
During Carson Palmer's introductory presser on Tuesday, coach Bruce Arians made it quite clear that Palmer was unquestionably the team's new starting quarterback.
• 1 min read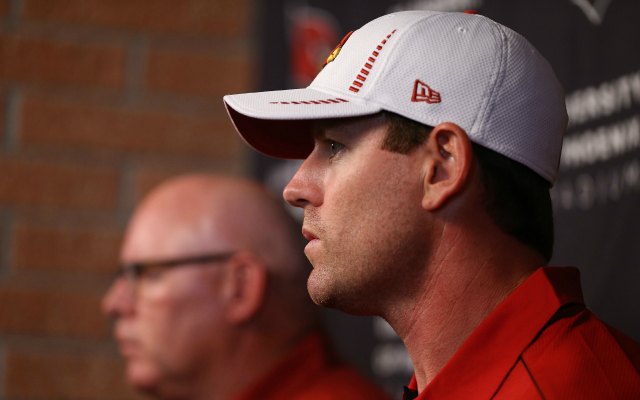 Before the Cardinals traded for Carson Palmer and gave up a seventh-round draft pick, Arizona coach Bruce Arians' starting quarterback spot would have come down to a battle between Drew Stanton and Brian Hoyer.
During Palmer's introductory presser on Tuesday, though, Arians made it quite clear that Palmer was unquestionably the team's new starting quarterback. And that an air of optimism has infiltrated Cardinals headquarters.
"We're only a guy or two away now," Arians told reporters. "We're very, very close now."
Arians also said that with Stanton and Hoyer as backups, "our quarterback room is as strong as any" in the NFL. Well, that's certainly up for debate. But there is little debate that the relationship between Palmer and the Raiders had to be severed.
Reportedly, Palmer -- who was set to make $13 million for Oakland in 2013 (he now could make as much as $20 million during the next two years) -- was asked to take a $3 million pay cut. He declined to do so.
But because, according to Palmer, "there's been a lot of rumors and stories and inaccuracies about my departure from Oakland," Palmer gave his side of the story Tuesday.
"I was presented with a contract there and I was advised not to sign that contract with no security, no guarantees," he said. "My agent told me that he would never have me sign that contract. That opportunity led me here."
But as mediocre as Palmer has been in the past few years (he threw for more than 4,000 yards last season, but he also went 8-16 as a starter since arriving in Oakland) and because he's 33 years old, isn't the team worried that Palmer might be done as a legit NFL starter?
Palmer said no -- and then showed his optimistic side again.
"I've only got a couple shots left," he said. "I've been in this league for a long time. It's nothing personal, it's not statistical, it's about trying to win a championship."
The Oklahoma quarterback isn't exactly being discreet about where he wants to begin his NFL...

No one was hurt, but Fournette's Mercedes lost a bumper

It might be time to begin worrying about the Patriots quarterback
The Patriots are still odds-on favorites, but the other teams are closing in

SportsLine tapped into its Vegas sources to see who professional bettors like Sunday

Philadelphia readies itself for a massive celebration if the Eagles advance to the Super B...