Have you ever seen a close play on the sideline, at the goal line or in the corner of the end zone and said to yourself, "Why don't they just have cameras in the pylons? They'd be able to see whether the ball crossed the plane/he was out of bounds so much more easily."
Well, you can stop wondering. CBS Sports announced on Wednesday the "Pylon Cam," which will be used during select broadcasts of Thursday Night Football and NFL on CBS, possibly including Super Bowl 50.
With an eye toward giving NFL viewers the most field-level view of critical plays during a game, CBS Sports will roll out the use of "Pylon Cam" throughout selected Thursday Night Football and NFL ON CBS 2015 season broadcasts, including the possibility of using it during the playoffs and Super Bowl 50.

Throughout selected Thursday Night Football on CBS and NFL Network and NFL ON CBS broadcasts, CBS will use four custom-molded pylons with multiple cameras to film the goal lines and sidelines on each side of the field. The high-resolution, high-definition, point-of-view cameras will be housed inside the pylon. 
Here's a look at what you'll see, featuring footage from the Aug. 28, 2015, preseason game between the Jaguars and Lions. First, take a goal-line view:
Next, the sideline:
And this is what the actual camera will look like: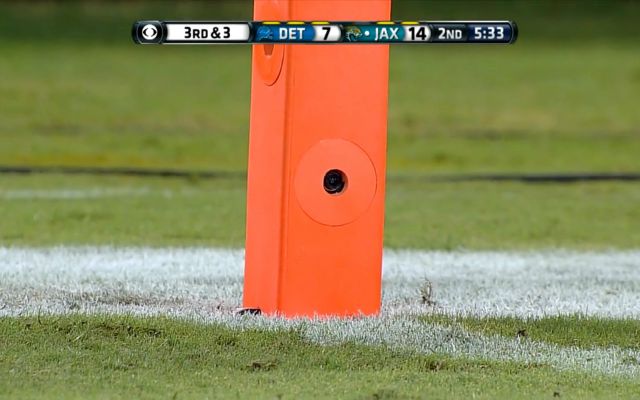 You can see the goal line cam directly in front. The sideline cam is partially covered by the score graphic, but you can see if if you know where to look. This is some pretty cool stuff.