Cliff Avril's persistent pressure pays off against Peyton Manning
Cliff Avril had a major impact on Seattle's defense on Sunday. Just like he might have thought.
• 2 min read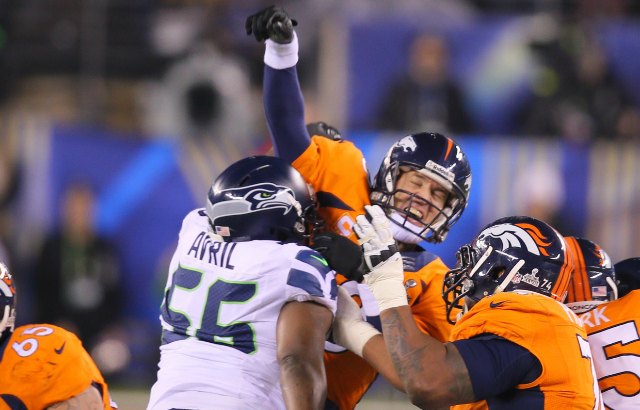 More SB coverage: Seahawks win, 43-8 | Photos | Numbers | More news
EAST RUTHERFORD, N.J. -- Cliff Avril didn't expect to win the Super Bowl XLVIII MVP award, mostly because he didn't record any sacks. And he was right. That honor went to an unlikely candidate in Malcolm Smith, who returned a Peyton Manning interception 69 yards for the score and later recovered a Demaryius Thomas fumble.
But the man who caused Manning to throw that interception, the man who broke up two passes and made three tackles and, generally speaking, made life difficult for the Broncos offensive line on Sunday wasn't disappointed about that.
Instead, he was content to reflect on how much Seattle's defensive line affected Manning en route to Seattle's 45-8 win.
"I don't know if we got inside his head, but we were consistent with putting pressure on him, consistent with getting hits on him," Avril said. "No quarterback likes that. Once they start thinking about the rush instead of your defensive backs, you'll get turnovers and you'll make plays."
That's what happened with Manning, who threw two interceptions despite completing 34 of 49 passes for 280 yards and a touchdown. He never looked comfortable, and he never looked all that accurate either.
And when Avril hit him when Manning was in the process of throwing the ball, the ball ended up in Smith's hands, where he did this.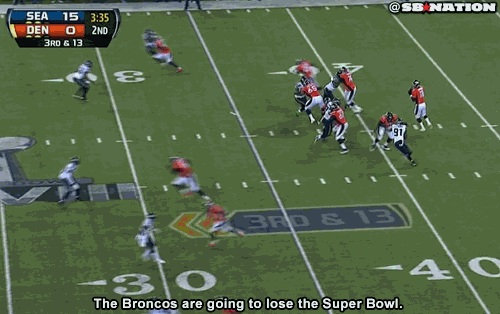 "We're the best defense ever," said Michael Bennett. "We could have played anybody today, and we would have done the same thing."
That's a little boisterous, but there isn't much doubt that the Seahawks' decision to sign Avril and Bennett in the offseason were sensational free-agent moves. Though neither were going to take as many snaps as they had for their previous squads -- Avril in Detroit and Bennett in Tampa Bay -- they decided to take a chance with Seattle for relatively cheap-money contracts.
Which is why it made sense that Bennett walked by Avril's post-game podium and opined rather loudly that both men needed raises.
"It was definitely putting pride aside," Avril said. "You go from playing the majority of the snaps [in Detroit], and now you're only getting 50 percent of snaps. It took some getting used to. But we put our pride aside and saw the big picture, which was getting here. It was an easy transition. If I could do it over again, I'd do it the same way."
Follow Josh Katzowitz on Google+
The Oklahoma quarterback isn't exactly being discreet about where he wants to begin his NFL...

No one was hurt, but Fournette's Mercedes lost a bumper

It might be time to begin worrying about the Patriots quarterback
The Patriots are still odds-on favorites, but the other teams are closing in

SportsLine tapped into its Vegas sources to see who professional bettors like Sunday

Philadelphia readies itself for a massive celebration if the Eagles advance to the Super B...