Did the Colts cut Chris Rainey because of a fire extinguisher?
Chris Rainey might have let out the reason the Colts cut him last month.
• 1 min read
When the Colts cut running back Chris Rainey from the team last month, it was unclear exactly what he had done. All we knew was that Rainey had violated team rules.
And that was it.
So, what was Rainey trying to tell us when the Colts played the Jets on Thursday night in the teams' first preseason game?
Though Rainey later deleted these tweets, they were saved for posterity by Deadspin. And we present them to you here.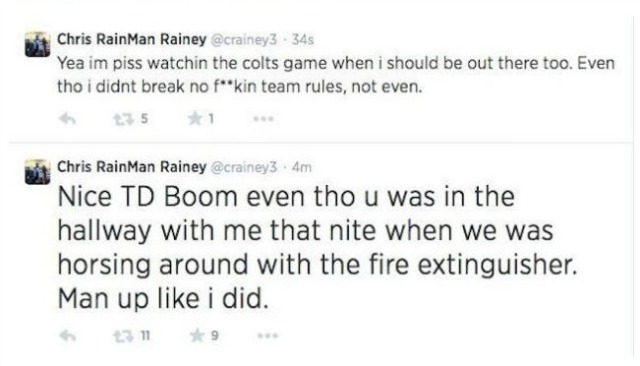 According to Deadspin, Rainey was referring to Colts running back Dan Herron as "Boom" and somehow perhaps the two were screwing around with a fire extinguisher and maybe that somehow led to Rainey's release because he admitted it or something.
It's specific yet fairly vague at the same time.
Either way, it continues a pattern of strange behavior by Rainey, who's been arrested a few times since 2010 and has been cited for defiant trespass.
So, take his tweets for what it's worth, which might not be much at all.
It looks like we're going to have a quarterback competition in Jacksonville

Smith is facing up to seven years in prison if convicted

Plus everything else you need to know about Week 2 of the 2017 NFL preseason
This is why being a rookie in the NFL isn't fun

The Raiders running back went Beast Mode on reporters

Elway tried his best to emphasize how complicated the situation is