Eddie Lacy wins NFL Offensive Rookie of the Year
Eddie Lacy won the 2013 NFL Offensive Rookie of the Year Award on Saturday night.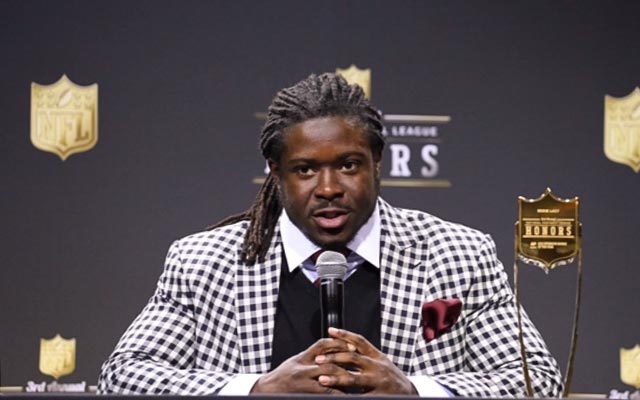 NEW YORK -- Offensive Rookie of the Year was one of the more hotly contested awards tonight at the NFL Honors, but ultimately Packers rookie running back Eddie Lacy took home the hardware.
Lacy ran for 1,178 yards in 15 games after being selected by the Packers in the second round. He suffered a concussion against the Redskins early in the season and only recorded one carry in that contest. He would miss the next week but still managed to hit the 1,000-yard milestone.
To win the award, Lacy had to beat out Keenan Allen of the Chargers and Giovani Bernard of the Bengals.
The former Alabama running back was handed the hardware by Auburn grab Cam Newton and fired a shot at Cam (the 2011 NFL Offensive Rookie of the Year) when he stepped to the mic.
"Lemme start by saying 'Roll Tide,'" Lacy said.
Beast Mode went Beast Mode on someone he shouldn't have gone Beast Mode on

This is how you do a 99-yard touchdown drive

This may or may not have been pass interference
That sort of sounds like the nickname of a certain NBA MVP

Cam Newton decided not to take part in his mandatory press conference this week

You can't buy these in a store