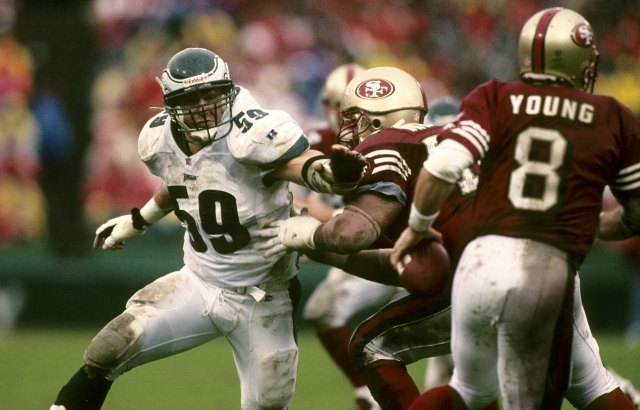 From Feb. 22-25, more than 330 former college players will converge on Indianapolis for the league's annual combine show. They'll be poked and prodded, measured and manhandled, weighed and waylaid by those front office executives who will want to know who, what, where, when and how. Then, those athletes will parade around in tight shorts and tops that show off their muscles and attempt to impress the decision-makers with their speed, power and agility.
Some players will disappoint. Some will impress. Some will be exactly who we thought they were.
But some will make themselves much more money than we originally might have thought. Some will perform so disastrously that the rest of their careers (or, at least, their wallets) will be affected. Maybe this isn't always a fair system, but it's the system we've got. And some take advantage, and some cave in to the pressure.
In the days leading up this year's combine, we'll take a look at five players who mightily surprised us during their appearances at this event, either for good or for bad. Next up is Mike Mamula from 1995.
Previous combine memories: Dontari Poe (2012) | Maurice Clarett (2005) | Mike Mamula (1995) | Chris Johnson (2008) | Vontaze Burfict (2012)

Who was this guy?: He played collegiately at Boston College, and Mike Mamula had an impressive senior year, accumulating 13 sacks and making the All Big East team as a defensive end. But BC was no power program, so Mamula's draft stock heading into that year's combine wasn't all that impressive. As secondlevelfootball.com recalls, "You can imagine a coach saying, 'Well, if he'd played for a higher-profile school and had been in a defense that fit his skills, he'd be on everyone's radar.'  In retrospect, it was also a weak class for defensive linemen, with only a few name players to come out that year." Heading into the combine, Mamula and his coaches spent much of their preparation time focusing on the vertical jump, 40-yard dash, and bench press.
What happened at the combine?: Mamula was considered to be about a third-round draft pick, but then he put on perhaps the best (and maybe the most surprising) combine performance in history. Perhaps none of it should have been a surprise -- at least thinking about how potential draftees think about the combine these days. Looking back on it, Mamula's strategy seems rather simple -- and effective. As Mamula told ESPN.com in 2008: "I went into the combine having done every test hundreds of times while some other guys had never done some of the specific drills." It most certainly showed.
He benched 225 pounds 28 times, he had a vertical jump of 38.5 inches, and he exploded for a 4.58 time in the 40. I wasn't there that day, but I can imagine that the floor of the RCA Dome was littered with the dislocated jaws of NFL personnel.
On that January day, life was most certainly good for Mamula.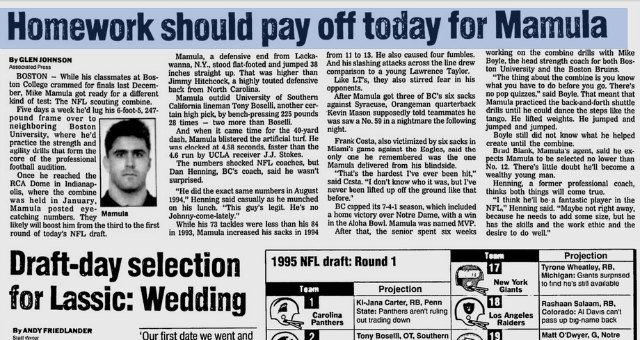 His life wasn't too shabby afterward either.
Where was he drafted?: Not only was Mamula taken seventh overall, but the Eagles traded their No. 12 overall pick and two second-round selections to the Buccaneers in order to move up and draft Mamula. And you know what other defensive ends were left on the board after Mamula was taken? Hugh Douglas and a Hall of Famer named Warren Sapp.
How did his career pan out?: Not bad, but certainly not what the Eagles would have hoped giving up so much to trade for him. It'd be going too far to suggest that Mamula was a first-round bust, because he actually had a solid, albeit a relatively short, career. In five seasons in Philadelphia, Mamula collected 31.5 sacks -- including a career-high 8.5 in 1999. But he played at about 250 pounds, going against offensive linemen who weighed north of 300, and the Eagles never moved him to linebacker, where his size and speed might have been more conducive to his effectiveness. Yet, if Mamula hadn't had such a standout combine, we'd probably look at his career with an entirely different perspective.
"I mean, what was I supposed to do? Try not to do well at the combine?" Mamula told ESPN. "The Eagles drafted me when they did and you can't change that."