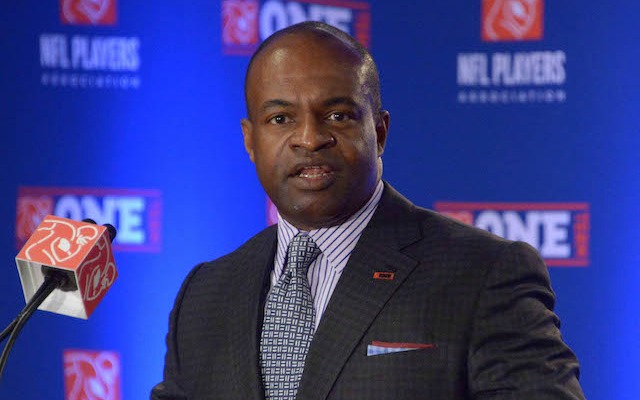 Former Ravens running back Ray Rice has been a free agent since September when Baltimore released him after video surfaced of Rice knocking out his wife in a New Jersey casino.
It's now been almost nine months since Rice was released and in those nine months, Rice hasn't been offered so much as a tryout with any other team, something that's not sitting well with NFLPA executive director DeMaurice Smith. 
During an interview with ESPN this week, Smith suggested that the reason Rice can't find work is because he's being blackballed by the NFL. 
"This, unfortunately, is a league that has a history of blackballing players," Smith said. "I find it hard to believe that a player of Mr. Rice's caliber hasn't at least gotten one offer from a team to come work out."
Although there's a chance that Rice is being blackballed, the more likely scenario is that there isn't a team out there right now that wants to deal with the negative publicity that would come along with giving Rice a tryout.
The image of Rice knocking out his wife isn't one that's going to go away any time soon. Smith himself, called the video "disturbing" after seeing it for the first time back in September.  
Besides the negative publicity, the other issue with bringing in Rice for a work out is that he's not the "caliber" of player that Smith seems to think he is. Rice hasn't played in a game since the 2013, a season where he only rushed for over 75 yards in one game. 
The fact that Rice had been in a career decline before being released by the Ravens doesn't help his chances of signing with anyone else and when you combine that with the controversy he'd bring to any potential team, it's hard to imagine someone taking that risk. 
So will Rice land anywhere?
At least one NFL executive thinks he will.
"I think I'm in the minority on this, but I think he plays this year," a high-level club executive told SI.com. "But it'll have to be for a really strong front office organization. Seattle, Green Bay, Dallas, situations like that. I'm a little bit surprised that it has taken this long for someone to sign him."
What seems to be hurting Rice's chances though, are guys like Ray McDonald, who was arrested two times in three days from May 25-27. The Chicago Bears released McDonald after his first arrest. 
"In light of the Ray McDonald story, Rice's chances are deteriorating in my opinion," another executive told SI. "There's lots of volume at his position and his skill set doesn't warrant the scrutiny it will bring to a team. His biggest fans are the Ravens, but politically they can't bring him back."
If Rice can't find a team, it's probably not because he's being blackballed. More likely, it's the same reason guys like Chris Johnson, Pierre Thomas and Steven Jackson can't find a team right now either: No one needs them.