Norv Turner looking for Brandon Weeden to improve
Since the season ended and his coach got fired, Cleveland's Brandon Weeden has to be one of the most nervous starting quarterbacks in the league.
• 2 min read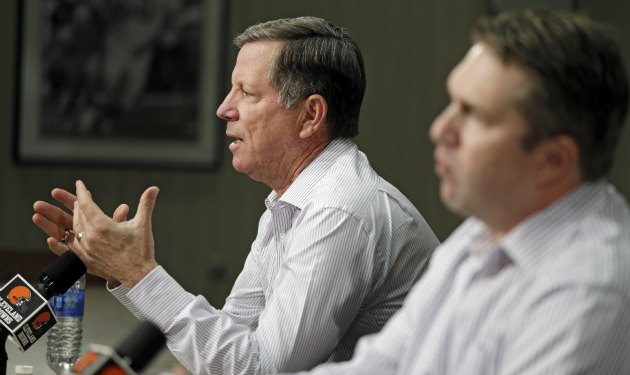 Norv Turner is unsure what the future holds for Weeden. (AP)
Since the season ended and his coach got fired, Cleveland's Brandon Weeden has to be one of the most nervous starting quarterbacks in the league.
When new Browns coach Rob Chudzinski was hired, he was noncommittal on Weeden. And new personnel director Michael Lombardi called the Browns' first-round draft pick of Weeden last April a "panicked disaster." Combine that with new president Joe Banner reportedly being lukewarm on Weeden, and Weeden has to know that his starting status is on shaky ground.
Chances are Weeden didn't feel a whole lot better after former Chargers head coach and new Cleveland offensive coordinator Norv Turner was introduced to the Browns' media on Wednesday morning. Asked about Weeden, here's what Turner said, via the Cleveland Plain Dealer.
"I always am reluctant to be too quick to evaluate a young player," Turner said. "Brandon is a young player in terms of experience . . . he did good things in our game and in the games we looked at in getting ready for that game.
"Rob and I both have been fortunate to be able to develop young players. We'll look for what the guys can do best, and hopefully they can continue to grow as players. I look at what Rob did with Cam [Newton] at Carolina. ... for me to give you a big evaluation of Brandon wouldn't be fair. First, I haven't met him. And second, I haven't looked at any tape."
Well, that last part probably isn't true. The Chargers played the Browns in Week 8, and somehow Weeden outdueled San Diego quarterback Philip Rivers in the 7-6 victory (of course, Weeden still went 11-of-27 for 129 yards, so he wasn't exactly elite that day).
When you compare Weeden's rookie production to Andrew Luck, Robert Griffin III, Russell Wilson or Ryan Tannehill, he comes up way short. But overall, Weeden improved during the season and put up decent numbers for a first-year signal-caller.
"Whoever you're coaching -- whether it be a receiver, quarterback, whatever it might be -- you're looking for ways for him to improve," Turner said. "Certainly there are things I look at with Brandon -- there are things he can improve, and you get excited to get out there and help him improve. The other thing is to get the players around him playing at a high level. I love working with young guys. Rob and I both have had a lot of success with young players."
Insert joke about Weeden being a "young" 29.
Unlike the Cowboys, though, the Browns know one thing is for sure heading into 2013. The offensive coordinator is going to call the plays.
"First, Norv is outstanding at it," Chudzinski said. "Second, it will allow me to be more involved with special teams, more involved with the defense. ... One of the things as a head coach, I don't want to be classified as just an offensive guy. ... Being involved in those other things is something I want to do and will help me shape the direction we want to go."
Whether Turner will be calling plays for Weeden, that remains to be seen.

For more NFL news, rumors and analysis, follow @EyeOnNFL on Twitter, and subscribe to our Pick-6 Podcast and NFL newsletter. You can follow Josh Katzowitz on Twitter here: @joshkatzowitz.
The Raiders running back went Beast Mode on reporters

Elway tried his best to emphasize how complicated the situation is

Plus everything else you need to know about Week 2 of the 2017 NFL preseason
The executive director NFLPA has an ugly prediction for the future of the NFL

Instead of practicing, Titans players and coaches will be hanging out with their eclipse g...

The defensive tackle might not be ready to play in Week 1