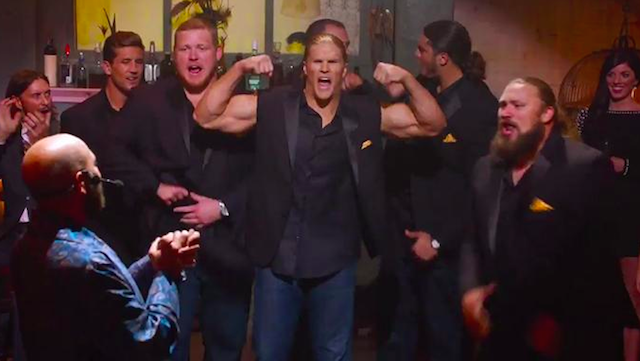 Pitch Perfect 2, the sequel to the 2012 smash hit Pitch Perfect, hit theaters this weekend. Making a cameo in the film are Green Bay Packers Clay Matthews, T.J. Lang, Josh Sitton, Don Barclay and David Bakhtiari.
In the film, the Packers join an impromptu A capella competition against the movie's stars, the Bellas, as well as three other groups. You can see part of their appearance right here:
Yes, that's Matthews showing off his guns (and hair) while crooning Beyonce's "Bootylicious" while the four offensive linemen back him up.
That's the quintet's only scene in the movie, but co-star Skylar Astin told Rich Eisen the Packers "approached it kind of like they were going out of the tunnel for a big game, which was very exciting. They were so pumped up about it. They were very nervous at first."
Astin later joked that once the nerves died down, the Pack became like old pros, spouting out actorly things like, "I itched my head with this hand, so I think we've got to burn that take. Don't print that one."
He added that Matthews was "reluctant at first" to do his trademark flex celebration, but the offensive linemen actually told Eisen earlier in the week that it was Matthews' idea, and he was doing spray tanning and curls before heading out to the set so he'd be ready to look his best.
Back in January, Anna Kendrick, the star of the film, told Seth Meyers of Late Night with Seth Meyers that the Packers got in the movie because "they were talking about it so much that our producers were just like, 'We should probably ask them to be in it.'"
Kendrick added, "They showed up and they could do the whole finale number, back to front," and "it's amazing that we're the same species. It was like being next to a blue whale."
Kendrick is 5-2 and probably weighs about one-third as much as any of the Packers' offensive linemen, so yeah, it is kind of amazing.