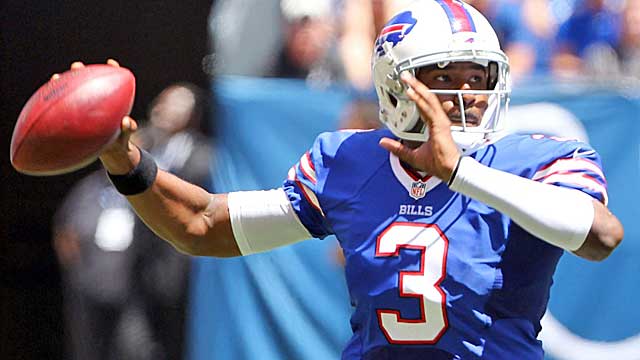 The Bills benched quarterback EJ Manuel this week, presumably because the 2013 first-round pick has been underwhelming through the first month of the season. But also, we're guessing, because new ownership won't have any reservations about dumping coach Doug Marrone and general manager Doug Whaley unless they show some signs of righting a franchise that last won more than seven games in 2004.
But the current regime hasn't done much to allay concerns that they're capable of turning things around. After all, this group drafted Manuel with the 16th pick in 2013, even though, as ESPN's Adam Schefter reported Sunday morning, Manuel's college coach, Jimbo Fisher, was frank about Manuel's NFL prospects.
"Buffalo certainly can't blame Florida St. coach Jimbo Fisher for overselling it on quarterback EJ Manuel," Schefter said on Sunday NFL Countdown. "He was adamant throughout the pre-draft evaluation process that he didn't believe Manuel had the tools to be an NFL starter and he shouldn't be any better than a third-round pick.
"Fisher was extremely positive about Manuel as a person and as a hard worker, but he was very open and honest with teams about how limited he felt Manuel was as a quarterback prospect. Fisher also told teams that even if Manuel were eligible to return for another season, he had a redshirt freshman quarterback he had been developing waiting in the wings. A guy by the name of Jameis Winston."
And should Whaley and Marrone -- or whomever succeeds them -- choose to move on from Manuel after the season, they won't be able to find the Bills' next franchise quarterback in the first round of the 2015 draft; the Bills shipped that pick to the Browns in May to move up and draft wide receiver Sammy Watkins.