Seahawks training camp: Look out -- Wilson's better, Harvin's healthy
You know Seattle brings the D. Add improved Russell Wilson and healthy Percy Harvin to that solid running game and the champs could be poised for another run.
More NFL: Photos | Videos & GIFs | Training Camp updates | Manziel
RENTON, Wash. -- During a day with the Super Bowl champion Seahawks, there was no mention of winning the big game last February.
And it wasn't because I didn't try to talk about it, but when I broached the subject, no one wanted to talk about it. All that's on the Seahawks' minds is preparation for 2014.
I visited the final practice open to fans, and there was music blasting every second with players in up-tempo mode working on situational competitions in red zone, open field, two-minute, blitz pick-up, among others.
What to expect on offense: It's still built on running via Marshawn Lynch and the zone-blocking scheme. Last season, Seattle was the league's No. 4 rushing team despite their starting tackles missing nine games. Barring more injuries, the Seahawks figure to edge closer to No. 1. "There are subtle differences in how we block here, but there's no doubt Lynch is a perfect guy for this offense and so decisive about his cuts," said RT Eric Winston, who played in a version of this scheme with Arian Foster and the Texans.
Once the running game is established, QB Russell Wilson should be ready to expand the passing game. The Seahawks may not throw it much more than the 28 attempts they averaged last season, but a healthy Percy Harvin is going to force defenses to respect them more. Harvin looked so dangerous in practice against the NFL's best secondary. With him viable on bubble screens, in the vertical game, coming out of the backfield or on reverses, he will draw attention no Seahawks receiver got last season. That opens opportunities for Doug Baldwin and other receivers. Baldwin practices every play like it's a championship game and he should collect last season's 50 receptions. And Wilson's development will help.
"I'm better at the process of elimination when I'm on the field [compared to last season]," Wilson said, meaning he sees coverage quicker and gets to his third and fourth reads more effectively. It also helps him see escape routes more readily and get the offense into better plays.
The offensive line needs to reduce the 44 sacks Wilson took in 2013, and the most improved player in Tom Cable's group is left guard James Carpenter. The biggest competition in camp is taking place on the right side of the O-line with Winston and rookie Justin Britt going head to head, and Alvin Bailey in it, too.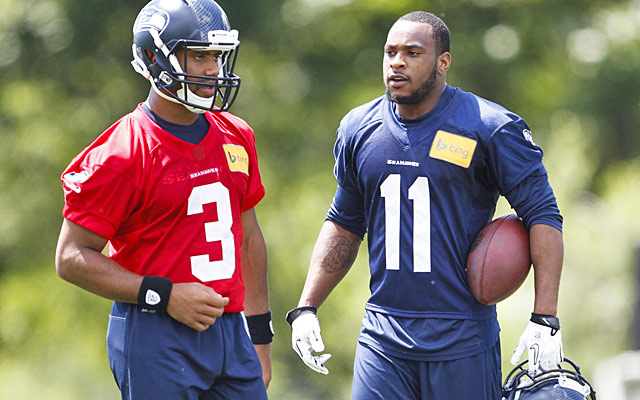 What to expect on defense: The league's No. 1 defense lost five players to free agency or salary cap considerations. I spent a lot of time watching the defensive line that lost Clinton McDonald, Red Bryant and Chris Clemons. They have adjusted well to the loses and depth is not going to be an issue. The four players likely handling defensive end Cliff Avril, Michael Bennett, O'Brien Schofield and rookie Cassius Marsh. Inside they will be big with Brandon Mebane, Tony McDaniel, Jordan Hill and new addition Kevin Williams. Not many teams are that talented among eight linemen.
Linbackers Bobby Wagner and Malcolm Smith sat out, but it gave me a chance to study undrafted rookie Brock Coyle from Montana -- and it looks like GM John Schneider has found another undrafted gem. K.J. Wright's versatility is spotlighted on a team plays more than 50 percent sub defenses with only two linebackers on the field.
The "Legion of Boom" secondary is so competitive it's hard to tell Kam Chancellor, Earl Thomas or Richard Sherman all have big contracts. They are trying to win every one-on-one and every 7-on-7 play, so every team sessions look like a ring is at stake. I doubt the new emphasis on illegal contact and pass interference takes the sting out of this group. They do nothing at practice without an official there to throw a flag after any penalties "We embrace the rules and are working to play inside the rules," coach Pete Carroll said.
The Big Questions
1. Can the Seahawks repeat as Super Bowl champions? It's a long road, especially in the NFC West, but this team is still a legitimate contender, and there's no reason to expect a Super Bowl hangover.
2. Can the offense improve from No. 26 in the league last season? With Harvin healthy and Wilson more comfortable in the passing game, it's more probable than possible.
3. Will the secondary get showered with flags? Seattle led the league in penalties last season, as did the Ravens did the year before. Those teams won the past two Super Bowls. Of course there will be flags thrown against this aggressive defense, but don't be surprised if it is penalized less than last season.
Rookie report: It's tough for a rookie to break into a lineup on a great team, but Britt will play significant minutes on the O-line, as will Marsh on the D-line if there are injuries. Speedy wide receiver Paul Richardson needs work in the weight room but he has the vertical speed to make the roster and get deep-ball opportunities later in the season. Don't be surprised if undrafted rookies Brock Coyle and Jackson Jeffcoat make this team, just previously undrafted Seahawks like Baldwin, Alvin Bailey and Jermaine Kearse.
Players on the bubble: Offseason departures cleaned out many veterans in this category, and with Anthony McCoy and Jesse Williams on IR there really aren't many veterans left on the bubble. But like every other team there are veterans fighting for a spot. QB Terrelle Pryor, CB A.J. Jefferson and OL Wade Smith are three to watch.
Outlook: Seattle enjoys a great home-field advantage and remains hungry. The Seahawks are coming off a 13-3 season, which is difficult to duplicate or exceed. I think 12-4 or 11-5 is realistic and the Seahawks will return to the playoffs, and if they go in as a division champ could repeat. However, that means beating the Niners, Cardinals and Rams in at least four of six divisional games.
Everything you need to know about the Redskins-Saints matchup this weekend

Here's every official injury designation for each NFL team for Week 11

The Dolphins took another blow amid a rough stretch of football
Our computer model simulated every Week 11 NFL game 10,000 times with very surprising resu...

The NFL on CBS broadcaster also broke down the differences between Dak, Goff and Wentz

The Legion of Boom is getting older and injuries are taking their toll