Texans-Broncos practice: Manning sends message; Clowney a force
In a workout leading into Saturday's preseason game between the Texans and Broncos, Peyton Manning gets results from his unit and No. 1 pick Jadeveon Clowney is a force before leaving with a slight injury.
• 7 min read
ENGELWOOD, Colo. -- It's never too early for Peyton Manning to send a message to his teammates, with time no longer on his side and the Denver Broncos' facing failure should they do anything but win a Super Bowl this season. So, when the offense slumped some in a joint session with the Texans on Tuesday -- a practice not even in full pads, mind you -- Manning had his opportunity to preach perfection.
And a day after getting angry at the performance of the starters, and voicing publically how they "stink," the record-setting unit was certainly improved during Wednesday's padded practice at the team's Dove Valley facility. It was not, however, a total romp, and the Texans' defense more than held its own. Frankly, Houston's offense looked better than I expected, as the team with the NFL's first-overall draft pick (Jadeveon Clowney, who left practice early with what appeared to be a minor injury), at least in this practice, didn't seem outclassed by a Broncos team that is a favorite to win it all.
Manning spread the ball around effortlessly at times, but also had one ball knocked out of his hands, misfired a time or two, and was intercepted by safety D.J. Swearinger. The Texans seemed genuinely buoyed by their outing on both sides of the ball, while the Broncos probably needed to face a little adversity -- as minor as Tuesday's was -- given the relative ease with which they sailed through the first two preseason games.
"A lot of our guys noticed that he wasn't happy on the field," Broncos offensive coordinator Adam Gase said of Manning. "And I spoke my mind in the meeting ... we struggled [Tuesday] and I think today with the pads on we were better."
The Broncos certainly brought a renewed intensity and focus into this practice -- you don't cross Peyton twice -- but the Texans seemed truly fired up for this opportunity to test themselves against greatness. Swearinger was still beaming about his interception after practice ("It was great for me to get a pick against him," he said.), noting that Manning got "mad" after that play. Texans coach Bill O'Brien seemed genuinely enthused with what he saw as well from both of his starting units, allowing there were two fields in play and 180 football players running around, making it impossible to see everything in realtime. Tape review is essential.
"The defense had some good moments [on Tuesday]," O'Brien said, "and it looked like that again today."
The Texans' defensive playmakers are impossible to miss, but once you get into the second and third units you quickly realize this team is still rebuilding.
"We've got to improve the depth of our defense," O'Brien said.
Broncos backup QB Brock Osweiler had his way with Houston's backups in some red zone situations, and Denver's luxury of offensive talent -- rookie receiver Cody Lattimore making plays with the second team -- could expose the bottom tier of any NFL roster. If the Texans can stay relatively healthy on defense, they might be able to creep toward being competitive. That's potentially a big if, because Clowney already has missed plenty of time this offseason. O'Brien proclaimed to have no information on Clowney after practice; the top pick stayed in the trainer's tent for the final half hour or so, eventually taking his pads off and not returning, though never appearing dramatically hobbled. We'll see if it turns out to be minor.
The Texans seem to be taking well to new coordinator Romeo Crennel's system, and have the makings of a very formidable front seven, with the secondary still a concern. I'll be interested to see how much Manning ends up playing against this group Saturday night, with another day of joint practices scheduled for Thursday, given the kind of problems they present up front. Gase said there isn't a set plan yet and they could take it "series by series."
More observations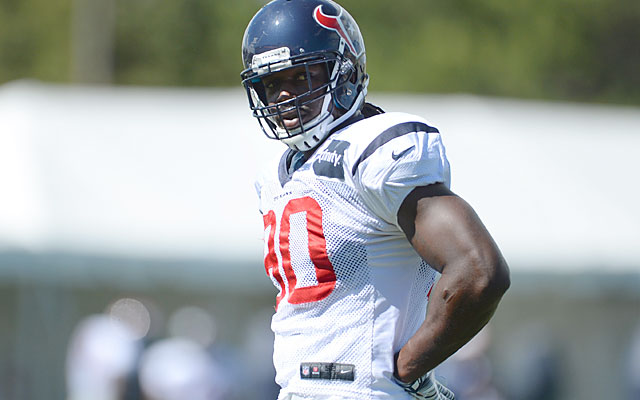 • J.J. Watt has every right to make the case to be the highest-paid non-quarterback in the NFL. With the season fast approaching, I wouldn't suspect he budges much on his contract stance. All the little things he does -- attacking a blocking sled from his knees well after practice ended, working closely with Clowney on leverage and swim moves between drills, powering through tackle Chris Clark in individual drills and keeping his cool as Clark knocked off his helmet and pushed Watt in the face -- amplifies his ridiculous on-field resume. If ever a guy deserved to be the one to set a new financial parameter in this league -- and be the highest-paid defender ever -- it's Watt.
Sure, the Texans can talk about the fifth-year option on him for 2015 ($6.9M on top of his paltry $1.9M salary this year), and the leverage they have with the franchise tag after that ... but they're going to have to bite the bullet on this eventually. Last summer at their camp I got the distinct impression they would be in no hurry to do a deal, putting this off since they have his control through 2017 as is (they could always franchise him two years in a row if need be).
Watt is getting vocal about his displeasure with how things are proceeding, and I applaud him for that. He has quite an argument to make and if they sides don't get something done before Week 1 (major differences remain and the Texans have a policy of not doing in-season deals) I wonder if agent Tom Condon has Watt stay away from everything in the 2015 offseason, including training. I know I would. To me, this guy is worth $50M guaranteed, period. End of story.
• Clowney looks every bit the part of a dominant pass rusher. In individual drills he was kept to the outside by stud left tackle Ryan Clady early. But in team drills Clowney was able to get inside Clady a few times and the Broncos clearly knew they needed to know where the No. 1 pick was at all times. Gase certainly made sure the protections knew where he was, even though there was obviously no contact on QBs in these sessions ("He's such a freak in terms of his athletic ability," Gase said) – and Denver's offensive line was clearly tested during this two-hour practice.
"This is a different animal for us," Gase said. "J.J. Watt, Clowney, the rest of that crew. It was tough ... It's a great test for our guys to see where we're at, and where we can get better as a group."
• Broncos running back Montee Ball is doing a little bit more each day as he makes what might be a rapid return from an appendectomy, but much of his work remains outside of a team structure. Ball was wearing pads Wednesday and was working individually with Manning at one point. His workload is scheduled to increase.
"We will continue to upgrade that a little bit tomorrow," Coach John Fox said.
Perhaps Ball could get some action in the preseason finale.
• Broncos receiver Emmanuel Sanders is involved in practice, too, but not yet in "live" settings yet. Fox did not rule out his return from a quad injury in time for Saturday's game. Broncos receiver Kevin Norwood was carted off early in practice but Fox had no information on the extent of the injury.
• Manning drew a few gasps when he decided to take off a quarterback draw. Gase, laughing about the play, refused to say whether he had called it ("You'll have to ask [Manning]," Gase said, indicating he did not) and, when asked how Manning looked breaking into stride in the open field, Gase replied: "Interesting." I wouldn't expect to see that again anytime soon.
• Texans receiver Andre Johnson showed no signs of rust from his time away from the team this offseason. He was showing up all over the field, making one incredible catch in the back of the end zone, staying in bounds and holding on to the ball in a red zone drill. "He's a big part of what we're doing here," O'Brien said. ... Rookie tight end Anthony Dunham made a fair share of nice plays as well. ... Starting quarterback Ryan Fitzpatrick had a good day, all in all, limiting the mistakes that have dogged him in recent years. Case Keenum continues to get snaps with the second team and rookie quarterback Tom Savage is working with the third unit.
•Lastly there was this catch by rookie Broncos wideout Cody Latimer. 
With big performances at the combine, these prospects will shoot up draft boards

Trubisky's rookie-year film is impressive, showcasing a quarterback who holds all the qualities...

The Browns should go QB at No. 1, while linemen are the focus in the second half of Round...
Brees is set to become a free agent next month but wants to stay in New Orleans

Gordon's various suspensions will once again prevent him from truly reaching free agency

The Colts traded for Brissett prior to the start of last season due to health concerns for...