There are two competing narratives that tell Derek Carr's story. The first -- and the predominant version -- says that Carr is on the cusp of stardom, poised to follow up on a stellar sophomore year by ending the Raiders' decade-plus playoff drought. The second pumps the brakes. The second narrative says Carr remains a far ways away from entering the upper echelon of quarterbacks.
For a while, I subscribed to the first line of thinking. But after going back and watching all 573 of Carr's passes and his remaining dropbacks from 2015, after looking at the statistics, I switched sides. The Raiders might want to start worrying about the face of their franchise.
Carr -- a promising, young passer who still has a chance to develop into a top quarterback -- is flawed like most quarterbacks, but his flaws were masked for much of last season by the talent surrounding him. In the first 11 games, he completed roughly 63 percent of his passes, averaged 7.66 yards per attempt, threw 24 touchdowns and just six picks, and compiled a 101.5 passer rating.
Then, the wheels completely fell off. In the final five games of the season, Carr completed about 56 percent of his passes, averaged 5.6 yards per attempt, threw eight touchdowns and seven interceptions, and pieced together a 71.1 passer rating.
In fact, after a closer look, his struggles actually extended to the entire second half of the season. For one half of the year, Carr put up Aaron Rodgers type of numbers. For the other half, he played like, well, the Carr we saw in his rookie year.
| | | | |
| --- | --- | --- | --- |
| | Games 1-8 of '15 | Games 9-16 of '15 | Entire rookie year |
| Comp. % | 63.74 | 58.67 | 58.1 |
| Y/A | 7.67 | 6.31 | 5.5 |
| TD % | 6.96 | 4.33 | 3.5 |
| INT % | 1.47 | 3.0 | 2.0 |
| Passer rating | 104.3 | 79.2 | 76.6 |
So what changed -- why did Carr revert back to his rookie (and poor) form in the second half of last season?
The most obvious and important change was directly related to pressure. In the first eight games of last season, Carr was sacked eight times. The offensive line allowed 28 total quarterback hits in that span, though that number includes the hits that Oakland backup Matt McGloin endured in a limited role. In the last eight games, Carr was sacked 23 times (+15) and the Raiders' quarterbacks were hit 36 times (+8). So from a pure numbers standpoint, the change in pressure was clear.
It was also clear from a film standpoint. When I first flipped on Carr's game tape, the cleanliness of his pockets stood out. Not just in the sense that the Raiders' offensive line allowed Carr adequate time and space to survey the field and step into his throws. In the sense that the Raiders' offensive line often built their version of the Wall at Castle Black.
They stonewalled four-man rushes, which allowed Carr to take his deep shots, as he did here during the second week of the season: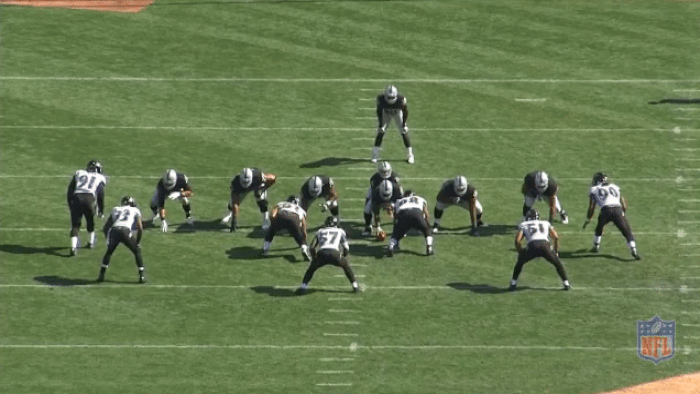 Blitzes weren't an issue either. This example, taken from the Raiders' Week-9 clash against the Steelers, shows how the line protected Carr from a double-A gap blitz. Notice isolated left tackle Donald Penn standing up his rusher on the edge and fullback Marcel Reece tracking the blitzer from one gap to the other: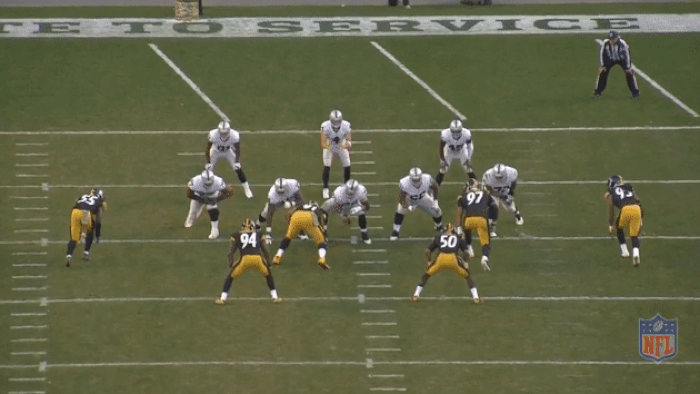 But those kinds of pockets disappeared in the latter portion of the season. In Week 13, Penn -- the same left tackle above -- didn't offer much of any resistance against the Chiefs, allowing himself to be bulldozed straight into his quarterback.
Miraculously, Carr nearly completed the downfield shot.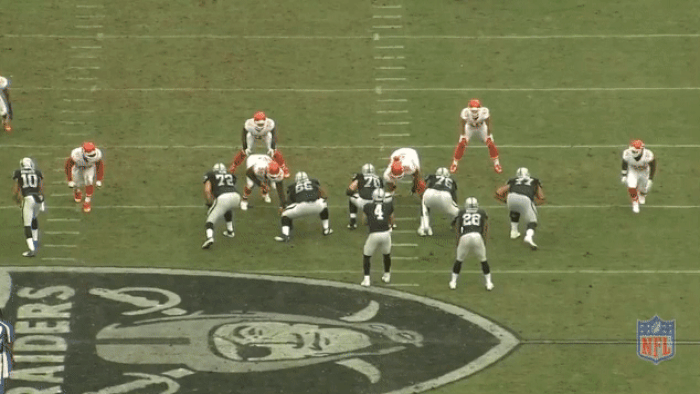 There were plenty of more examples of the offensive line's regression -- here are a couple more -- but it's more important to examine how Carr responded to the heightened pressure.
In the cases where the offensive line didn't get steamrolled or a rusher didn't pass through unnoticed, Carr still appeared to be bothered by anything closely resembling pressure. Namely, his accuracy disappeared.
In the pick-six below, taken from Week 15 against the Packers, Carr stood flat-footed in a relatively clean pocket and skied a pass high of his intended target. As he threw, his body hardly turned. He used all arm.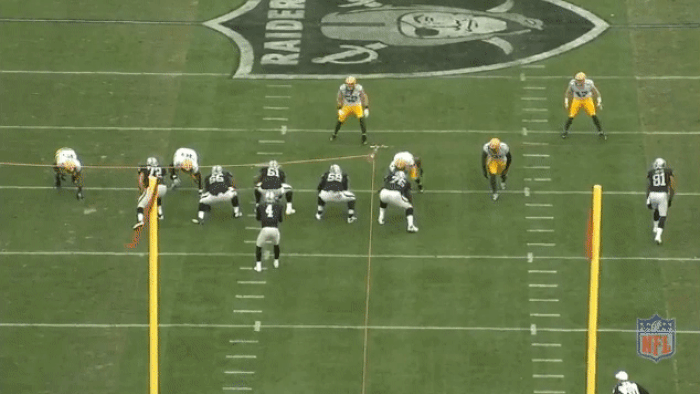 Again, the important part here is the pocket. The Raiders' right guard was pushed back toward Carr, but there was still room to operate. For Carr, though, it became problematic -- perhaps because he grew accustomed to working behind a fortress during the first half of the season.
Below, you'll see another example of a smushed pocket in which Carr struggled. This time, instead of his accuracy, it negatively impacted his decision making, as he chose to hoist up a ball for another free interception.
Of note: This pick occurred just one throw before the pick-six above.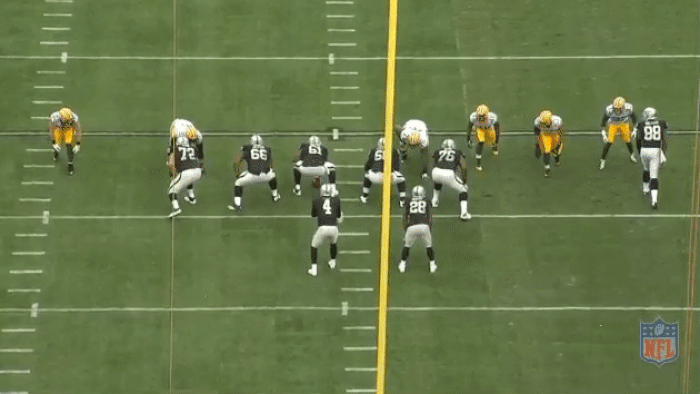 And, again, notice how he doesn't step into the throw and relies entirely on his arm to loop the ball over a defender with inside position. It didn't work.
One reason Carr compiled a 63.74 completion percentage during the first half of the season is the scheme itself. Much of the Raiders' offensive success was built on running the ball, and using play-action and quick throws (slants, outs, and comebacks) in the passing game. They liked rolling the pocket and cutting the field in half so his reads were simpler. Carr functions best as a "see the man get open and then throw it" kind of quarterback. He doesn't manipulate defenders with his eyes like an Aaron Rodgers, he throws darts into tight windows once he sees them open up like a Jay Cutler. Moving him outside the pocket made Carr's life easy, especially off play-action, which forces linebackers to either bite or hesitate on the fake.
Pick your man, give him time to gain separation -- again, note the protection -- and fire away:
In the second half of the season, those plays ended up being problematic. Carr struggled with his accuracy, his receivers failed to get open quickly -- with increased pressure only adding to the Raiders' woes and screwing up timing -- and the running game stalled (Latavius Murray averaged 3.25 yards per carry in the final eight games of the year compared to 4.77 in the first eight).
Those rollouts didn't always give Carr a simpler pass, toward the end of the year they resulted in a free rusher in his face.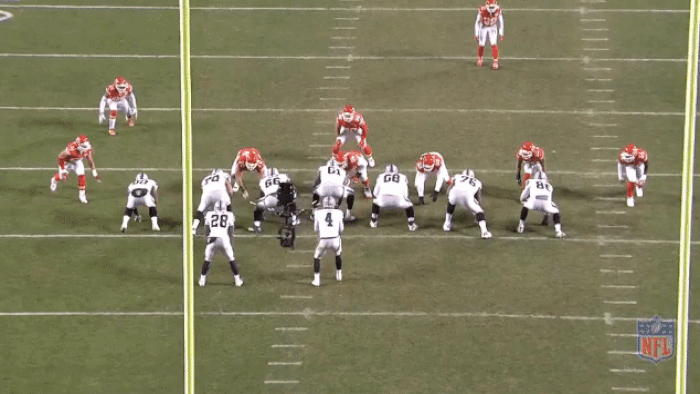 At other times, Carr simply held onto the football for far too long, which resulted in a decent number of his sacks in the second half of the season. Every quarterback, of course, is guilty of this.
But a theme of Carr's second half was trying to do too much. Sometimes that involved scrambling around with the football in the backfield with no one open, as he did here against the Chiefs in Week 13, and losing the football in a crucial fourth-quarter situation: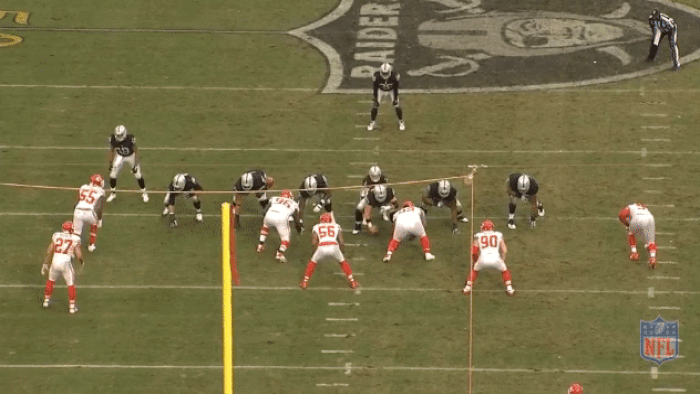 Sometimes that meant getting gun-shy when two of his receivers, both of whom were open, ran identical corner routes, and then deciding to throw an interception after doing his best Johnny Football impression, as he did in the final game of the year against the Chiefs: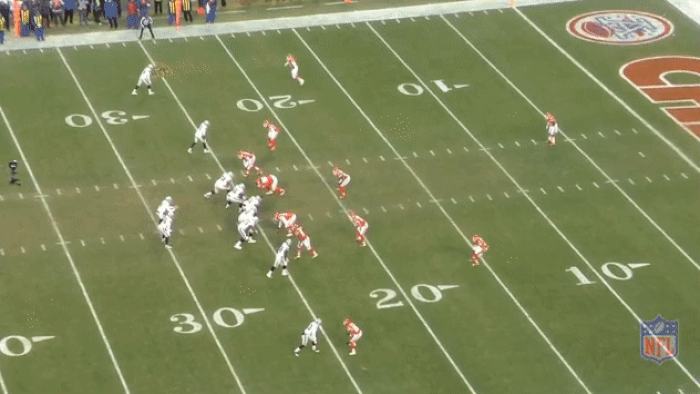 Other times it meant jamming the ball into coverage, as if his fastball would go straight through the defender like a video-game glitch: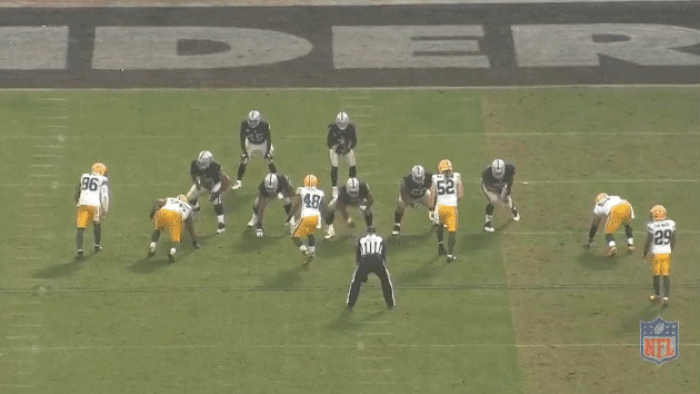 Pressure played a role in the play above in that it forced Carr to bail on the pocket, but once outside the pocket, the onus was on Carr to make a better decision. He didn't.
That happened, a lot. In all, Carr tied for the ninth-most picks in the league.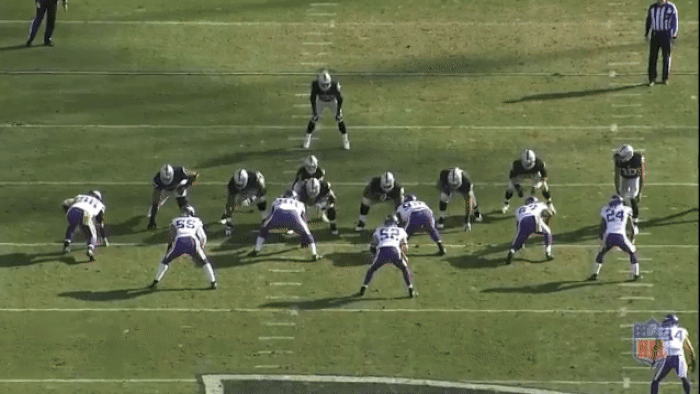 Throughout the entire season, even during his and the offensive line's peak, Carr forced the ball into coverage and let his receivers win or lose on jump balls. Sometimes, it worked beautifully, as Amari Cooper and Michael Crabtree won their fair share of contested passes. Other times -- especially in the second half of the season -- it didn't.
The point being, while the Raiders' offensive line took a step back in the second half of the season, it can't be used as the sole excuse for Carr's poor play. It definitely factored in, but Carr himself contributed to his own demise.
It all stems from pressure, though. There's no denying that. When Carr has time to sit back comfortably, he's deadly with his arm. When he doesn't feel as if he has the time to watch a play unfold and go from his first read to a second, he struggles with accuracy and decision making, which is why it's good news then that the Raiders -- by retaining Penn and signing Kelechi Osemele -- are probably going to trot out one of the best offensive lines in the league next year.
Pro Football Focus says it's the best line in the league, at least on paper:
And really, that's the best counterpoint to everything I wrote and GIFed above. Why does it matter if Carr struggles when his protection worsens (like most quarterbacks) if the Raiders will provide him with the best protection in the league next season?
It matters because if that protection slips up just a bit, then Carr might turn into the trainwreck we witnessed at the end of the year. The moment the Raiders' pass-protection went from perfect to mediocre last year, Carr fell off a cliff.
Carr required an offensive line allowing just a single sack per game to morph into an alleged star. It's unlikely the offensive line will manage to do the same over the course of an entire season, even if it added Osemele. Penn struggled as last season progressed and he's 33. Center Rodney Hudson hurt himself last year at the exact midpoint of the season, right before the line's play deteriorated. This is football, after all -- there's never a strong likelihood that one group of players remains injury-free.
In defense of Carr, you could cite the competition the Raiders faced at the end of the season, particularly in that horrid five-game, season-closing stretch when they played the Broncos, Packers, Chargers, and Chiefs twice. Four of those five games came against playoff competition and two of the league's best defenses in the Broncos and Chiefs. Unfortunately for Carr and the Raiders, they'll play them four more times next year.
Another counterpoint -- the classic one -- is to say I'm cherry-picking those plays above. In response to that, I'd point to the stats, which indicate just how poorly Carr played for half of the season, and say that I created 77 GIFs that I wanted to use, but ended up dumping most of them so the article wouldn't take 10 minutes to load.
Look, none of this is intended to condemn Carr as a forever-bad quarterback. He's still 25 with room to grow and it's not hard to see why so many of us fell in love with him this year. His arm is Lannister gold, he can throw from every platform, and his 2015 season might've featured more "wow" passes than any other quarterback. Pro Football Focus handed out +1.5 or +2 grades to only 96 passes last year (their highest-possible grades for single plays). Carr took home six of those grades.
And understandably so. I mean, look at this: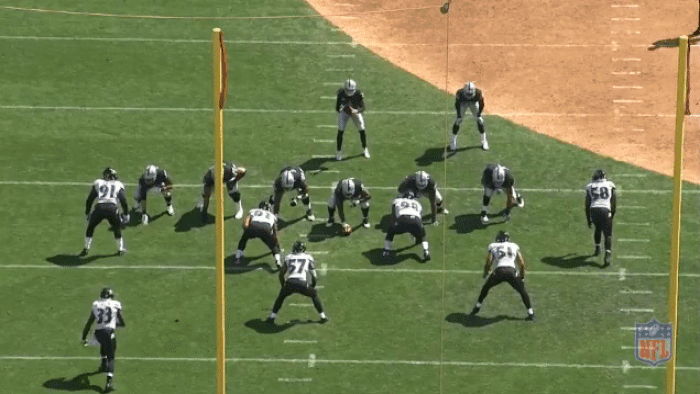 And this: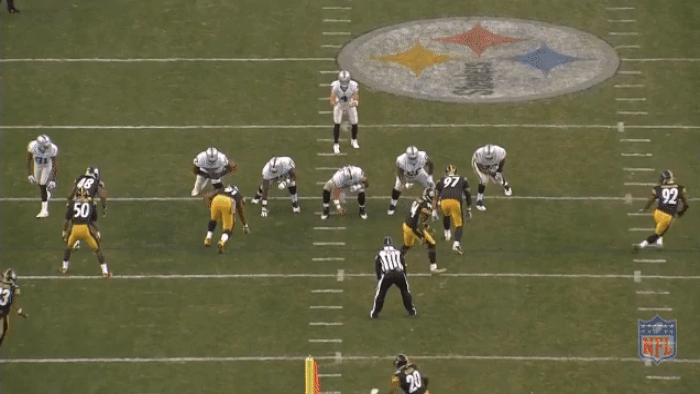 Carr -- the fourth quarterback selected in the 2014 draft out of Fresno State and the brother of bust David Carr -- emerging as a star and leading the Raiders out of an age of futility and into an era of excellence is almost too Hollywood of a narrative to resist. In his best moments, he certainly looks the part.
But too many bouts of inconsistency and too much downright bad quarterback play are impossible to ignore.