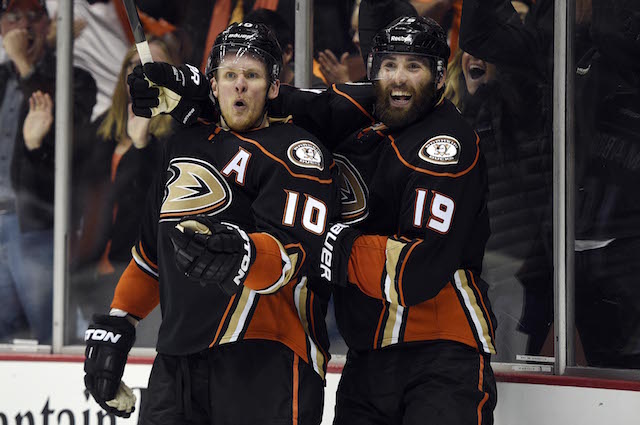 Anaheim Ducks forward Corey Perry has a reputation for making his opponents feel generally uncomfortable on the ice. 
When addressing the media on Thursday ahead of Game 3 of the Western Conference Final against the Chicago Blackhawks, it was Perry expressing some distaste for another controversial figure.
Perry took exception to a comment made by NBC Sports intermission analyst Mike Milbury during the broadcast of Game 3 of the Eastern Conference Final.  
During one of the intermissions of Wednesday's New York Rangers-Tampa Bay Lightning game, NBCSN was showing a highlight package of Perry playing a physical game and using his stick in an effort to get under the skin of his opponents when Milbury said this, via the Orange County Register:
"If I were playing against Corey Perry, I'd probably want to hurt him in some painful and permanent way," said Milbury, a former defenseman, coach and general manager in the NHL. "And I think most of the rest of the league feels the same way."
There is little doubt that Perry is an unpopular player to play against around the league.
Not only is he one of the best and most productive forwards in the NHL, he is also an extremely physical player that likes to play right on the line between chippy and, for lack of a better word, dirty. He is basically what you would get if you took your classic "agitator" forward and also gave them the ability to score 50 goals. He is one of the ultimate "love him when he plays on my team, hate him when he does not" players.
But anytime a person talks about hurting somebody in "some painful and permanent way" on national television, it is going to get some attention.
And Perry certainly noticed.
Again via the OC Register:
"It's not something that's been taken lightly," Perry said Thursday before Game 3 of the Western Conference finals against Chicago. "If somebody said something about his kid that way, how would he feel? It's kind of my response. That's all I'm going to say."
Perry's teammate, Ryan Getzlaf, called Milbury's choice of words a "slip-up" and added that he expects him to apologize on Thursday. 
Through the Ducks' first 10 playoff games this postseason Perry is second in the league in goals (eight) and points (16).