Gregory Campbell on injury: 'I was just trying to finish the play'
Boston Bruins forward Gregory Campbell met with the media on Tuesday and talked about the play that ended his season, playing through pain.
More NHL Playoffs: Scores | TV Schedule | Expert Picks | Odds | Mock Draft | Rumors
BOSTON -- Even though he hasn't played a game in the Stanley Cup Final, Boston Bruins forward Gregory Campbell has still been a storyline through the first three games. Why? Because of the sequence of events that led to his absence and what it might mean for the Bruins.
In Game 3 of the Eastern Conference finals against the Penguins, with the Bruins already short-handed, Campbell blocked an Evgeni Malkin slap shot and remained on the ice in considerable pain, barely able to move. It seems to have become the signature moment of the Bruins' ongoing playoff run and a symbol for everything Boston Bruins hockey stands for.
Campbell, who met with the media on Tuesday for the first time since his injury, insists that he was simply doing his job.
"The way I look at it, and it might sound naive of me, but I was just trying to do whatever I could to kill the penalty," Campbell said on Tuesday. "At that point I really wasn't thinking much."
"There are a lot of guys in this league that play through pain. I don't see myself as being different than anybody else. I was just trying to finish the play and do my job."
And this is what doing his job looked like...
"The pain aspect, yeah, I mean, it hurt a little bit," Campbell said. "It was sore. But your adrenaline's going pretty good at that point. You're stuck on the ice with a couple of the best players in the world. You really don't have much time to think about anything else but trying to help out and kill a penalty."
Bruins coach Claude Julien was asked on Tuesday if he believes in symbolism, and if so, how much of a symbol Campbell has become this year.
"Well, I think he exemplifies a lot of what we're all about," Julien said. "I've said it before. We take pride in being a blue-collar team. We don't care about calling certain guys superstars on our team.
"We all want to be on the same level. There's no doubt there's great players on our hockey club. We make sure that the role players are just as important as the guys that are more visible to the media and to our fans as far as being the limelight of our hockey club. But having said that, that's how we've always been."
The Bruins have made Campbell continue to feel a part of the team, even going as far as keeping his locker stall in Chicago when they were on the road, even though he wasn't traveling with them.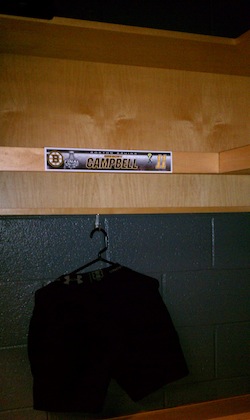 Gregory Campbell's locker in Chicago. (Brian Stubits/CBS)
Before the injury, Campbell was a key part of Boston's fourth line, which received a lot of attention for its play against the Rangers and Penguins, not to mention its penalty killing unit that has shut down every team it's faced in the playoffs.
Since Campbell's injury, the Bruins' penalty kill has remained perfect through Game 3 of the Stanley Cup Final.
"He's a guy we dearly miss," Julien said. "We've seen him do so many good things for our hockey club and it was a big loss when he got injured. But we're kind of fortunate. We talk about depth and some guys have stepped in and done a good job. Like anything else, you don't replace the individual; you try and work around it."
So far, the Bruins have done just that.
The puck didn't go in the net but the skater did!

Another sign that Houston is a potential destination for an NHL relocation
The two teams combined for 111 penalty minutes and five ejections

The veteran Minnesota goaltender has recorded three consecutive shutouts

The historic start for the NHL's newest team has come largely from unprecedented balance in...