How many goals for Marleau, Kessel and Ovechkin in 2013?
Pucks and Numbers: a weekly statistical look at what's happening around the NHL. This week: a look at some of the fast -- and slow -- starts around the NHL and a game of over-under based on the early results.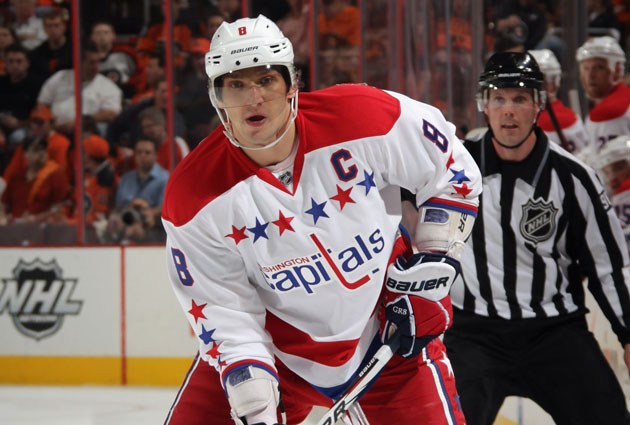 Alex Ovechkin has one goal in six games. How many will he finish with? (Getty Images)
More NHL: Scores | Standings | Power Rankings | Odds | Fights | Stats | Rumors
Pucks and Numbers: a weekly statistical look at what's happening around the NHL. This week: a look at some of the fast -- and slow -- starts around the NHL and a game of over-under based on the early results

The first weeks of an NHL season can produce some whacky results (Example: Danniel Winnik is second in goals) and lead to some irrational expectations -- and, if your team or favorite player is off to a slow start, some irrational panic.
Let's take Patrick Marleau of the San Jose Sharks as our first example.
Through his team's first six games, Marleau is scoring like the NHL is a video game and the user turned the offsides off. He already has nine goals, and that includes tallies in five straight to open the season. He became the first player since 1917-18 to open with at least two goals in each of his first four games, which is pretty ridiculous.
Marleau has been one of the best and most consistent goal-scorers in the NHL and has reached the 30-goal mark in each of the past four seasons (and six of the past seven). Last week, I mentioned it's a streak that would very likely come to an end this season due to the lockout shortened season, even with his ridiculous start. At least one reader took exception to that, pointing out that he would "only" need to score 22 goals in the Sharks' remaining 44 games.
Seems reasonable, doesn't it? I guess it sounds reasonable, but scoring 22 goals in 44 games is incredibly difficult and not only requires a tremendous amount of skill but also a little luck. Even for the very best goal-scorers.
Let's try to look at it logically and come up with a realistic expectation.
Marleau for his career is a 14-percent shooter (he's at 33 percent this season, and you don't need me to tell you that number is coming way down very shortly) and in recent years has averaged between 3 and 3.5 shots per game (he's averaging 4.5 shots so far this season).
If Marleau were able to maintain that average and shoot at his normal career average (14 percent), he would score 26 more goals to give him 35 for the season. 
But I'm not sure he can keep getting that many pucks at the net. A 4.5-shot average with a mininum of 48 games played has happened just 63 times in NHL history, and Marleau has never done it.
If he can average 3.5 shots the rest of the way and is again able to shoot at his career average, it would put him on a 20-goal pace for the rest of the year. That would just narrowly miss the nice round number we're looking for here.
So maybe it's more possible than I originally believed.
So I'm going to set Patrick Marleau goals scored over-under for 2013 at 29.5: I still think it's asking a lot, and I'm still taking the under.
The 2011-12 season was considered a down year for Alex Ovechkin, and he still scored more goals than all but four players (Steven Stamkos, Evgeni Malkin, Marian Gaborik and James Neal), which is pretty damn good.
Still, he's a far cry from the 50- (and even 60-) goal scorer that we saw a few years ago, and we might never see that type of production from him ever again.
His shot totals have been on a steady decline for several years (the result of less power-play time? Opponents "figuring him out?" The team playing a different style? A combination of all of the above?). Through six games this season, they're down even more.
He has recently been playing on a line with offensive dynamos Jay Beagle and Joey Crabb.
Through the Capitals' first six games, he has one goal on 20 shots.
A 3.3 shot-per-game average at his 12-percent average would put him on a 16-goal pace for the rest of the season, which I think is reasonable.
The over/under for Alex Ovechkin: 15.5. I'm taking the over.
Phil Kessel is still looking for his first goal: Can he still reach 18?
For the same reason that Marleau isn't going to maintain his current 72-goal pace, Phil Kessel isn't going to maintain his current zero-goal pace. Seasons are full of peaks and valleys, and regression to the mean works both ways. While Marleau's goal-scoring will take an inevitable fall at some point as he hits a slump, Kessel is due for a hot streak and a spike in his production in the other direction.
I already wrote about his slow start to 2013 on Tuesday, and he's taking a lot of heat for his six-game goal-less drought to start the season, even though he has probably been one of Toronto's most dangerous players offensively (that's what happens when you're the best player on a bad team - everything is your fault).
Using the same approach with Marleau and Ovechkin, let's try to figure out where Kessel can still finish this season.
Like Marleau, he's averaging 4.5 shots per game this season and over the past three seasons has averaged nearly 4 shots per game right on the nose. If he maintains that 4 shot-per-game average at his career average of 10 percent, that would put him on an 18-goal pace for the season.
I kind of like those odds, so I'll set Kessel's over-under at 17.5. And I'll take the over.
For more hockey news, rumors and analysis, follow @EyeOnHockey and @Agretz on Twitter and like us on Facebook. Also, subscribe to our YouTube Channel.
The city has already received approval from the NHL to file for an expansion team

Bovada says the two nicknames are favored to be used, with Rainiers coming in third place

Here's everything you need to know to watch the NHL's marquee midseason event
The expansion Golden Knights officially moved into first place in the NHL on Sunday

The former Boston Bruin was the first black player to play in the NHL

Inclement weather led to the Charlotte Checkers and Bridgeport Sound Tigers playing in front...