Jonathan Quick to start in net for USA in first game vs. Slovakia
Jonathan Quick or Ryan Miller, that was the question. The answer: Quick. The Kings goalie will start vs. Slovakia on Thursday.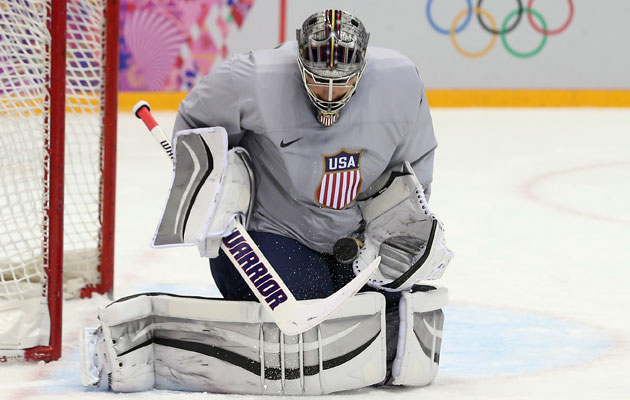 More NHL: Scores | Standings | League Leaders | Odds | Injuries | Power Rankings
When the United States comes onto the ice on Thursday to face Slovakia, they will be led by Jonathan Quick.
For months one of the big questions in the US camp was which goaltender would be the guy in Sochi. Before the season the odds-on bet was that Quick would be that guy but as the season wore on, that conversation began to change as Ryan Miller began making his case to start again for the US.
What will remain to be seen is if this is something that will last throughout the tournament. The USA opens with Slovakia and then will face the host Russians. It would seem likely that Dan Bylsma would give each a start in a spot like that but you never know.
"We've got three great goalies on this team," Quick said. "Every one of us wants to play and wants to give this team a chance to win. I'm fortunate for the opportunity and you just try to make the most of it."
It certainly didn't always look like Quick was going to be the guy this season. He was having his struggles early in the season and then he suffered a groin injury that kept him out of the lineup for more than a month. All the while, Miller was playing some very impressive hockey behind a bad Buffalo team.
The conversation began to change and sentiment was growing that Miller, who played oh so well for the States in 2010, earning the MVP of the tournament, would once again be America's man. While this decision to go with Quick doesn't set that in stone, it at least seems to be a strong indication Quick is the No. 1.
Regardless of what decision Bylsma made -- or makes if this isn't the final decision -- the USA had a hard time going wrong. Quick has shown that when he's on his game, he's one of the very best in the world, the Kings' Cup run revealed that. Obviously Miller is in the same boat, just recall Vancouver for confirmation. Jimmy Howard, meanwhile, hasn't much been in the conversation beyond being the third guy for the USA.
Team USA faces Slovakia at 7:30 a.m. ET on Thursday before drawing the Russians at Saturday at the same start time. Both games will be live on NBCSN.
The 45-year-old free agent is taking things patiently as September approaches

The playoff drought might not end immediately, but something is brewing in restocked Buffa...

Former Lightning standout will be guarding the net in style in 2017-18
Devils are still in rebuilding mode, but they have reason for hope thanks to young additio...

Buffalo is in the midst of contract extension talks with Jack Eichel, and the payout could...

Los Angeles isn't rushing to sign the 45-year-old forward any time soon