Matt Cooke to wear 24 with Wild after asking Boogaards for blessing
New Wild forward Matt Cooke's number is 24, the same number worn by Derek Boogaard. Cooke reached out to the Boogaards about wearing it.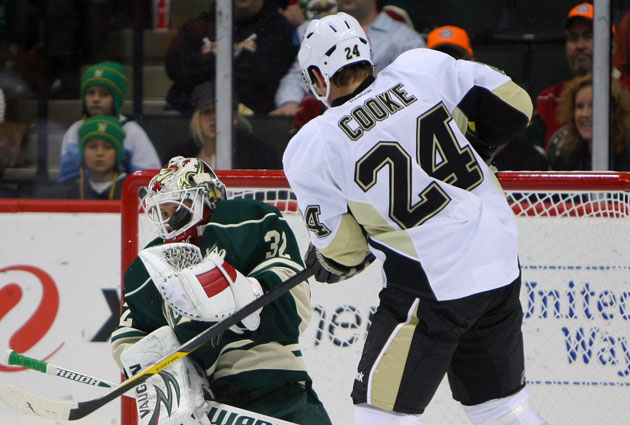 More NHL offseason: Rumors | Top 50 Free Agents | Buyout Tracker | Trades | Transactions
When Matt Cooke signed a three-year contract to play for the Minnesota Wild over the weekend, the fair people from the State of Hockey weren't very pleased. This is Matt Cooke we're talking about, the guy with one of the worst reputations in the sport, so bad he was compared to Sirhan Sirhan by Bruins announcer Jack Edwards.
In other words, Cooke hasn't been welcomed to Minnesota with open arms. Something as silly as what number he wears probably won't ease matters either, even if Cooke is being as respectful as he can be.
You see, Cooke has always worn No. 24 in the NHL wherever he has gone; it's his number. But in Minnesota, the late Derek Boogaard wore No. 24. For a lot of people the number is just as good as retired.
Cooke is doing his best to navigate a potentially tough situation, as Michael Russo of the Star Tribune writes.
"The team told me they're OK with me wearing it because Marty [Havlat] wore it after [Boogaard]," Cooke told me. "I don't really feel comfortable putting it on without his mum and dad's blessing. I've sent emails off to them. I want to let them know that by putting it on I'm absolutely not doing anything disrespectful. It's been my only number in the NHL, but at the end of the day, I don't want anyone's feelings hurt. I don't want anyone to think that I am being disrespectful and I want to make sure I take care of that before I even entertain the thought of putting it on."

It sounds like Cooke will receive that blessing from Joanne and Len Boogaard. Derek's dad, Len, forwarded Cooke's email to siblings Krysten, Aaron and Ryan.

"I read the e-mail and I greatly respect Matt for what he said in it," brother Ryan Boogaard told me in an email. "I texted my dad and told him I have no issues with it. I'm very impressed with Matt for what he did by reaching out to my parents. He didn't have to do it as he could have just worn #24, but he thought of Derek and our family before doing so. I knew that someone would eventually wear #24 and I was not expecting them to reach out to us, so when Matt did, I could not have been happier."
That Matt Cooke, what a bad man.
UPDATE: According to Russo, Cooke was indeed given their blessing and will wear 24 with the Wild.
Seriously, though, if he does end up wearing 24 in Minnesota there will be some people upset by it, I'm sure. It would be upsetting enough seeing 24 on another player -- although as noted, Martin Havlat did wear it already -- but when that player is somebody with Cooke's reputation, it draws a lot more attention -- and ire.
However, Cooke is just not the same ol' player. The reputation he has as a cheap-shot artist is tough to shake, but the guy has played every game in the past two seasons, obviously meaning he hasn't been suspended. He's an effective third-line player who can score a little, kill penalties and does play with a little edge still. He's the kind of player fan bases usually come to love when he's on their team.
As far as the number 24 goes, it's kind of crazy to think there is so much significance on the digits placed on a player's uniform, but that's how it is in all sports. We revere players who made a difference. But if Boogaard's number is that big of a deal then the Wild should just retire it, put it away to never be worn again. Short of that happening, it shouldn't be an issue if somebody else wears it, especially when he goes out of his way to make sure it's OK with the Boogaard family, as Cooke has done.
Vegas isn't being quiet about its hot start to the NHL preseason

The blue-liners are set for another big push, but Edmonton's rise is hard to ignore in the...

Meanwhile, the Devils' Brian Boyle isn't sweating his recent cancer diagnosis
Limited-time Warriors-colored jerseys are apparently on the way in January

The 32-year-old forward tells the media he expects to be back on the ice for the Devils op...

It seems it's all as wild as it sounds, with Canadian actor Zack Ward heading a 'West Coast...