NHL All-Time Teams: Montreal Canadiens
There are storied histories and then there are the Canadiens. The all-time team of Habs hoisted the Stanley Cup a combined 37 times.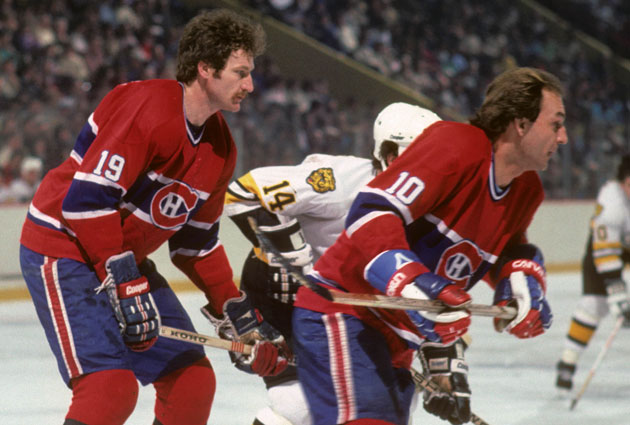 More NHL offseason: Rumors | Top 50 Free Agents | Buyout Tracker | Trades | Transactions
Ah, hockey in the summer, where things come to a grinding halt for about two months in between one long season and another. To fill the void we at Eye on Hockey thought it would be fun to make an all-time team for each of the 30 organizations in the NHL today.
The ground rules: The teams will consist of a center, two wings (regardless of which side), two defensemen and a goaltender. A player must have spent at least 200 games with a franchise to be considered. So Bobby Orr won't be on the Blackhawks' roster or Wayne Gretzky for St. Louis.

There are great franchises and then there are the Montreal Canadiens. They are hockey's royalty, the NHL's version of the New York Yankees or Boston Celtics. No franchise in hockey has had as many championships throughout its storied history, nor as many stars. Twenty years might have passed since the Habs last won Lord Stanley's Cup, but they have enough banners in the rafter already.
The legacy of the Canadiens is a proud one, and one they will always remind their fans of on a regular basis. It seems like every pregame ceremony in Montreal features some former player, who is likely a Hall of Famer as well.
In other words, you could make multiple lines and defensive pairings with a couple of goalies and still have stars sitting in the press box on the scratch list. That's what happens when your history includes 24 Stanley Cup titles.
Jean Beliveau: How is this for getting things started with a bang? Beliveau is in the top four of just about every offensive category you can find in Canadiens history. He's fourth in games (1,125), third in goals (507), second in assists (712) and second in points (1,219), just 27 behind Guy Lafleur. So yeah, Beliveau was pretty darn good at his job.
Inducted into the Hall in 1972, Beliveau never played for a franchise other than the Canadiens and was a star to the end. Even at 39 years old in 1970-71 he had 25 goals and 51 assists for 76 points in just 70 games. Makes you wonder what he could have done had he kept playing because clearly he still could.
In total Beliveau won the Art Ross once, the Hart Memorial as MVP twice and the Conn Smythe in 1964-65. Oh, and he hoisted the Stanley Cup 10 times -- 10!! There aren't many better.
Maurice Richard: OK, so Richard was known as the Rocket, has an award given in his honor to the top goal scorer every season and had a movie made about his life. Sounds like a legend, right? Right.
Richard is only sixth all time in games played for the Canadiens -- playing only for Montreal from 1942-43 through 1959-60 -- yet is their all-time leader in goals. He led the NHL in goals in five seasons, so if the award in his honor existed, he would be the owner of five Rocket Richard Trophies. Instead he will have to settle for being the greatest goal scorer in Canadiens history. Tough luck, huh?
Richard can't quite match Beliveau in the Cup department, he only had eight. Poor guy. He certainly went out on top, however, as the Canadiens won the Cup in each of Richard's final five seasons and six of the final seven.
Guy Lafleur: Talk about guys who put up points at a wild pace, you get to Lafleur. He is a bit more of a rare bird on this list as he not only played in a couple of other places in his career -- spending his final three seasons between New York and Quebec after ending a three-year retirement -- but he was also a little later than the above compadres and thus won the Cup just five times. For shame.
But man oh man could Lafleur score. For three straight seasons in the 1970s Lafleur had more points than anybody with 125, 136 and 132. In 1977-78 he had 60 goals, the peak of a six-year run of 50-plus goal seasons. He also was an assist machine. As a result, despite being just eighth in franchise history in games played at 961, he's second in goals (518), tops in assists (728) and their all-time points leader with 1,246.
Jean Beliveau, Maurice Richard, Guy Lafleur (BestSportsPhotos.com).
Larry Robinson: Ho hum, just another Hall of Famer and one of the all-time greats at his position. Robinson was with the Canadiens for 17 seasons from 1972-73 until 1988-89 and was nothing short of outstanding. Like any good puck-moving defenseman, he was an assist machine as his 668 are fourth in franchise history. He was also a consistent double-digits goal guy, scoring nearly 1/3 of his career goals on the power play. And while I know it doesn't mean much as a stat but it's worth pointing out because it's so insane: Robinson was a plus-730 in his career (highest in NHL history) including an incredible plus-120 in 1976-77.
Robinson was a two-time Norris Trophy winner, took home the Conn Smythe in 1977-78 and was a nine-time All-Star as a Canadien (before finishing his career in Los Angeles) all while winning the Cup six times with the Canadiens. What's even more impressive about Robinson is he has proven to be one of those players who can also teach. His record as a head coach isn't terrific but Robinson is recognized as one of the best assistant coaches in the game today, if not the best.
Doug Harvey: It was tough to choose the second defenseman here for the Habs as it was tight between Harvey and Serge Savard, but how can you ignore a guy who won seven Norris Trophies (six with the Canadiens?) The answer is you can't.
Harvey didn't put up the type of offensive numbers that Robinson did but remember, that's not the job of a defenseman, it's a bonus. Still, he did have 371 assists and 76 goals as a Canadien while, what else, the Canadiens were busy racking up Cup titles. Harvey hoisted the Cup six times and when he was at his best so were the Habs. When the Canadiens won five straight titles, Harvey won the Norris in four of those five seasons.
Patrick Roy: There was some debate as to which goalie should get this spot but in the end it had to be Roy, accepted by many as the game's all-time greatest goaltender. Still, Jacques Plante -- the franchise leader in wins and a seven-time Vezina winner -- Ken Dryden and of course Georges Vezina weren't that far behind Roy but he was too good to pass up, even if his ending in Montreal was tumultuous.
Roy and Plante played almost the same number of games as members of the Canadiens (556 to 551) and Plante had the benefit of playing behind some better teams than Roy -- although Roy's teams weren't always bad either, he did win the Cup twice in Montreal. He won the Vezina three times in Montreal and the Conn Smythe twice (winning it a record third time later in Colorado). His save percentages were never great but keep in mind he was playing with the Habs in an era with a lot more scoring. He led the league in save percentage four times as a Hab and one of those seasons it was with a .900 save percentage.
So Roy it is.
Serge Savard, Yvan Cournoyer, Steve Shutt, Bernie Geoffrion, Jacques Lemaire, Henri Richard, Aurele Joliat, Bob Gainey, Saku Koivu, Elmer Lach, Guy Lapointe, Jacques Laperriere, Howie Morenz, Jacques Plante, Ken Dryden, Georges Vezina, Andrei Markov
Limited-time Warriors-colored jerseys are apparently on the way in January

The 32-year-old forward tells the media he expects to be back on the ice for the Devils op...

It seems it's all as wild as it sounds, with Canadian actor Zack Ward heading a 'West Coast...
Lots of moving parts may be the biggest hurdle for Carey Price and Co., a defensively geared...

The Penguins have some fun with the names of some Ducks linemen

Rookie Tyler Wong scores a hat trick to lift the NHL's newest team in its exhibition debut