NHL lockout: Gary Bettman says league offers 50/50 split of HRR, wants season to start Nov. 2
The NHL made another offer to the NHLPA on Tuesday with the hopes of starting an 82-game season on Nov. 2.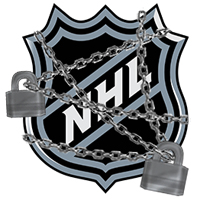 The NHL and NHLPA met on Tuesday in Toronto, and commissioner Gary Bettman confirmed the league has made a proposal to the players with the hopes of starting a full 82-game season on Nov. 2.
"We very much want to preserve a full 82-game season, and in that light. we made a proposal. An offer, really," Bettman said. "It is our best shot at preserving an 82-game regular-season and playoffs."
Bettman told reporters in Toronto the offer includes a 50/50 split of hockey related revenue in the first year and will include no salary rollbacks. The other big piece of news: The league's proposal would make no changes to the definition of HRR, something that had been a big topic of discussion in previous meetings.
The two sides weren't just fighting over the percentages; they were fighting over how big the pool of money was that they would be dividing.
Under the previous deal, the players were receiving 57 percent of the hockey-related revenue.
NHL Lockout
More NHL coverage
Union leader Donald Fehr, who admitted he didn't expect the offer on Tuesday, said the proposed deal is for a mininum of six years and that they "haven't been able to run any numbers yet much less formulate a response."
"Gary indicated to me, and I assume he indicated to you, that they would like to get a full 82-game season in," Fehr said. "We, of course, share that view and would like to get a full 82-game season in. And, so, what our hope is that after we review this, that there will be a feeling on the players' side that this is a proposal from which we can negotiate and try to reach a conclusion. But, we are not in a position to make any comments about it beyond that at this point."
Fehr anticipates that they will formally respond sooner rather than later. The union has a 5 p.m. ET conference call scheduled on Tuesday.
The one issue that Bettman wouldn't discuss during his meeting with the media was how escrow would work under this new proposal, and that's something that would certainly be an issue for the NHLPA.
But while the 50/50 offer is encouraging, it still represents the players getting less money than they were under the previous deal, which leads to this from TSN's Darren Dregger:
NHL intends on calculating lost salary in getting to 50-50 and will pay the players back over time.

— Darren Dreger (@DarrenDreger) October 16, 2012

Sportsnet's John Shannon has some of the other secondary details in the proposal. Free agency would begin at age 28 instead of 26, and contracts would carry a maximum of five years.
This offer probably isn't going to be accepted outright by the players, at least not on Tuesday. But it at least represents what might be the most serious and significant offer (from either side) to date.
Perhaps it could finally be the start of something bigger. Or perhaps just the start of serious negotiations.
If nothing else, there appears to be more optimism on Tuesday than there has been over the past month.
For more hockey news, rumors and analysis, follow @EyeOnHockey and @agretz on Twitter and like us on Facebook.
The former Boston Bruin was the first black player to play in the NHL

Inclement weather led to the Charlotte Checkers and Bridgeport Sound Tigers playing in front...

The NHL chose the Detroit rocker as its All-Star Game entertainment and not everyone is th...
NHL fans from all over seem to agree on one thing: Hating Kid Rock

The team tweeted on Monday that Shaw would be re-evaluated in 7-10 days

The Montreal forward was hospitalized after taking a Zdeno Chara slap shot to the head