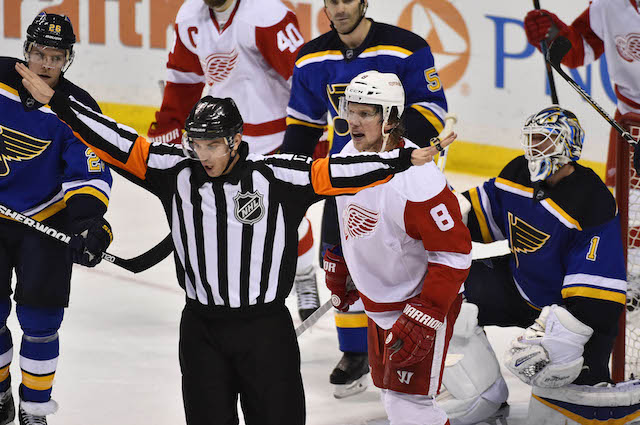 If you've been paying any kind of attention to the NHL this season you're probably already well aware that most games on most nights do not feature many goals.
It's a 3-2 league, and that lack of goal scoring, which also extends to the declining individual point totals of the league's best and most talented players, seems to be a point of concern for people looking for exciting, fast-paced hockey. But exciting hockey isn't always about high-scoring games.
Not all goals are exciting and not all games with a lot of goals produce a visually appealing product.
The opposite is also true, sometimes a 1-1 game can be played a frantic pace with two teams exchanging constant chances and keeping fans on the edge of their seats (see, for example, Monday's game between Pittsburgh and San Jose). 
Still, there are no shortage of opinions and theories as to what can be done to increase scoring, and most of them miss the mark. The lack of goals isn't because of an increased emphasis on shot-blocking or and it's not because the NHL needs to eliminate that aspect of the game (something that has actually been suggested repeatedly this season). It's not because the NHL needs to widen the ice and play on an international ice surface (something that might actually lead to an even more defensive game) or make the nets bigger.
Five-on-five goal scoring has remained pretty steady in recent years, and teams are converting on the power play at a similar pace. The difference is simply the declining number of power plays that teams are getting every night. Or, more accurately, the power play opportunities they are not getting. 
This season the average NHL team is getting just 3.11 power play opportunities per game. How does that compare to past seasons?
Well, let's look...
Power Play Opportunities Per Game (Per Team)
Season
Power Play Opportunities Per Game
2014-2015
3.11
2013-2014
3.27
2012-2013
3.32
2011-2012
3.30
2010-2011
3.54
2009-2010
3.71
2008-2009
4.15
2007-2008
4.28
2006-2007
4.85
2005-2006
5.84
2003-2004
4.23
2002-2003
4.42
2001-2002
4.12
2000-2001
4.58
1999-2000
4.03
1998-1999
4.37
1997-1998
4.82
Look at that steady (and significant) downward decline since the 2005-06 season, when the NHL came out of the lockout and started to enforce obstruction.
The 2005-06 season was the NHL's highest scoring season the early 1990s and it just so happened to be the year where power play opportunities skyrocketed. That is where your offense has gone. I still think the game today is significantly better than it was 10-15 years ago when size was king and every night was a 60-minute wrestling match in the middle of the ice, but the scoring still looks the same, mainly because the game is played almost entirely at 5-on-5.
Give the average NHL team an extra two power play opportunities per game and you might be looking at an extra 30 goals for them if they had even an average power play unit. And that is per team. 
The decline in penalty calls isn't because the players have adjusted to the new rules, it's simply the fact that the obstruction that clogged up the game has slowly started to crawl back into the game. A few years ago there were theories floated (specifically one by then-Maple Leafs general manager Brian Burke) to allow more obstruction to slow the game down for the safety of the players. 
But no matter the reason, power plays are way down and because of that so is goal scoring.
It's not because of shot-blocking or the size of the rink or the size of the nets.