Nik Antropov latest former Jet to head to KHL
Nik Antropov, the player who scored the first goal for the Jets 2.0, is heading to the KHL.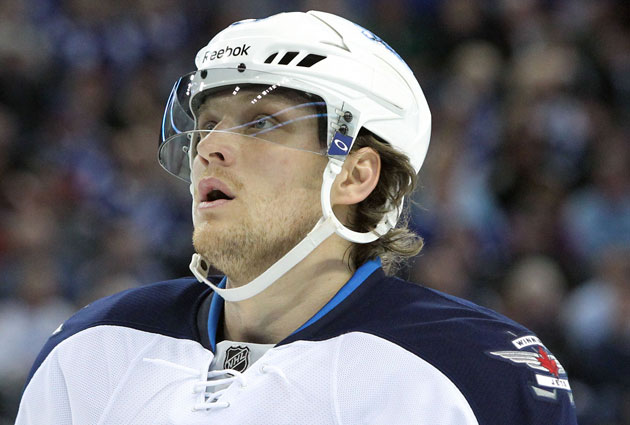 More NHL offseason: Rumors | Top 50 Free Agents | Buyout Tracker | Trades | Transactions
You can add Nik Antropov to the list of players who are heading to the KHL from the NHL for next season.
The big, veteran center who scored the first goal in the history of the Winnipeg Jets 2.0 in 2011, is bound for the Russian league. Sport-Express in Russia reported he was heading overseas and then on Thursday the twitter account for Astana Barys in Antropov's home country of Kazakhstan tweeted that Antropov has signed a two-year deal. At least that's what Google translate tells me.
This is another example of an Eastern European player heading to Europe as the chances in the NHL were drying up. It's not as though it's a massive blow to the league or anything, though I did think Antropov was a guy who could still find a job in the NHL. Perhaps there was interest but maybe just not enough to keep him from wanting to go home.
Antropov, 33, is just three seasons removed from his best career year. In 2009-10 with the Thrashers he had 24 goals and 43 assists for 67 points. This past season season he had just six goals and 123 assists in 40 games, his production starting to dip in recent years.
If it feels like the Jets have lost a disproportionate number of players to the KHL this summer it's because they have as Steve Dangle noted. It probably isn't saying a lot of good things about your roster when the guys are all taking jobs in the KHL.
The NHL says it's only interested in expanding to Seattle, but here's a look at all the moving...

The NHL says it is only looking toward Seattle for the next expansion team

The 33-year-old defenseman hopes to help find a cure for serious head injuries in athletes
Chicago becomes the latest NHL club to earn an evaluation of $1 billion or more

The city council has approved a $600 million redevelopment project for KeyArena

Arvidsson took off his glove to reveal an engagement ring for one lucky fan