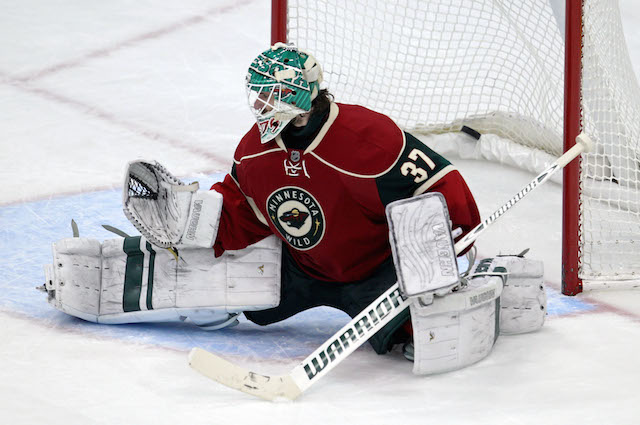 Following a season in which he appeared in just two games -- both in the American Hockey League -- Minnesota Wild goalie Josh Harding is expected to retire from hockey according to a report from Michael Russo of the Star-Tribune.
It will be an unfortunate end to a promising career that was cut too short. 
Back in November of 2012, Harding announced that he was diagnosed with Multiple Sclerosis and missed all but five games of that season before replacing an injured Niklas Backstrom in the playoffs. Amazingly, he was able to return the following year and was not only able to play at a high level, but was one of the best goalies in the NHL for the first half of the 2013-14 season. A change in medication, however, would eventually lead to complications that would ultimately end his season. 
He has not played in the NHL since. 
Before the start of 2014-15 season Harding was suspended by the Wild back in September after he fractured his foot when he reportedly kicked a wall during an altercation with a teammate. 
Harding, a second-round pick in the 2002 draft, spent his entire career with Wild appearing in 151 regular season games over parts of eight seasons, recording a .918 save percentage. His most recent NHL appearance was on Dec. 31, 2013, when he stopped 21 of 23 shots in a 2-1 loss to the St. Louis Blues.
He would only play in two games for the Iowa Wild, Minnesota's AHL affiliate, this season. He had to leave one of those games after playing in just two periods due to dehydration.  
At the team's season ending media availability general manager Chuck Fletcher said (via Russo), "I wouldn't want to speak for him, but he has bigger issues than just hockey."