With big offer sheet decision to make, Predators GM David Poile been here before
Nashvile GM David Poile has to make a decision on whether to match an offer sheet signed by his defenseman Shea Weber. Poile has been here before, letting Scott Stevens leave Washington more than 20 years ago.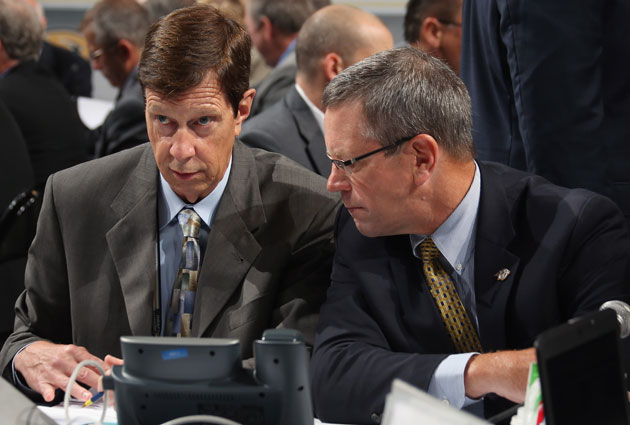 It's now up to David Poile (left) and his staff to decide what to do. (Getty Images)
There is something deliciously ironic this morning about the Nashville Predators' team name because these days the Predators have been prey for the rest of the league.
A few months after pushing into the second round of the playoffs and convincing a lot of people that they might stand a chance the team is being gutted from the outside. Alexander Radulov went back to the KHL, Jordin Tootoo headed to Detroit and oh, something about Ryan Suter and the Wild? I think I missed that one.
Now David Poile has Flyers general manager Paul Holmgren trying to poach his very best player Shea Weber. On Wednesday night word came down that Weber had signed a 14-year offer sheet with Flyers that was going to total somewhere around $100 million. Then a report from Nick Kypreos of Sportsnet put the money at $110 million, meaning a $7.8 million cap hit which is very reasonable with all things considered -- however it is laden with signing bonuses up front.
Shea Weber offer sheet
More NHL coverage
Like Steve Yzerman in Tampa Bay last summer with Steven Stamkos -- who, ironically enough, the Flyers gave strong consideration to giving an offer sheet to -- Poile has maintained that he would match any offer put forth to his All-Star defenseman and captain. It's no great secret that the Predators typically don't have a lot of money to spend, living life around the floor as opposed to the cap, but no matter, they would match any offer sheet to Weber.
There are so many reasons why the Predators have to do this. There are as many or more reasons why Poile himself has to match.
Let's go back to 1990, a time when David Poile wasn't in Nashville because the Predators weren't even a twinkle in Gary Bettman's eye. Poile was instead the GM for the Washington Capitals. There he had a young All-Star defenseman who was captain material. That defenseman figured to be a big part of Washington's future for a long time when he became a restricted free agent.
That player was Scott Stevens. He was signed to an offer sheet by the St. Louis Blues and Poile didn't match. Sure, he got five first-round draft picks in compensation but it burned having to watch Stevens join the Devils just a year later and becoming one of that franchise's greatest players ever including being an anchor of two Stanley Cup champion teams in New Jersey.
After that episode it's hard to imagine Poile would let it happen again. He knows that his franchise can't afford to lose another star defenseman in the span of a few weeks. His franchise can't afford to lose its face. He knows that.
But can his franchise afford to keep its face? We'll have to wait and see.
Let's go back in the annals of offer sheet history once again. Remember when the New York Rangers signed Joe Sakic to a three-year, $21 million offer sheet (hey, that was big money then)? It called for a ton of money up front. The Avalanche obviously matched it but it took them a lot to do so. Adrian Dater of the Denver Post recalled that on Thursday.
Avalanche had to sell equity in still-in-blueprint-phase Pepsi Center to come up with cash to match Rangers/Sakic '97 offer sheet

— adater (@adater) July 19, 2012
In other words, the Avs did what they had to do. They scrounged up enough money to make sure that their best player and future Hall of Famer didn't get away for just some draft picks. In both the Sakic case and Weber case we aren't talking about likely high-first round picks here, either. In comparison to the player you lose, those four first-round picks seem to pale in comparison.
It's not often you get second chances at things. More or less, that's what Poile has here. The first time he was in this situation he lost an elite defenseman. If he is able to he can avoid it from happening a second time.
For more hockey news, rumors and analysis, follow @EyeOnHockey and @BrianStubitsNHL on Twitter and like us on Facebook.
The puck didn't go in the net but the skater did!

Another sign that Houston is a potential destination for an NHL relocation
The two teams combined for 111 penalty minutes and five ejections

The veteran Minnesota goaltender has recorded three consecutive shutouts

The historic start for the NHL's newest team has come largely from unprecedented balance in...