Shea Weber offer sheet appears to be heavily loaded up front with signing bonuses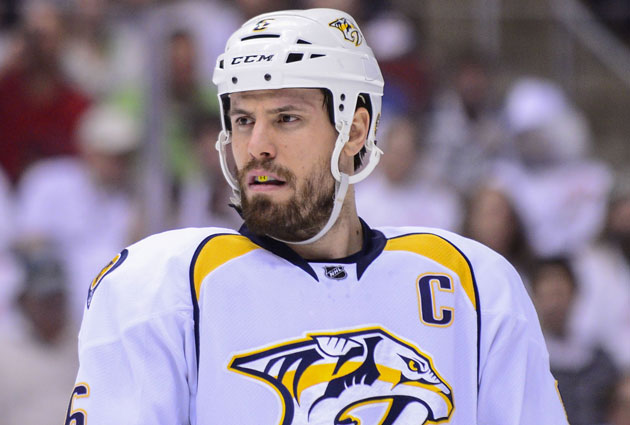 Shea Weber is going to get some big signing bonuses no matter which team he's with. (US Presswire)
When word came down that the Flyers had signed defenseman Shea Weber to an offer sheet of 14 years in length the universal response after the shock and awe was rather simple: The Predators absolutely have to match that offer. Shouldn't even be a problem to consider.
The only way that it would make sense for the Predators not to offer is if the deal was just too rich for their blood. But $100 million or so spread over 14 years didn't seem unreasonable in the least. Match it indeed, no need to even wait the allotted seven days.
Ah, but offer sheets are always tricky in some way. While the NHL offer sheets for the most part can't contain any provisions that would classify as poison pills, they can be manufactured to make the structure tough to accept for certain teams. That's the route the Flyers are going.
Nick Kypreos of Sportsnet had the details of the contract structure on Monday. Have a look.
#Preds Weber offer sheet from #Flyers. 1st 4 yrs 1M salary+13M sb; yrs 5-6 4M sal+ 8Msb; yrs 7-10 6M sal; year 11 3M sal; last 3 yrs 1M sal

— Nick Kypreos (@RealKyper) July 19, 2012
Holy signing bonuses, Batman!
Quick CBA reminder: Signing bonuses do count against the salary cap, so it's not as if Weber will have a really small cap hit. The offer is laid out this way for many reasons, the principal reason being that it puts a ton of money up front. Imagine trying to buy a house. You are prequalified to buy a $400,000 house on a 30-year mortgage however the seller is demanding 50 percent of the money on a down payment. Just making an assumption here but I don't think many people who have a budget of $400,000 have $200,000 in liquid assets sitting around. They will have to find another house.
More or less, that's the hope from the Flyers here. In less than one calendar year the offer would see Weber receiving $27 million -- !!! -- by next July 1. He would get the initial signing bonus when signing the contract, get this base salary in the first season and then receive a signing bonus next July 1. That's a lot of money. It wouldn't stop there, either. There would be $68 million in signing bonuses over the first six years of the deal in addition to his salary.
Weber signs Flyers' offer sheet
More NHL coverage
The second big reason why a contract would be designed this way with so much money via signing bonuses is the fact that it helps avoid cap circumvention. It keeps Weber's actual salary down in the early years of the deal before it drops at the back end. Remember that Ilya Kovalchuk circumvention two years ago? The problem laid in the base salary. By giving a lot of the money in bonuses it avoids the heavy decrease in salary from beginning to end.
Back to the Predators here. The question everybody wants to know, specially Ed Snider and Paul Holmgren in Philadelphia, is if they can afford to pay that kind of money up front. The Preds obviously have some money to spend. At this point they are well below the salary floor and have to spend just to get there. So we know they have money in the budget. However those lump sums make it a lot tougher.
Still, let's play a little in the hypothetical world here. The Predators have been operating under the assumption that they were going to re-sign Weber. They have been working on it for a long time and so pretty clearly they had enough money saved for him. Then they were able to offer Ryan Suter a big contract that he didn't take. They supposedly also talked with Zach Parise. Point is, they have some money lying around if they had designs of re-signing both Weber and Suter.
The immediate nature of the bonuses might not be the biggest problem, though. It could be in two or three years when the Preds would still be paying big bucks in lump sum to Weber. That's probably the consideration for David Poile and Nashville. Well that and the fact that they know they can't lose Weber. The franchise just can't afford for that to happen.
More from Eye on Hockey
Flyers sign Weber to 14-year offer sheet
For more hockey news, rumors and analysis, follow @EyeOnHockey and @BrianStubitsNHL on Twitter and like us on Facebook.