All you need to know: MLB rumors, news roundup for Feb. 18
Here is a recap of Tuesday's baseball news, complete with injury updates and some news on a pair of young, hard-throwing National League right-handers.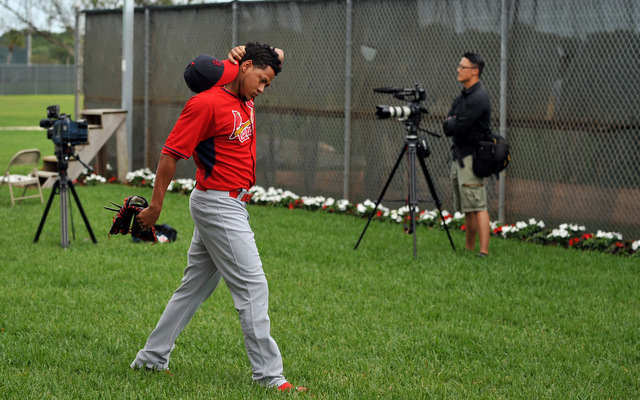 MORE: FA tracker: position players | FA tracker: pitchers
It's not just pitchers and catchers in camp these days, position players are starting to report to spring training as well. Exhibition games are scheduled to start next week, so hooray for that. We're getting closer and closer to real, live baseball.
Earlier today, Jon Heyman of CBSSports.com reported the Seattle Mariners are showing "decent interest" in LHP Chris Capuano as they look to round out their rotation. Here is a recap of the rest of Tuesday's baseball news.
FREE AGENT SIGNINGS
Toronto Blue Jays : Signed OF Brett Carroll to a minor league deal that does not include an invitation to big league spring training, the club announced.
New York Mets : Signed RHP Buddy Carlyle to a minor league contract that does not include and invitation to big league spring training, the team announced.
AVOIDED ARBITRATION
Cleveland Indians : Agreed to a one-year deal worth $9.7625 million with RHP Justin Masterson . He will be a free agent after the 2014 season.
ROSTER CUTS
Atlanta Braves : Released 1B Mat Gamel , the team announced. He was working his way back from a pair of ACL surgeries, but he reinjured his knee during a workout.
RUMORS & SPECULATION
LHP Chris Capuano: In addition to the Mariners, he is also drawing interest from the Boston Red Sox , Miami Marlins and Chicago White Sox . (Fox Sports & MLB Daily Dish)
SS Stephen Drew : Four teams, including the Red Sox and Mets, continue to have interest in Drew. The New York Yankees made an offer earlier this winter, but that is apparently off the table. (ESPN & New York Post)
Milwaukee Brewers : GM Doug Melvin confirmed the club has not discussed a long-term extension with SS Jean Segura since making an offer last summer. (MLB.com)
San Francisco Giants : GM Brian Sabean said they are open to a long-term extension with 1B Brandon Belt , but right now they are focused on a one-year deal to avoid arbitration. (San Francisco Chronicle)
Baltimore Orioles : Remain interested in both OF Nelson Cruz and DH Kendrys Morales . They would only have to surrender a second round pick to sign either after giving up their first rounder to sign RHP Ubaldo Jimenez . (ESPN)
Pittsburgh Pirates : Hoping to added a left-handed bat for first base through trade. They're monitoring 1B Ike Davis , among others. (ESPN)
Minnesota Twins : Remain interested in a reunion with LHP Johan Santana , who is rehabbing from shoulder surgery. (Star Tribune)
INJURY UPDATES
Giants: 2B Marco Scutaro will take some drills off early in spring training to deal with his "annoying" back. Manager Bruce Bochy confirmed they will give him more days off during the season.
Marlins: RHP Steve Cishek cut short a workout and did not throw his scheduled bullpen session due to a sore neck. (Sun Sentinel)
Philadelphia Phillies : Both LHP Cole Hamels and RHP Mike Adams are hoping to throw off a mound for the first time next week. Hamels is returning from shoulder tendinitis while Adams is rehabbing from shoulder surgery. (Philadelphia Daily News)
Pirates: OF Travis Snider has been shut down after hurting his finger while cutting sweet potatoes. Seriously. (Pittsburgh Post-Gazette)
Texas Rangers : IF Jurickson Profar has been shut down with a shoulder issue. He could still be ready for opening day as long as he doesn't suffer another setback ... RHP Tanner Scheppers was scratched from Tuesday's scheduled bullpen session due to back spasms and is day-to-day (MLB.com) ... LHP Matt Harrison was scratched from Tuesday's throwing session due to a stiff neck. He wanted to throw anyway, but the team said no after he missed most of last year with back problem. (Fox Sports Southwest)
Red Sox: C A.J. Pierzynski did not catch any bullpen sessions after turning his ankle earlier this week (WEEI.com) ... RHP Jake Peavy played catch. He had a finger issue after being hit by a ball over the weekend (MassLive.com) ... OF Shane Victorino will take it easy early in camp following December thumb surgery. (ESPN Boston)
Twins: SS Pedro Florimon was released from the hospital on Tuesday. He had his appendix removed in a non-emergency procedure on Monday. (St. Paul Pioneer Press)
White Sox: RHP Nate Jones will begin  strengthening program on Wednesday. He is dealing with a glute problem. (MLB.com)
MISCELLANY
St. Louis Cardinals : RHP Carlos Martinez will work as a starting pitcher this spring, pitching coach Derek Lilliquist has confirmed. (St. Louis Post-Dispatch)
Washington Nationals : RHP Stephen Strasburg is working to add a slider to his repertoire. (Washington Post)
Yankees: Not that there was much doubt, but manager Joe Girardi confirmed OF Jacoby Ellsbury will bat leadoff and player center field. (Wall Street Journal)
Show Comments
Hide Comments