Fixing Arkansas and LSU is the key to fixing basketball in the SEC
Why has the SEC been down in men's basketball recently? That's not a simple question to answer. But one reason is because two of the league's historically strong programs have been down, and when that changes so will the perception of the conference.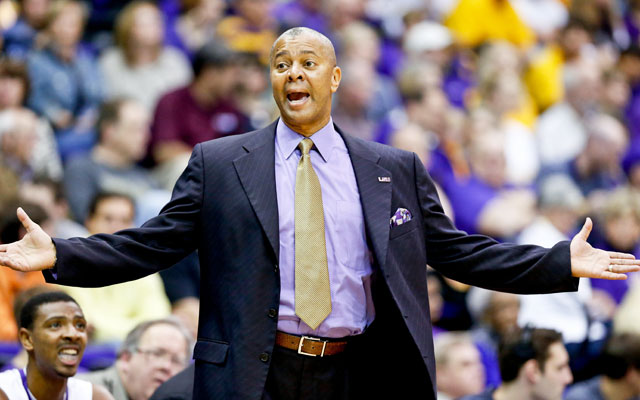 Parrish: SEC Catchup: UK the favorite again | Latest updates
LAS VEGAS -- So I was sitting in the middle of the desert talking to a guy from the middle of Arkansas about the Razorbacks basketball program, and he didn't hesitate when I asked him how often somebody asks him if this will be the season the Hogs become relevant again.
"I hear it every day, man. Every day -- from like the elderly people," answered Bobby Portis, the 6-foot-10 sophomore who is among the 27 college players competing here at the LeBron James Skills Academy. "Because, you know, back in the 90's, we were a powerhouse. But it's kinda flipped. So now somebody says something about it every day."
Now I won't pretend that somebody asks me about Arkansas every day. (Or even every week.) But every so often somebody does ask about the SEC. More specifically, they ask what's been wrong with men's basketball in the SEC, and, though there's no easy answer to that question, the truth is that some of the league's recent problems are rooted in the fact that two of the league's top-tier programs have struggled in recent years.
One of those programs is Arkansas.
The other is LSU.
Obviously, Kentucky has forever been the premier program in the SEC, proof being how the Wildcats have nearly twice as many appearances in the NCAA Tournament as any other league member. But Arkansas ranks second in the SEC in NCAA Tournament appearances with 29 while LSU ranks fourth with 20, and that's the case even though the Hogs and Tigers haven't been to the NCAA Tournament since 2008 and 2009, respectively.
So the question is simple: How is a league supposed to flourish when two of its historically reliable programs have been unreliable? Answer: It can't. But the good news is that Mike Anderson and Johnny Jones have positioned Arkansas and LSU to end those droughts, and the best reasons for that have been on display at the Cashman Center this week.
Portis is here with Arkansas teammate Michael Qualls.
LSU teammates Jordan Mickey and Jarell Martin are also in attendance.
At least three of those players (Portis, Mickey and Martin) could've reasonably left school after last season and applied for early entry into NBA Draft. But they didn't. So now Arkansas and LSU should both finish in the top five of the SEC. And if they do -- and if Kentucky and Florida remain strong, and Georgia improves on last season's solid campaign, etc., -- then the SEC will suddenly look a whole lot better because, you know, all leagues look better when the programs that are supposed to be good are actually good.
"That's the thing people miss about our league when they're critical," said one SEC coach who spoke on the condition of anonymity because he didn't want to be perceived as being negative about the conference. "Everybody talks about how we need the bottom to get better, or this school or that school to act like they care. Not true. We just need the schools that are supposed to be good to be good, and I believe we're close to getting back to that."
Jones, for what it's worth, told me he agrees.
"We have a nice nucleus of guys [at LSU], and then the league has some really nice teams," said the third-year coach of the Tigers. "Arkansas has all of those guys back. Then there's Kentucky and Florida and Georgia. So the league is going to be really good."
Perhaps.
But, again, a lot of that will be determined by whether the SEC's historically solid programs can get back to being solid. Can they do it? We'll see. But that's definitely the plan.
"Every year they talk about Kentucky and Florida and nobody else in the conference," said Portis. "But maybe we can change that."
The Big Ten Tournament is a week earlier than usual, so the regular-season schedule may look...

Arizona, Grand Canyon and Tulane are also in Barcelona and have reported to be accounted for...

The Kansas forward is no longer accused of walking out on an $88 tab
Cavaliers basketball coach tapes statement on behalf of his university and his city

Gary Parrish and Matt Norlander discuss all things Marvin Bagley and his immediate future

Which version of Grayson Allen will show up for Duke and other questions for every ranked...