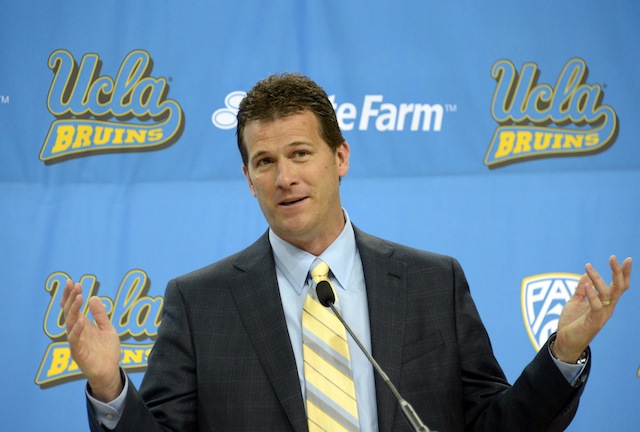 Getting rid of Steve Alford at UCLA will prove to be extremely costly, should anyone want to do so before his contract is over.
The Los Angeles Times reports Alford's buyout in his seven-year deal is $10.4 million through 2016; that is four times as much as Alford is set to make per season with the Bruins. Buyouts have become a contemporary norm in college coaching contracts, but this hefty fee baked into Alford's agreement means he's almost definitely padlocked to UCLA for the foreseeable future.
It could very well be unlike any other contract in college basketball coaching for the mere exorbitant number attached to the buyout.
The report also notes an $845,615 signing bonus Alford received upon taking the job in April, when he left New Mexico for UCLA less than a week after agreeing to a revamped 10-year deal with the Lobos. The signing bonus amounts to 35 percent more than what Alford agreed to pay UNM after balking on their deal ($625,000). In effect, UCLA covered the buyout by way of the signing bonus; Bruins athletic director Dan Guerrero previously said the bonus was in the neighborhood of 200K.
More from the LA Times:
UCLA is essentially making it impossible for him to do to Westwood what he did to Albuquerque.
"They don't want to be used as a steppingstone to some better job," said Mark Levinstein, an attorney at Williams & Connolly in Washington who has represented a number of college and professional coaches in contract negotiations. ... Under the final contract terms, Alford will receive $2.6 million a year for seven years, or a total of $18.2 million. If he quits before April 30, 2016, he must pay the school $10.4 million. That penalty drops each year after that, to $7.8 million, $5.2 million and finally $2.6 million in his final year, ending with the 2018-2019 season. The contract calls for UCLA to pay Alford the same amounts if he's fired — a mirror-image termination clause that experts in sports law call unusual — so it provides a great degree of job security for the new coach.
The report states Ben Howland, the longtime UCLA coach who made three Final Fours and was fired in March, left UCLA with as much as a $3.5 million payout after being cut loose from the program.
The tactic employed by UCLA for Alford puts equal responsibility on the coach and the university. If the contract is severed prematurely, both sides are equally responsible for paying out the terms left on the agreement.
Other clauses in the contract obtained by the Times include $75,000 for winning a national title; $20,000 for winning the regular-season crown in the Pac-12; $10,000 for keeping UCLA's APR score above 925; and $20,000 for running "summer and holiday" basketball camps. In total, Alford stands to earn as much as $450,000 per year if he clears all incentive bars.