Andersen: Badgers QB Joel Stave out indefinitely, but not injured
Gary Andersen announced that quarterback Joel Stave had been shut down due to a sore throwing shoulder, then retracted that announcement, but says Stave isn't ready to play regardless.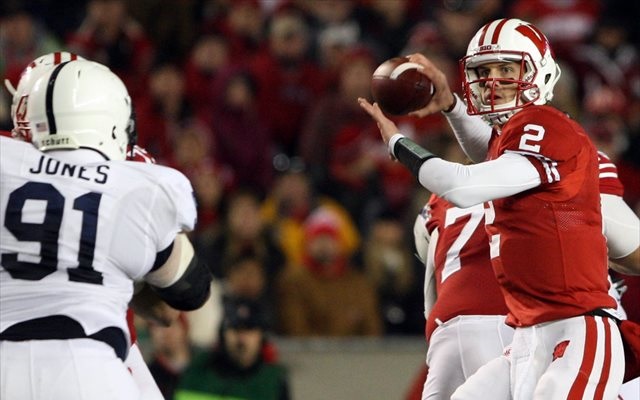 Wisconsin had already had a weird few days when it came to injuries, but things nonetheless became dramatically weirder Tuesday thanks to the changing status of junior quarterback Joel Stave.
Badger coach Gary Andersen announced Tuesday afternoon that due to "some issues with [Stave's] throwing shoulder ... the best thing for him right now is to shut it down and give him some rest." The announcement set no timetable set for Stave's return from what the announcement described multiple times as a shoulder "injury." 
But Andersen later retracted much of that announcement early Tuesday evening, when he told Fox Sports Wisconsin's Jesse Temple and others that Stave was not injured after all.
"Is he injured?" Andersen said. "No. Is he ready to play right now? No. I used the word 'injury,' so maybe bad choice of words."
Andersen added that Stave is not "shut down" and will continue working through individual drills, but will not participate in game preparation. He again provided no timetable for Stave's return, saying it could even be as soon as this week, but also said redshirt sophomore Bart Houston would be the Badgers' backup for this week's home opener against FCS Western Illinois.
Stave -- who injured the shoulder in the Capital One Bowl loss to South Carolina and had his spring workload reduced -- said point-blank he did not know why he had been unable to throw the ball correctly in recent practices:
Stave: I've thrown how many thousands of balls in my life? I know when it hurts, when it doesn't. I don't know what it is. Just isn't right.

— Jesse Temple (@jessetemple) September 2, 2014
Stave said he felt he could go "100 percent" in game action if called on, suggesting the issue was more mental than physical. The Milwaukee Journal-Sentinel reported Stave said he was not dealing with any pain or other issue in the shoulder.
Stave battled with Tanner McEvoy for the starting quarterback job through fall camp, and was even listed alongside McEvoy on the Badgers' game week depth chart. When McEvoy was struggling against LSU's defense on Saturday (finishing 8-of-24 for 50 yards with 2 interceptions), many wondered why coach Gary Andersen did not give Stave -- a starter in all 13 games in 2013 -- a chance in the second half.
Tuesday's announcement seemed at first bring clarity to the quarterback situation. But Andersen's and Stave's later statements have unquestionably muddied the long-term picture again.
College football bowl games were all announced on Sunday, and you can check out the entire...

SportsLine simulated every bowl game 10,000 times for pick'em leagues and confidence pools

Everything you need to know to watch and pick the Las Vegas Bowl on Saturday
Everything you need to know to watch and pick the Camellia Bowl on Dec. 16

Everything you need to know to watch and pick the New Mexico Bowl on Dec. 16

Everything you need to know to watch and pick the Cure Bowl on Saturday