Auburn considers adding football national titles
Who's No. 1 from past seasons? Schools often redefine how they claim championships, and Auburn may be the latest to do it.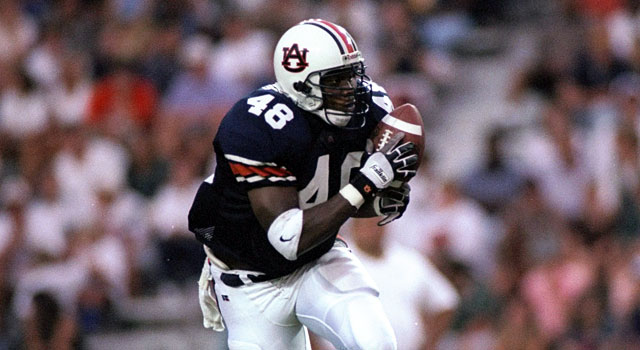 DESTIN, Fla. — What constitutes a national title and what doesn't? In the world of college football, where the "Who's No. 1?" debate has raged for years without a playoff, Auburn may soon become the latest school to redefine history.
Auburn is considering retroactively claiming more national titles to fall in line with how other schools count championships. It's a practice met with pride or derision by fans around the country, depending on your allegiance.
Auburn athletic director Jay Jacobs said a university committee will discuss recognizing more than the Tigers' undisputed 1957 and 2010 national titles. Auburn is mostly discussing the 1913, 1983 and 1993 seasons because the NCAA football record book recognizes Auburn as national champions in those years, Jacobs said. Those teams have already been noted in past Auburn media guides as national champions.
The NCAA doesn't actually name national champions. Rather, the NCAA record book recognizes "champions" from a number of different polls or sources, some of which crown champions retroactively.
1993 Final AP Poll
School
Rec.
Bowl
1. Florida St.
12-1
Won Orange
2. Notre Dame
11-1
Won Cotton
3. Nebraska
11-1
Lost Orange
4. Auburn
11-0
No Bowl -- Probation
5. Florida
11-2
Won Sugar
For instance, the National Championship Foundation recognizes Auburn as a national champion in 1993 (when the Tigers were on NCAA probation and served a postseason ban) with Florida State, Notre Dame and Nebraska. Florida State is widely considered the only national champion in 1993.
The National Championship Foundation was created in 1980 by Mike Riter of Hudson, N.Y., to retroactively count pre-1980 national titles. The foundation also started naming champions in current time.
"It's not about taking anything from anybody else," Jacobs said. "It's not about saying you aren't the champion and we are. It's about appropriately recognizing those teams that were rewarded by a credible poll. They were a champion. So why shouldn't we have a flag or banner in our stadium like other schools are doing?"
The 1993 addition would be the most questionable title Auburn is considering. By that point, the Bowl Coalition existed and helped pair some of the top teams in bowl games. Florida State beat Nebraska in the Orange Bowl that season. Auburn, which didn't play in a bowl due to NCAA violations, finished 11-0 and ranked No. 4 in the final Associated Press poll.
"You've been in the same world I've been in," said Terry Bowden, Auburn's coach in 1993. "In the last 20 years I think this argument hasn't come up that much. My dad's Florida State team is the only team we've kind of recognized from 1993."
Bowden said he's not sure why the Auburn debate is happening now — "Isn't this about what Alabama does, then Auburn does (for counting national titles)?" he speculated — but added he would be proud if the 1993 team is recognized as a national champion.
"In light of the fact we're talking about a mythical proclamation that's not chosen by the NCAA or an NCAA-sanctioned playoff, everybody has the right to claim what they want to claim," Bowden said. "All I can say is I wouldn't want to get into that argument, but I'd be proud if they're recognized. I do know that football team and those young men beat the defending national champion and at the end of the season was the only undefeated team left in the country. Somebody chose them. I don't even know who that is, to be honest with you."
When asked why Auburn might claim 1993, Jacobs replied, "I think you could probably take any of those we're claiming and say they're odd, and you can take some out there that we're not claiming and say that's odd you're not asking about them. I think there's different criteria for all them. This (committee) is looking at how other schools are looking at them and if they are, should we at least consider them?"
Jacobs said the Auburn committee, which meets this month, was not created solely to examine past national championships. The committee also looks at honoring past and current athletes at Auburn, such as retiring jersey numbers. AL.com first reported Auburn's use of a committee.
Jacobs said the consensus from Auburn fans so far is "pretty strong" that the university should retroactively count past championships. 
Alabama, the bitter in-state rival of Auburn, has questionably counted national titles for years. Alabama claims 15 national championships, but counted only six until the mid-1980s. 
One of the titles claimed by Alabama is from 1941, when the Crimson Tide lost two games and undefeated Minnesota was widely recognized the consensus champion. Alabama had a final AP ranking of No. 20 and finished third in the SEC. Alabama claims 1941 because it was No. 1 in the Houlgate System, a mathematical rating from 1927 to 1958 that ran in syndicated newspapers.
Does Jacobs find it comical how Alabama claims some titles?
"Quite frankly, I don't study it," he said. "I just know the history of how several of these schools have added up their championships and if we're doing the comparable thing, why would anybody argue with that?"
Over the past decade, Texas A&M, USC and Minnesota added national titles from before 1940. Ole Miss claims three national titles and none of them are from the Associated Press, coaches poll or BCS.
Former Auburn coach Tommy Tuberville told USA Today Sports last week he's disappointed the Auburn administration didn't push to claim the 2004 BCS title after it was stripped from Southern California because of NCAA violations. The BCS presidential oversight committee determined there would be no champion in 2004.
"Hey, if I was the coach of an undefeated '04 team that wins the Sugar Bowl and goes 13-0, I'd be saying it too, just like those players are saying it," Jacobs said.
Bowden said no one at Auburn has contacted him about whether to recognize the 1993 team as a national champion.
"I've fielded four or five calls in recent days on this," Bowden said. "Certain calls you don't take. If somebody wants to call your '93 team national champions, you take this call. And I know that's a little self-serving. Beauty is in the eye of the beholder. The fact we're arguing this debate over a team that played 20 years ago suggests how important college football is in Alabama and that it's the month of June."
Freeman will not play in the New Mexico Bowl on Saturday

SportsLine simulated every bowl game 10,000 times for pick'em leagues and confidence pools

Grier will return to West Virginia for the 2018 season instead of entering the NFL Draft
The Chick-fil-A Peach Bowl just got spicy

Anderson had been under investigation for an incident at a bar in Cleveland County, Oklaho...

Between Arizona State and Tennessee, no one would have guessed how this coaching cycle turned...