Dakota Royer gives up Penn State football, but stays for a Penn State degree
Former four-star recruit is the tenth scholarship player to leave the Nittany Lion program in the past two weeks.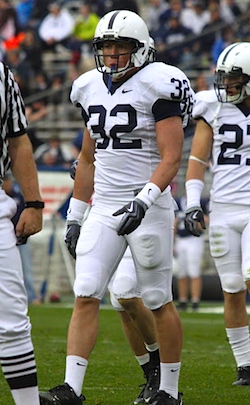 Reports of players bailing on Penn State in the wake of heavy-handed NCAA sanctions are beginning to get a little old, but sophomore tight end Dakota Royer's departure comes with a twist: Although Royer is the tenth scholarship player who has decided to leave the team in the past two weeks, he is the first who has taken advantage of the opportunity to remain enrolled at Penn State and finish his degree there.
Besides relaxing transfer restrictions to allow outgoing Nittany Lion players to play immediately at other schools, the NCAA also ruled that "any football student-athlete who wants to remain at the University may retain his athletic grant-in-aid, as long as he meets and maintains applicable academic requirements, regardless of whether he competes on the football team." Royer plans to graduate next spring, after just three years.
"Unfortunately, due to circumstances beyond my control, it is with great regret that I feel it necessary to remove myself from the team," he said in a statement released to the website Blue-White Illustrated. "I want to thank my teammates for their support and camaraderie, as well as Coach O'Brien and his staff for the opportunity. I will exercise my rights from the NCAA and continue my education at Penn State, and plan to graduate in May. My best wishes go out to the team for a very successful football season."
Contrary to projections as a four-star recruit (not to mention his much-appreciated ability to perform a full vertical jump out of the shallow end of a pool), Royer didn't see the field in either of his first two seasons. But he would have almost certainly been in the mix this year after switching from defensive end to tight end in spring practice, especially after the projected starter at tight end, Kevin Haplea, took advantage of the opportunity to transfer to Florida State.
Altogether, the post-sanctions fallout has resulted in nine confirmed transfers out of State College, including Haplea, kicker Anthony Fera (bound for Texas), backup quarterback Rob Bolden (now at LSU), linebacker Khairi Fortt (to California) and arguably the two best players on the offense, wide receiver Justin Brown (to Oklahoma) and running back Silas Redd (to USC). Between Brown and Redd alone, the Nittany Lions lost 40 percent of last year's total offense just a few days before the start of preseason practices.
[See the complete list of Penn State transfers here]
The Nittany Lions have also lost at least five verbal commitments to the 2013 recruiting class in the past month, most recently Damascus, Md., wide receiver Zach Bradshaw (now pledged to Virginia) and Pittsburgh, Pa., offensive lineman Dorian Johnson earlier this week. Last weekend, they lost Philadelphia, Pa., wide receiver Will Fuller, who flipped his commitment to Notre Dame.
Last month, the program was rocked by the NCAA's imposition of a $60 million fine, four-year bowl ban and heavy scholarship restrictions over the next four years, among other penalties on the heels of a university-commissioned report that accused late head coach Joe Paterno and other administrators of either ignoring or covering up multiple accusations of sexual abuse against Sandusky, a former player and longtime defensive coordinator under Paterno. (Sandusky was convicted on 45 counts of abusing a dozen children over more than a decade, many of those incidents occurring in Penn State facilities.) University president Rodney Erickson accepted the sanctions under threat of a multi-year "death penalty," and the NCAA said last week it would not hear a proposed appeal to the sanctions requested by Paterno's family; ditto a proposed appeal by former PSU players. A university trustee said Monday that he plans to file a lawsuit seeking to have the sanctions overturned for lack of due process.
Florida State-Miami will be on Oct. 6, and the Seminoles will play Clemson on Oct. 27

Weis Jr. was an offensive assistant for the Atlanta Falcons in 2017

Lott is joined by three current athletic directors and will serve a three-year term
These are the top guys every school is still chasing

College football lost a ton of star power, but these players are studs going into next fal...

Pac-12 referee Chris Coyte ejected Kentucky RB Benny Snell Jr. for initiating contact with...