Saturday Roll Call, Evening Edition: Miami exploits Georgia Tech's bad knee
The best of what you may not have seen during Saturday's games, but should have.
>The best of what you might not have seen during Saturday's games, but should have.
• South Carolina easily cruised to a win over Missouri in the Tigers' first SEC road game, 31-10, and punt returner Ace Sanders put it in cruise control to set up the Gamecocks' first touchdown:
From there, Carolina punched in three touchdowns to close out the second quarter and added another at the start of the third to put away the Tigers. – Matt Hinton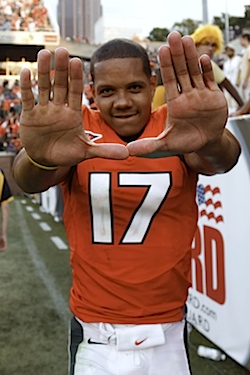 • Don't look now, but Miami is 2-0 in ACC play and currently leads the Coastal Division standings. Much of the buzz around the team this season has been negative – the 52-13 beatdown issued by Kansas State, the local radio rant in response, the embarrassing attendance in the home opener – but the Hurricanes proved on Saturday they are much more than a Duke Johnson highlight reel.
The 42-36 overtime victory at Georgia Tech was highlighted both by career days for veterans Stephen Morris (436 yards passing, 2 TDs) and Mike James (127 total yards, 4 TDs) as well as a young defense stepping up after allowing five touchdowns in the second and third quarters alone. Miami's 19-0 first-quarter lead was erased by halftime, and Georgia Tech plowed through the Hurricanes defense on their own 36-0 run. But Morris and James did not let the early effort go to waste and led Miami on its own 23-0 run to close out the win.
Not only does Miami have two conference wins, but two valuable road wins.  The Hurricanes also now own the tiebreaker over Georgia Tech, a team many figured would be in the conversation for a spot in the ACC title game.  It's early – and there is a lot of room for improvement –  but with Virginia Tech coming to Sun Life Stadium in November, the idea that Miami could be in that conversation is not crazy. Not too bad for a team picked before the season to finish only above Duke in the division. – Chip Patterson
• Two of the points in Miami's initial 19-point flurry came on one of the more embarrassing safeties of the young season. For the "Dan Orvolosky Safety Hall of Fame," we submit Georgia Tech B-back Orwin Smith: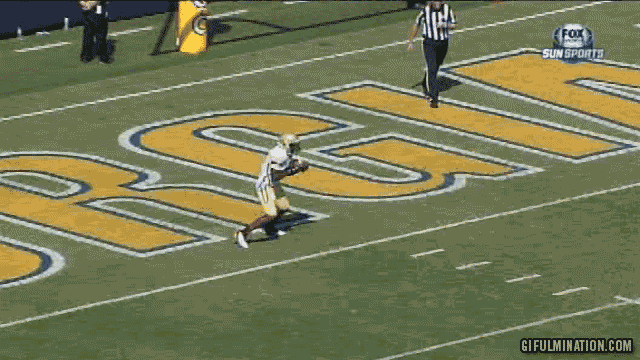 Smith later added a touchdown, but in an overtime loss, don't think he's not going to hear about that one next week. – Chip Patterson.
• In the FCS ranks, Old Dominion beat New Hampshire in a 64-61 defensive struggle on Saturday, and Dominion quarterback Taylor Heinicke was a big reason why: The Monarchs' signal caller finished the day with five touchdown passes on 730 yards through the air, a new single-game record for a Division I passer (FBS or FCS) and third-most ever in any NCAA division. (The all-division record belongs to Sam Durley, who passed for 736 yards earlier this year for D-III Eureka College in Illinois.) In addition to his arm, Heinicke produced another 61 yards on the ground, also giving him the D-I record for total yards in a game. – Tom Fornelli
• UCLA took a page from Oregon's playbook against Oregon State by relaying plays via an inscrutable system of seemingly random, unrelated images on the sideline: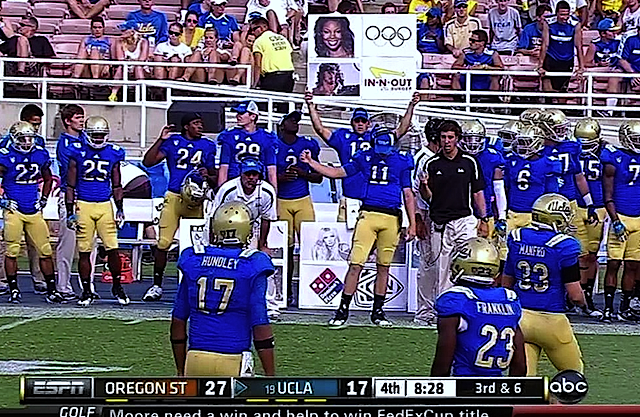 Good idea, not such great execution: The Bruins were held to season lows for yards and points in a 27-17 loss that brings their undefeated start to an abrupt end. – Matt Hinton
AFTERNOON EDITION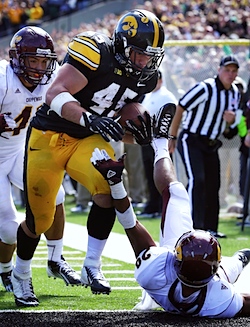 • It's well-established that God hates Iowa running backs, as He has repeatedly proven again this year by striking down no fewer than five Hawkeyes rushers with assorted injuries, suspensions and dismissals. The last man standing: sophomore Mark Weisman, a walk-on fullback who blasted Central Michigan Saturday for 217 yards and three touchdowns on 27 carries, the best afternoon by any Iowa running back since former All-American Shonn Greene went for the same number in a 2008 win over Wisconsin. It was Weisman's second consecutive 100-yard game, following a 113-yard, three-touchdown effort in last week's win over Northern Iowa, which means he might want to go ahead and start looking into a good insurance policy.
Alas, it wasn't enough to hold off a late flurry from the Chippewas, who scored nine points in the final 45 seconds to secure a 32-31 upset. – Matt Hinton
• For the first time in his career, Montee Ball lost a fumble on Saturday. That's right: In a career that had consisted of 708 touches through four seasons, Wisconsin's All-America tailback had never turned the ball over a single time. Then came his 711th touch. After catching a pass from quarterback Joel Stave, Ball turned upfield and was stripped of the ball along the sideline before UTEP recovered.
Ball returned to score Wisconsin's first touchdown in an eventual 37-26 win but left the game for good shortly after that with an apparent head injury. – Tom Fornelli
• A slightly less-impressive streak was broken in Morgantown, where West Virginia quarterback Geno Smith was sacked for the first time all season. Maryland defensive tackle A.J. Francis broke free and brought down Smith on third-and-goal in the second quarter, forcing the Mountaineers to kick a field goal to break a 14-14 tie.
But Francis' sack was not the first time the Terps got their hands on Smith.  Maryland linebacker Marcus Whitfield ripped the quarterback's helmet off on the previous snap: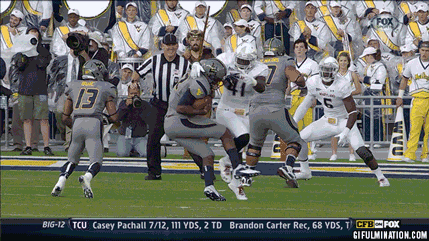 Because Whitfield was flagged on the play, Smith was not required to sit out the following play.  If he had, perhaps Smith's sack-less streak would have continued a few more plays.  I credit Smith for staying committed to the play while attempts are being made to rip his head off. – Chip Patterson
• It looks like it's going to be another rough year for Maryland, but Terps fans can at least be excited about the rapid development of freshman wide receiver Stefon Diggs. The highly-touted recruit had a breakout game against West Virginia, catching three passes for 113 yards and two touchdowns and adding another 86 yards on punt and kick returns. He'll be one of the most exciting players in the country in the next couple of seasons. –Chris Huston
• Kentucky didn't have much to be proud of in its first-half effort against Florida on Saturday, but the Wildcats did set one remarkable record according to ESPN.com: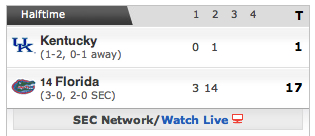 Unless the SEC has quietly instituted the "Rouge," we're going to assume that's a typo. – Tom Fornelli
Week 8 in the SEC provides a sneaky fun matchup in Oxford and a traditional rivalry in Tus...

Penn State's star rusher loves to argue, just not about whether he's the nation's best pla...

The Fornelli 50 ranks teams based on nothing but their performance in 2017
Find out which of your favorite team's players are among the nation's best midway through...

Gyree Durante of Albright College was dismissed after he kneeled during the national anthe...

Anybody can rank the best college football teams, only we rank the worst each week