And our 2012 PGA Tour awards go to ...
With one more big event to go, we roll out our awards for the 2012 PGA Tour season.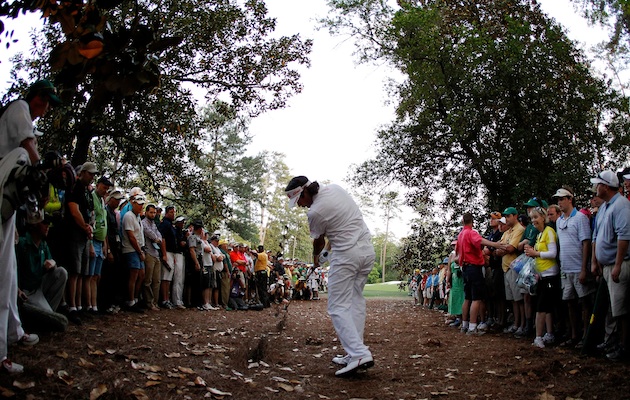 Without a doubt, Bubba Watson's second shot on No. 10 during the Masters playoff is the Shot of the Year. (Getty Images)
The PGA Tour still has one big week left in its playoffs, and then some Fall Series events to wrap up the 2012 season. We've had some incredible names come up, and some great events, so we take a look at who will snag some of the big awards for this season, and what we think were some of the year's best moments.
Player of the Year: Rory McIlroy -- Is there any question? The kid is No. 1 in the world, he's won four times on tour and of those four, one was a major. On top of all that, he's heading into the Tour Championship both as the FedEx Cup points leader and the money leader despite playing three fewer tournaments than Tiger Woods, who is nearly $2 million behind the Northern Irishman and in second. Rory wins this award and it isn't even close. 
Rookie of the Year: John Huh -- The 22-year-old seems like the clear favorite in this category, as he is just one of two rookies with a win (at the Mayakoba Classic in late February). He's the only rookie to make the Tour Championship (he's 26th in the FedEx Cup). On top of that, he has made 20 of 26 cuts and has 11 top-25s, great numbers for a player out on tour his first year (or, honestly, his 10th). 
Comeback Player of The Year: Tiger Woods -- No offense to Ernie Els, but I think Tiger gets the nod here (if he actually wants it). Before this season, Tiger hadn't won on tour since 2009, but he snagged three wins this season by a combined nine strokes, and was in contention in plenty of other events. (Remember his 62 at the Honda in the final round?) I know it seems silly to give Tiger this award, but is there someone out there better suited for something called the "comeback award"?
Tournament of the Year: The Masters -- No disrespect to the incredible finish at Riviera or the star-studded playoff at the Wells Fargo, but the tournament of the year went down at Augusta National. First, it's the Masters, so it already gets a bump. Second, it had just about everything you could ask for: a meltdown by a huge name (Phil Mickelson), two holes-in-one on the same hole during the final round, an unbelievable ARE YOU KIDDING ME? golf shot by Louis Oosthuizen (double-eagle on No. 2) and a finish that left Jack Nicklaus saying it might have been the best shot he's ever seen. It gave us an appropriate champion beating down a former major winner who looked destined to add another to his resume, and it all happened without Rory or Tiger. Also, if you get a chance, go check out that leaderboard after it all finished. Not a single slouch on it.
Shot of the Year: Bubba Watson, second shot, No. 10, Masters playoff -- Just look at this path he took. Need I say more?
Round of the Year: Phil Mickelson, final round, Pebble Beach Pro-Am -- As far as non-majors go, this was about as good as it gets. Phil, paired alongside Tiger Woods, fires a final-round 64 while Tiger stumbles to a 3-over 75. Few rounds stick out in my head over the years of non-majors as absolutely brilliant, but this round by Phil reminded me of Davis Love III's 64 to close out the Players Championship back in '03. It was Phil at his best, down to the final hole birdie after he elected to hit 4-iron off the tee on the par-5. 
The Days have had a rough 2017 from beginning to end

Why in the world would a former FedEx Cup winner hop on 24 hours worth of flights this wee...

Following the debacle at the ANA Inspiration earlier in 2017, Thompson has some thoughts
Fowler is as good as it gets on the PGA Tour

The USGA and R&A have decided that you will no longer be able to phone in penalties

The Spaniard captures another piece of hardware during an all-time season