Greg Norman responds to critics, says he stands by his comments about Tiger Woods
Greg Norman posted an update on his Facebook page backing his comments about Tiger Woods being intimidated by Rory McIlroy.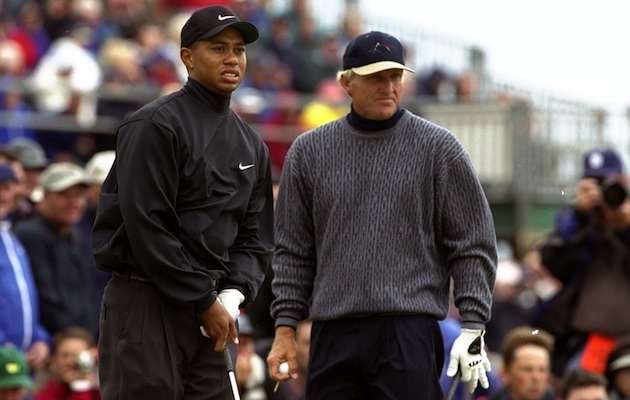 Tiger Woods and Greg Norman probably won't be playing golf together anytime soon. (Getty Images)
The golf world was abuzz this week about the comments by Greg Norman that Tiger Woods is now intimidated by Rory McIlroy.
Norman said so in a Fox Sports interview, getting just about everyone talking up until the first round of the Tour Championship on Thursday, when Tiger shot a 4-under 66 while paired with McIlroy, who settled for a 1-under 69.
Questions were tossed around. Is Tiger intimidated by McIlroy? Has Tiger ever been intimidated by anyone? Is this why the two have become such good friends in such a short amount of time?
A lot of people, however, just bashed Norman, saying he didn't know what he was talking about and that he shouldn't speak up on such an issue.
The two-time British Open winner took to his Facebook page on Friday, giving a full-length explanation of just what he meant by his Tiger comments:
Got off the plane from Beijing this morning and my Iphone just blew up with emails and voicemails regarding my interview with Robert Lusetich of Fox Sports. It seems that everyone from Charles Barkley (no Charles I was not referencing or comparing Tiger's record to mine) to John Doe has weighed in on my quote regarding intimidation. I stand by my comments and for those that choose to read the full article and not just "grasp" and "react" to one word will notice that the headline and byline were inconsistent with the content of what Robert wrote. When you look at my comments in the full context of the article, you will see that it provides a more balanced view of my sentiments on this topic. Which is, since the PGA Championship Tiger has not made any impact on the weekend in passing Rory for the title. This has not happened in his career prior to this run by Rory. During the PGA Championship broadcast I spoke at length about Tiger and I maintain that no one has swung the club better in the history of the game, especially during the year 2000. At the end of the day, Tiger is a great athlete and a great student of the game and he will continue to win, but we are seeing a transition away from his dominance. Rivalry and parity is great for the game of golf. Unfortunately for Rory, I think that the trademark for "The Intimidator" is already registered with Dale Earnhardt.
It basically seems Norman is trying to backpedal from what he said while maintaining that McIlroy currently has a better grasp of the game than Tiger. Which is probably true; nobody has really argued that.
But it still doesn't take away from the fact that Norman thinks "intimidation" somehow is the key to all this, and that Tiger sees McIlroy and immediately wilts because he's somehow scared of the kid (maybe he's jealous of his hair or his age, but it doesn't seem like he's intimidated by anyone).
I know Norman is trying to cool the fire, but he didn't really do a great job of explaining what he meant. If he wants to stand by his comments, that's fine, too, because I stand by mine.
Tiger is only intimidated by Tiger, and the only thing that gives the guy fits is when his golf swing does what it did on Friday. Other than that, he still walks the same, swings with the same conviction and tries to go as low as possible. It just isn't as easy anymore. 
And I think Jack Nicklaus closed the door on all this when he said to ESPN Radio 980 on Wednesday: "Quiet, Greg, quiet. Down, boy. I think Tiger had a pretty darn good year this year."
Nicklaus is the best. 
A tour rookie is leading a tour veteran by one at the halfway point in Georgia

Jonathan Thomson has had a quite a ride, and it had a happy ending on Thursday

He's still chasing, but Fleetwood is now in premium position in Dubai
A local has his eyes set on his first PGA Tour win since 2015

It felt like a Ryder Cup for one day in Dubai

The PGA of America has been busy naming future sites over the last week