A plea to stop the obsession with RISP batting average
Why are some people obsessed with so-called 'clutch' hitting stats when they're simply a coincidence?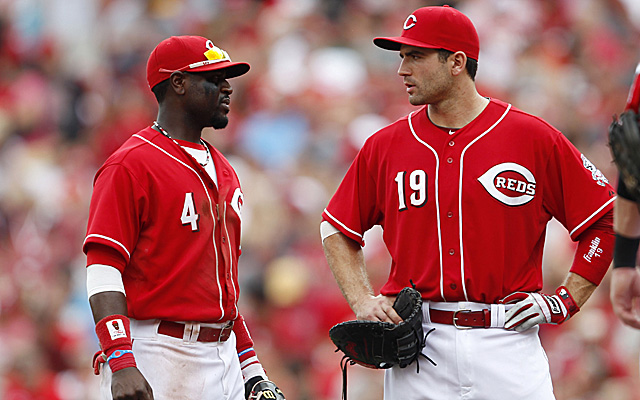 More MLB: Scoreboard | Standings | Probable Pitchers | Sortable Stats | Odds
During Saturday afternoon's Fox game in my region -- Reds hosting Pirates -- I stumbled upon my absolute limit when it comes to one particular "stat," thanks to national play-by-play man Thom Brennaman's discussion.
I cannot possibly take one more solitary second of talk about batting average with runners in scoring position (henceforth RISP). Even worse is limiting the talk to RISP with two outs.
Brennaman couldn't help but hammer home how bad the Reds have been with RISP and two out. He absolutely couldn't help but stress how bad Joey Votto has been this season with RISP and two out. He was basically obsessed with it.
This isn't to pick on Thom. He's not even remotely alone. We have tons of Twitter interactions and comments about the very subject and it's so misguided -- the reason being that such a stat, as it's being used, is tantamount to a complete and utter coincidence.
Let's use Votto as our jumping off point. He's hitting .125 with RISP and two outs this season. The insinuation there is that it proves he's "not clutch." Except he's also hitting .316 in "late and close" situations and .325 in "high leverage" situations. And .310 (with a .471 on-base percentage) with runners in scoring position. And he's only had 24 at-bats with RISP and two outs. Do we really want to draw any conclusions based upon a measly 24 at-bats when talking about an elite player with an overall .435 on-base percentage? As Cosmo Kramer would say, that's kooky talk.
In the larger sample, Votto is hitting .289/.467/.534 in his career with RISP and two out. You wanna talk smack about that? Go ahead and look foolish.
As an overarching point, one of the reasons this annoys me is the overall concept that some guys are so mentally weak they somehow shrivel in the face of "pressure." Major League Baseball players are among the most mentally tough people in our society. They have to get through upwards of five levels of minor-league baseball and then succeed against the best players in the world for a 162-game grind. If a player shrinks in the face of pressure, he's going to be weeded out in the minors, if not earlier. If we're talking about some of the best players in the league, they are succeeding on a regular basis against the world's best. Mentally weak people cannot do this. And this is about the time Public Enemy No. 1 gets brought up: Alex Rodriguez.
Yes, A-Rod sucks in the postseason and can't play under pressure, right? Because he's so mentally weak? Yeah, he's so mentally weak that he won two MVPs playing for the team under, by far, the most media scrutiny in the city under the most media scrutiny in all of sports.
But, but, but ... he sucks in the postseason!
OK, he's been worse in the postseason than the regular season, sure. But if the suggestion is that A-Rod wilts under pressure, how does one explain him hitting .455 in the 2009 ALDS or .429 in the 2009 ALCS. How about his tiebreaking double off Brad Lidge in the ninth inning of Game 4 of the 2009 World Series? There are more examples, but if you believe the narrative that he's somehow scared to hit "in the clutch," you can't possibly explain how any of the above happens.
[NOTE: To clear up something that seems to be confusing a few dissenters: I'm using "small-sample" examples with A-Rod because if a player was somehow terrified in the "clutch," he'd never be able to hit over .400 in even a small sample. That doesn't negate the earlier point about judging Votto based upon 24 cherry-picked at-bats.]
So if we're completely discounting MLB players being mentally whipped in big spots -- as I am -- what are we left with when it comes to RISP stats?
Actually, the opposite of how it's traditionally been used. If you have a really good team with a good offense significantly underachieving with RISP or RISP and two out, there's a decent chance that's going to change, possibly with an offensive boost moving forward. 
In fact, one of the reasons I predicted the Reds to win the World Series was because they were 11 games over .500 at the All-Star break despite hitting below .200 with RISP and two out. That points to little more than bad fortune and over the course of 162 games "bad fortune" has a tendency to even out. We're talking about a team that ranks fourth in the NL in runs scored despite leaving so many men on base.
They'll continue to get on base. And, eventually, their average with RISP and two outs will rise, I'm betting. Because it's nothing more than a coincidence, unless you believe players like Votto are scared to bat in that specific situation and not scared to bat in other situations. Think that through for a second. Joey Votto is mentally tough enough to hit a walkoff grand slam in 2012, but in 2013 he's shaking in his cleats when he steps into the batter's box with a runner on third base and two outs? As the kids might say: LOL.
It's a total coincidence, nothing more. It's time to stop the obsession with this so-called stat.
Here are the bullet-points of what went down Tuesday regarding MLB and the Braves' punishm...

The owners need to ratify on the new system in place, but the takeaway here is Ohtani is coming...

A preliminary report National Transportation Safety Board has shined some light on details...
John Coppolella was placed on the permanently ineligible list by MLB on Tuesday

Among other sanctions, Atlanta lost the player who was deemed the No. 1 international signing...

Among other penalties, No. 1 international prospect Kevin Maitan is now a free agent