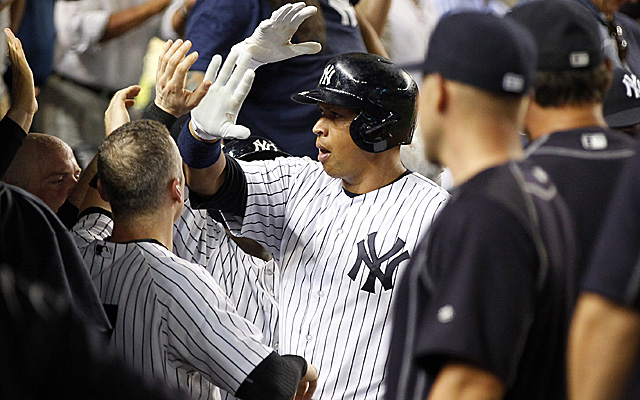 Alex Rodriguez came through with a big home run for the Yankees on Tuesday night, tying the game against Baltimore at 1-1 in the sixth. In terms of an individual honor, though, this home run was even more significant.
It was the 30th of Rodriguez's career. That means he's now reached that mark 15 times during his career. That ties Hank Aaron for the most 30-homer seasons in MLB history.
Here's the homer:
Remarkably, this is the first time A-Rod has reached 30 homers since 2010. Due in part to injuries and a season-long, PED-related suspension, he only hit 41 homers combined in 2011-13 while missing all of 2014.
Some thought A-Rod would never play again. Many believed he wouldn't be effective if he did play. And here he is, at age 39 (he turned 40 in late July, so this is officially his age-39 season) putting up his 15th 30-homer season. Throw out all the caveats you well please, but that's still impressive.
Again, A-Rod joins Aaron with 15 of these. Here's the upper echelon of the list.
Most seasons with 30-plus home runs
1. Aaron, 15
1. A-Rod, 15
3. Barry Bonds, 14
4. Albert Pujols, 13
4. Mike Schmidt, 13
4. Babe Ruth, 13
7. Jim Thome, 12
7. Manny Ramirez, 12
7. Jimmie Foxx, 12