Adam Wainwright building quite the postseason resume
In 15 appearances, Cardinals ace Adam Wainwright now has a 2.03 ERA and 0.93 WHIP in the postseason.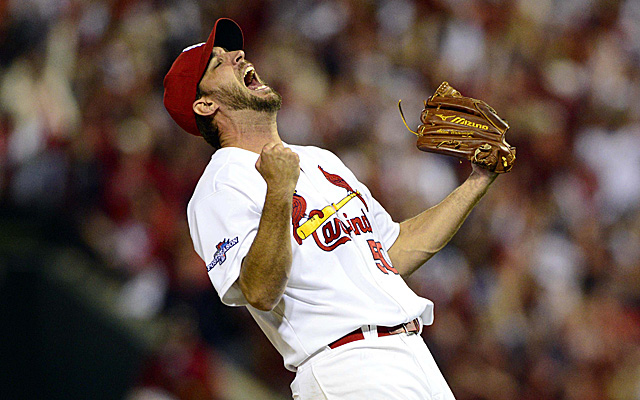 Cardinals vs. Dodgers: Who has the edge? | Knobler: Wainwright makes like Carpenter
Back on Oct. 12, 2012, the Washington Nationals shelled Cardinals ace Adam Wainwright, to the tune of six runs on seven hits in 2 1/3 innings.
That's your outlier when it comes to Wainwright taking the ball in October, because other than that outing, he's been basically untouchable in the postseason.
The overall numbers after Wainwright closed the door on the Pirates Wednesday night in Game 5 of the NLDS are pretty staggering.
The Cardinals have won 12 of 15 games in which Wainwright appeared in the postseason. They've won five of the seven series in which he appeared. In 15 appearances, Wainwright is 4-0 with a 2.03 ERA, 0.93 WHIP, 57 strikeouts, just seven walks and four saves in 48 2/3 innings.
If we wanted to toss out that fluky bad outing Wainwright had against the Nats, he would have a 0.97 ERA and 0.82 WHIP in 46 1/3 postseason innings.
Obviously we can't do that, but the simple point remains that Adam Wainwright is polishing a postseason resume that lands him among the greats. It's not just the stats, either. It's situational.
In the 2006 playoffs, the Cardinals were using young Wainwright as their closer. He recorded the final out in all three series en route to a World Series championship. This includes the huge strikeout of Carlos Beltran with the bases loaded to end the NLCS against the Mets -- the play that causes many to conveniently forget just how great Beltran is.
In 2009, Wainwright was brilliant in his one start against the Dodgers in the NLDS, just as he was last season in his one start against the Giants in the NLCS. Those are the only two series the Cardinals have lost with Wainwright available in October, through no fault of his own.
And now, we just witnessed a five-game series in which the Cardinals lost two of the three games Wainwright didn't start, yet advanced due to winning his two starts with ease. He worked 16 innings in those two starts, allowing only two runs while striking out 15 and walking just one.
In a postseason that contains such high-profile powerhouses as Clayton Kershaw and Justin Verlander, don't forget about Adam Wainwright. He's building himself a rather ridiculous postseason resume.
Sure, the Cubs have faced great pitchers, but their offense has simply been bad in the pla...

The projections still favor an Astros-Dodgers World Series for now, but there was movement

The Astros are still in control of the series, but have been unable to solve Yankees pitch...
The Astros and Yankees will play Game 4 in the Bronx early Tuesday evening

Yankee Stadium helped, but there's more to it than that

Aaron Judge and CC Sabathia had big games