Amazing Puig ignites Dodgers -- although still, there are complaints
Yasiel Puig helped the Dodgers win Game 3 of the NLCS, but he drew a bit of criticism from both clubhouses.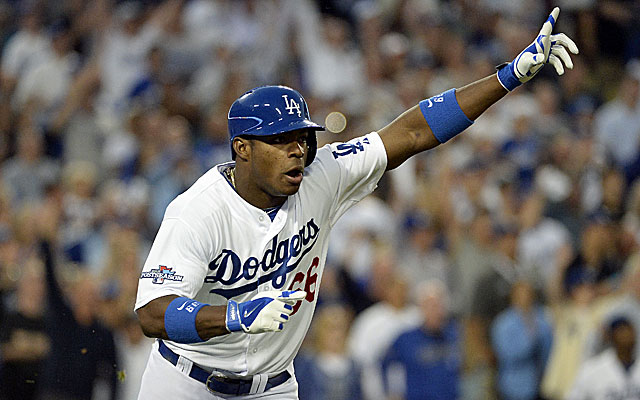 LOS ANGELES -- There's little doubt that Dodgers wunderkind Yasiel Puig, who's a Bo Jackson clone (but with a much better idea about hitting), is the most exciting player in baseball.
The only debate now is what's more exciting, his performances or his celebratory histrionics?
Monday night, in Game3 of the NLCS, Puig slammed a triple off the right field fence that looked initially (at least to him) like a homer. The blast combined both elements -- heroics and antics. Puig easily coasted into third when the ball ricocheted past October hero Carlos Beltran, and Adrian Gonzalez easily scored the Dodgers' second run in the fourth inning in what was -- for them -- an outburst in the Dodgers' must-have 3-0 victory.
So all was cool with Puig -- though, not so fast if you listened carefully to all the postgame comments later, from both sides.
The sellout crowd here at Dodger Stadium needed something to get excited about after seeing their beloved team struggle so badly with the bats through two games on TV and three innings here against Cardinals ace Adam Wainwright. But they couldn't come close to the glee seen by Puig, who engineered an all-time bat flip (in the triples category) and a wild celebratory dance that punctuated the hit.
First, he leaped toward third base. Then he threw his right fist into the air. Then he pumped both fists skyward.
It was actually separate, distinct three celebratory moves, one for each bag. And no one was shocked. Dodgers manager Don Mattingly, though, made clear he preferred Puig run hard out of the box next time, to not assume it's a homer, or to assume that he can still coast into third the next time he fails to run immediately.
"That's just Yasiel," Mattingly answered to a question. "Obviously, I'd like to see him run right away."
Puig didn't directly answer Mattingly's one complaint, saying, "What was most important to me was that Gonzalez had scored. After that, I realized I had a chance to get to third, and it was pretty easy for me to get to third."
He's a special athlete. But he might need to be told a few more things. Or maybe the same things a few more times.
He creates havoc on the field, then chatter later.
"I don't think he's a bad kid. He just doesn't know," Beltran, the Cardinals' composed star, said about Puig. "He still thinks he is playing somewhere else. He has a lot of passion, no doubt. He's got great ability. With time, I think he will learn to be more calm."
Off the field, it's fair to say he may need to calm down quite a bit. He was caught driving 97 mph one time. Another time he was fined after showing up late for a game in Miami after reports of an early-morning night on South Beach earlier in the week.
In work hours the complaints seem relatively minor, though. The Dodgers probably shouldn't try to temper his game too much. It can be a fine line.
Cardinals manager Mike Matheny, perhaps more concerned about his own team's "uncharacteristic" mistakes all evening, didn't muster emotion either way for Puig. Calmly, Matheny said, "He's a good player. Guys are going to handle successes and failures however they're going to handle them, and that's not really our say."
Well, not quite so fast there, Mr. Matheny.
Wainwright, while saying he didn't see Puig's antics, did take exception to the way Gonzalez celebrated at second base after his double scored the first run, telling Cardinals writers he was "doing some Mickey Mouse stuff at second."
Gonzalez carried his good time into the postgame interview room, answering back with humor. It was a fun day to be a Dodger.
"We are in LA," A-Gon said. "So Mickey Mouse does go. Mickey Mouse is only an hour away. So, you know, it fits us."
Puig and Gonzalez seemed to fit together nicely, alternating answers and teasing each other as they went. It left an impression that Puig can be charming around teammates, even if he isn't always that way in public.
Puig may lead the league in signs and cutoff men missed, but the complaints still can look like classic nitpicks for a player so talented he can overwhelm a game. The 22-year-old rookie may be the most important offensive player for the Dodgers.
Puig went 0-for-10 the first two games of this series, both losses. But he got his game together for Wainwright. He may just be warming up now.
He sparked them in the regular season, and they're going to need a full-out fire from him now.
Anyway, thanks to Puig and Gonzalez, the Dodgers have now trimmed the series deficit to 2-1. The Dodgers admitted afterward that Game 3 was a must-win. No way they were coming back on the Cardinals down 3-0.
But there's still a long way to go, and the Dodgers are going to need to muster more offense against the other Cardinals pitchers, several of whom are rookies themselves.
With Hanley Ramirez said by a friend to be in "excruciating" pain with his broken rib (though he still managed two hits), Puig has a chance to be the main man in a series seriously lacking in runs. Matt Kemp is out, Andre Ethier is quite clearly diminished and Juan Uribe already had his moment this October, leaving Puig as by far the likeliest candidate for offensive fireworks.
Cardinals pitchers had held him down the first two games. But when Puig is on, it's one hell of a show.
Beyond the triple he thought was a homer, Puig also lined a single and tried using his superior speed in a valiant effort to keep Dodgers starter Hyun-Jin Ryu's no-hit bid alive in the fifth. But Puig's mad rush in wasn't enough to corral David Freese's liner before it touched down in right field, and the ball bounced away from a diving Puig.
He's exciting even when he doesn't make a play.
He turns a game into a party.
The only crowd reaction even close to Puig's triple came when they showed Dodgers owner Magic Johnson between innings flashing a thumbs-up sign. Right now, Puig is the Dodgers' version of Showtime.
No, you're not imagining things. This MLB offseason has been very slow compared to the last...

Francesa will retire from radio next month, so he'll have plenty of free time next summer

Get your sports fans something that they'll wear all year
Get 15 percent off any order of more than $75 at CBS Sports Shop

The Twins need help in the rotation, and they may look to the trade market to find arms

Here are the bullet-points of what went down Tuesday regarding MLB and the Braves' punishm...