Astros fail to sign top overall pick Brady Aiken before deadline
The Astros have reportedly failed to come to terms with lefty Brady Aiken, the top overall pick of the June draft.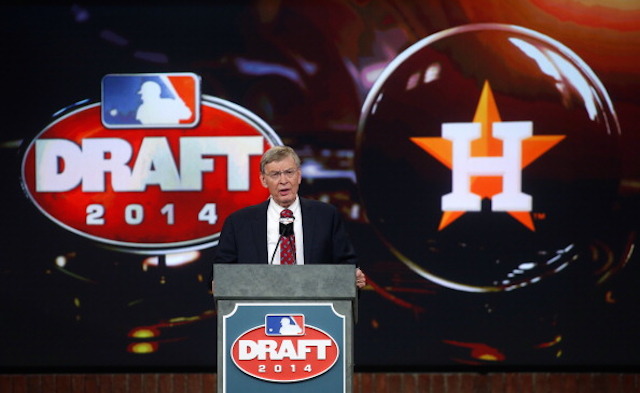 Snyder: Disaster for Astros' draft | Heyman: Aiken advisor rips Astros
The Astros have failed to reach an agreement with lefty Brady Aiken, the top overall pick of the June draft, on a signing bonus, Jim Callis of MLB.com reports. CBSSports.com's Jon Heyman has confirmed. With the deadline passed, thus ends what had been a complicated and occasionally contentious negotiation. 
The near-term upshot is that the Astros will be compensated with the No. 2 overall pick in next year's draft (in addition to what figures to be another high pick based on their 2014 season at the MLB level), and Aiken will presumably now honor his commitment to UCLA and re-enter the draft after three seasons.
Some details from Heyman ... 
#astros made multiple offers to aiken to try to bridge the gap. offered close to $5M. there was said to be no counteroffers.

— Jon Heyman (@JonHeymanCBS) July 18, 2014
Aiken posted a 1.06 ERA this past season for Cathedral Catholic High School in San Diego and was widely regarded as the top prep arm in the draft. The 6-foot-4, 205-pound Aiken is exceptionally polished for a high-schooler and has the potential to move quickly. Still just 17 years of age, he boasts good velocity on his fastball, particularly for a lefty, and he also has advanced command ... 
The Astros' signing of Aiken was complicated by the results of his medical exam. As Heyman reported some time ago, concerns about Aiken's elbow ligament delayed what initially looked like an easy signing and initially led to the impasse. 
It's worth bearing in mind that the MLB Rule-4 draft abides by a hard slotting system these days, and Aiken's top spot was assigned a value of $7,922,100. However, the Astros in their negotiations also had to be mindful of their overall draft budget of $13,362,200. That turned out to not be a problem, as they missed out not only on Aiken but also on fifth-rounder Jacob Nix and 21st-rounder Mac Marshall. 
Aiken becomes the third top overall pick to not sign, after Danny Goodwin (1971) and Tim Belcher (1983).
UPDATE: The Astros have released the following statement:
"We are disappointed that we were not able to reach an agreement with Brady Aiken today. As an organization, we devoted a great deal of time and resources to these negotiations. Despite our best efforts, a deal could not be reached.

"The Astros offer to Brady was extremely fair considering all the factors involved in this case. As always, we approached these negotiations in good faith and with the best interests of the Astros organization in mind, both short-term and long-term.  Throughout this entire process, we have absolutely acted within Major League Baseball's rules and guidelines, which MLB has confirmed on numerous occasions.

"Despite not reaching a deal today, we are pleased with the bright young talent we obtained in this year's Draft. We wish Brady and his family all the best moving forward."
Wright was arrested at his home Friday

The former Tigers teammates were voted into Cooperstown by the 16-person Modern Era Commit...

The Yankees still have room for a good-sized signing even after Saturday's trade with Miam...
St. Louis gets some much needed help for their bullpen

Keep tabs on the top 50 free agents right here

Morrow thrived with the Dodgers last season