Boras compares Ellsbury to Carl Crawford (and an aircraft carrier)
Boston wants to keep center fielder Jacoby Ellsbury but doesn't seem overly optimistic about its chances. The price is expected to be high; agent Scott Boras paints Ellsbury as a major star.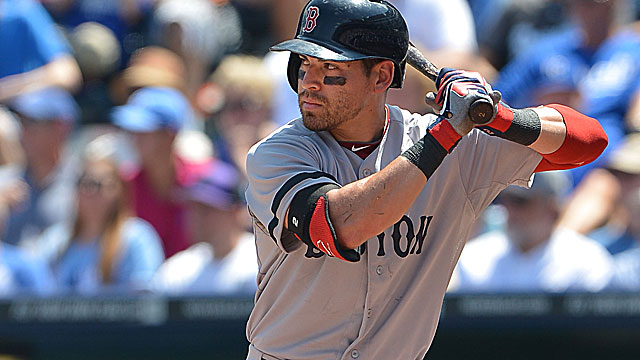 The Red Sox have keen interest in re-signing star center fielder Jacoby Ellsbury, according to people familiar with their thinking. However, Red Sox connected people are suggesting now that if Ellsbury's market goes well into the nine-figure arena – and considering their own $142 million deal for Carl Crawford three winters ago among other comps, it could happen – they aren't necessarily optimistic that Boston will be able to retain him.
The Red Sox tried to re-sign Ellsbury sometime before this season, and all indications are they will try again. The issue is whether they have interest in getting into a bidding war that could go easily past the $100 million mark, well past it if you listen to Ellsbury's agent Scott Boras' words Thursday.
Boston had huge success dealing last winter in what's been dubbed the "mid-range" market, scoring big with its deals for Shane Victorino, Mike Napoli and others, and that strategy may be weighing on them. It's no surprise there are people within the Red Sox hierarchy who aren't anxious to return to the $100 million-plus type deals that haven't always paid off for them.
Boras, in an interview with CBSSports.com, made clear what he thinks of the "mid-range" market strategy and where he thinks Ellsbury stands, saying, "Free agency is like the Navy. You can have a number of mid-range missiles, but they only work as long as you have the aircraft carrier to put them on."
"I think any team would say in a perfect world they would stick to shorter-term deals," Red Sox general manager Ben Cherington said Thursday. "There's always exceptions. We obviously made an exception in [Dustin] Pedroia's case."
The Red Sox gave Pedroia an eight-year, $110 million deal when they signed him to an extension in July.
The implication in Boras' comment is that Ellsbury is an aircraft carrier. While some may not view him as a mega star, as Boras pointed out he is a former winner of a Gold Glove award and a Silver Slugger who's again leading his league in stolen bases.
Some may point to Ellsbury's inability to get back to the slugging form of 2011, when he led the American League in total bases and finished second in MVP voting to Justin Verlander despite the Red Sox's historic collapse, but Boras points to Ellsbury's many attributes in positioning him as a major star in this marketplace, specifically noting his ability to steal 50 bases, score 100 runs and post a .750-plus OPS.
A couple executives on other teams mentioned B.J. Upton, who got a $75.2 million, five-year  deal, as a possible free-agent comp, but that may be a management-leaning guess considering Upton's lack of consistency and low batting averages even before this year. (Yet other execs say they believe he'll indeed get nine figures).
Boras, meantime, suggested that not only is Upton not in the ballpark but that even Crawford comes up short as a player, as well. Jayson Werth's $126 million, seven-year deal may help Ellsbury's case, too, but Crawford is the one who seems obvious to mention since he's a speed player like Ellsbury, and more to the point, that was Boston's own deal.
 "Two things separate Ellsbury [from Crawford]. Carl Crawford was never proven as a leadoff hitter, and Carl Crawford is not a center fielder,'' Boras said. "They are two different animals. It's not a consideration because he's a corner outfielder. Just think if Carl Crawford could play center field."
Boras went on to mention a few other differences between Ellsbury and Crawford.
"Carl Crawford never had success in Boston. And he never won a ring in Boston,'' Boras said. Plus, "Crawford never hit twenty home runs, and Jacoby hit 30," Boras added.
Boras also said that Ellsbury's "ceilings" of 30 homers (32 to be precise) and 70 stolen bases, though done in different years, are "unheard of." Plus, Boras pointed out that Ellsbury's .927 steal percentage this year ranks among the best alltime for someone with 50 attempts, and that few of the best best basestealers have been center fielders.
Ellsbury won a ring with the Red Sox in 2007, hitting .438 in the World Series with a 1.188 OPS, and his overall career postseason average is .261.
It's been quite a positive run for him in Boston. But it's quite possible he may not be so long for Boston.
Word is that owner Red Sox John Henry, who just saved himself some money with the eminently reasonable deal for star second baseman Pedroia, very much likes Ellsbury, and Ellsbury is said to have interest in staying, as well. But like usual it may come down to dollars and cents.
It isn't known what Boston's offer was last winter, but Boston's baseball executives are said to continue to see merit in their "mid-range" winter strategy of a year ago, which is no surprise since it's helped catapult them into first place after their rough 2012 season.
And Boston honchos seemed to be preparing for the possibility of losing Ellsbury when they held tight to center field prospect Jackie Bradley Jr. at the trade deadline. They instead traded shortstop Jose Iglesias quite possibly in part because of their worries about an Ellsbury defection. One Boston-connected person said he believes Bradley is even better in center than Ellsbury, though it's obvious Bradley is as yet unproven as a major-league hitter.
The one knock on Elllsbury, other than he's showed big power in only one year, has been about his ability to stay healthy. But while he's missed significant time in two seasons, Boras pointed out that his injuries were related to freak mishaps.
"He has the genetics, like Johnny Damon. He's a durable player," Boras said. "The only [significant] injuries he's had are collision injuries. They were due to exterior forces."
Speaking of exterior forces, the issue ultimately will be about the marketplace.
Ellsbury hasn't hurt himself with a typical season at age 29; he's hitting .296 with eight homers, 51 stolen bases, 88 runs and a .775 OPS. Those are very close to his career averages. His career percentages are .297 and .788, and  in his three previous full seasons, he's averaged 104 runs, 53 stolen bases and 16 home runs (including his big 2011).
The market should aid Ellsbury since many teams are awash in cash following another profitable year, and few stars populate the marketplace. After free-agent gem Robinson Cano, Ellsbury is seen as the player likely to land the next biggest contract. Among outfielders, there isn't a deep roster but rather a select few stars, including also Shin-Soo Choo, Hunter Pence, Nelson Cruz, Carlos Beltran and Curtis Granderson.
CBS Sports HQ Daily Newsletter
Get the best highlights and stories - yeah, just the good stuff handpicked by our team to start your day.
Please check the opt-in box to acknowledge that you would like to subscribe.
Thanks for signing up!
Keep an eye on your inbox for the latest sports news.
Sorry!
There was an error processing your subscription.
Rodriguez says he only has himself to blame if he doesn't get inducted

Here are the day's latest hot stove rumors

Mussina and Halladay will be inducted into the Hall of Fame come July
Utah State engineering professor and baseball junkie Barton Smith joins the podcast

The next unanimous Hall of Famer may not be as far away as you might think

Get familiar with barrels, xwOBA, Sprint Speed, DRC+ and more