Headley, Fowler attempt to patch Padres' latest self-inflicted wound
SAN DIEGO -- Owner Ron Fowler and slugger Chase Headley met Friday afternoon attempting to get on the same page in contract talks. The upshot: Another chapter in San Diego's ongoing Theater of the Absurd. ...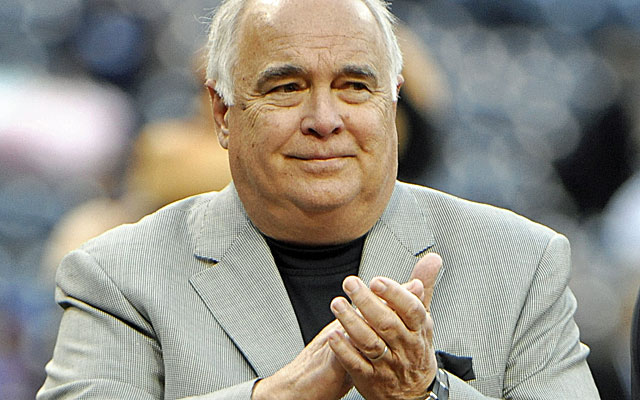 SAN DIEGO – Owners come, owners go, but it always seems to be Amateur Hour with the Padres in San Diego.
Chase Headley always was going to be the first significant test case facing the new Padres ownership group, and so far the group is batting somewhere south of Cameron Maybin's .091 batting average in that department.
After a stagnant winter during which the two sides never were close to a long-term deal and Headley made clear he did not want contract talks to interfere with his season, owner Ron Fowler this week suddenly decided to move.
So he told the local newspaper that ownership would be presenting Headley with an offer by the All-Star break that would make Headley the highest-paid player in Padres history. (Translation: More dough than Jake Peavy's $52 million deal, which, by the way, didn't cost the Padres a dime because they traded Peavy to the White Sox before that kicked in).
Problem was, nobody from Padres ownership bothered to mention this to Headley or his agent, who were ambushed with the news the other day when the team was in Chicago.
So coming home Friday, Headley stepped into the exact situation he didn't want:
A circus scene in which in which the few remaining fans the club hasn't alienated over the past several seasons were buzzing over whether Headley will be the cornerstone piece of some future dream, or is on his way toward becoming latest marquee player to be Federal Expressed out of town.
An, ahem, distraction?
"I would say so," Headley said, speaking to a large group of reporters and TV folks in front of his locker before batting practice. "I'm trying to pour water on the fire as much as I can.
"This is why I didn't want this to be in-season. I need to be completely focused."
Headley and Fowler met Friday afternoon upon the club's return from Chicago on the topic since, um, they actually hadn't exactly talked before the owner went public with the club's intentions.
"My position really hasn't changed," said Headley, who explained for the umpteenth time that he wants to remain a Padre, hopes to get something done this offseason (since the Padres never really engaged him last offseason) and if not, then "that's OK", too.
Fowler declined a request to talk, instead issuing a one-sentence statement: "We're respecting Chase's wishes and we have no further comment."
This came Friday following one more teensy, weensy comment from Fowler to the local newspaper: "We can get this done in 48 hours."
Headley practically winced when he heard that.
It's no secret that the neighborhood in which the Padres will be shopping includes these comps: Ryan Zimmerman's six-year, $100 million extension with the Nationals (running from 2014-2019), Evan Longoria's six-year, $100 million extension with the Rays (2017-2022) and David Wright's eight-year, $138 million deal signed with the Mets last winter.
48 hours? Really?
As Headley noted, "I've been around … I know a lot of times it doesn't take 48 hours. Things get complicated."
It's like one of those situations when you watch an immature parent with a mature kid and you wonder, which one is the adult here and which one is the child?
Headley, a smart and well-spoken third baseman, said all the right things publicly but understandably is wary.
What changed from last winter, when the Padres expressed little interest in extending him, to this week, when he's played only 14 games following a thumb injury?
Is the sudden public shift on the Padres' part genuine?
Or are these the first salvos of an effort to ultimately make Headley look like an ingrate so the Padres don't take yet another public relations hit when they trade him?
Headley was described Friday by two people who know him well to be livid at the way this entire situation has unfolded. After last year's feeding-frenzy leading up to the July trade deadline, he hoped to keep 2013 soap opera-free. Now, that plan's been blown to smithereens.
He has every right to be suspicious and aggravated.
Since landing in the majors, he's watched this organization trade Peavy after the pitcher signed a hometown-discount deal and watched them work toward turning public sentiment against Gonzalez and Heath Bell when each of those two players veered toward a financial neighborhood into which the Padres had no intention of driving.
So why would his case be any different?
Well, new owners.
And before anyone gets the idea that this is a total diatribe in favor of Headley, the fact of the matter is that he has had just one marquee season in a seven-year career. It is absolutely defensible if Fowler and Co. decide that $100 million or whatever is too big of a risk to pay for Headley.
But what they have working against them is this franchise's history of thrift-shop behavior … and this week's bumbling kick-start to keep Headley, which should earn them a rousing vote of no-confidence.
"It was a good conversation," Headley said of his meeting with Fowler. "He reiterated that there was a misunderstanding. He wanted me to know that he wasn't negotiating through the media. He asked some questions and I appreciated that. I told him why this is my position."
Good conversation, maybe.
But absolutely abysmal form on the part of the Padres.
Chicago added Tyler Chatwood earlier this offseason but might not be done adding to the ro...

The Dodgers and Braves pulled off a whopper on Saturday

Sabathia will reportedly spend a 10th season in the Bronx
Fowler suffered a knee injury at Chicago's Guaranteed Rate Field

The lefty starter is coming off a terrible season

After acquiring Ian Kinsler and Zack Cozart in recent days, the Angels are trending upward